Barcelona is a party-lovers wonderland. The range and quality of nightlife available is incredible, with something to suit all tastes, and the insatiable nocturnal joie de vivre of the city is spellbinding. With so many different options on bars and clubs, it can be difficult to choose just where to go on your big night out. To lend you a hand, here's a short guide to the top five clubs in Barcelona. So, what are you waiting for? Let's get the party started!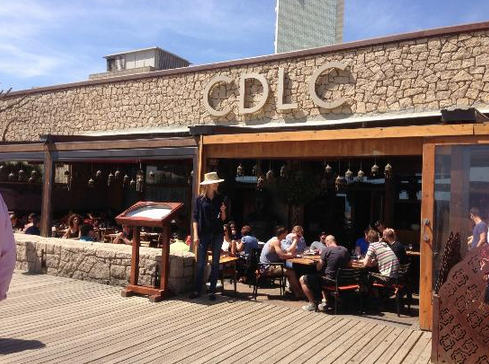 Dance to the backdrop of the Med!
Located right on the beachfront, Opium Mar is one of the city's most exclusive clubs, and is a must for those wishing to be surrounded by Barcelona's coolest cats. Not only does this venue offer the chance to enjoy some top-class dining, but as the sun sets over the Catalan capital it turns into one of the city's best spots for nightlife! Enjoy swanky cocktails as you chill out in the chic seating areas, or hit the dance floor and make the most of the best theme parties in Barcelona along with the sounds of some of the top DJs around.
Metro: Ciutadella/Vila Olímpica (L4)
Where East Meets West
CDLC is one of the 'must be seen in' venues of the city. This  luxurious Barcelona club offers a great mix of the exotic and the chic with its fusion of Eastern pizzazz and Mediterranean cool. Perfect for dinner then dancing, this club/restaurant offers a delicious menu which includes sushi, meat dishes, curries and much more. Wash it all down with  CLDC's signature cocktails: Mojitos, Margheritas and Caipirinhas, and you're in for a great night. After digging into these divine delicacies, mingle with both locals and an international crowd in the awesome Moroccan and Balinese lounge areas and get ready to dance the night away!
Metro: Ciutadella/Vila Olímpica (L4)
A Must for Music Fanatics
Razzmatazz is one of the best venues in Barcelona for  live music. It is situated in a vast, old warehouse and has five immense club spaces spread over different levels allowing it to cater to every musical taste, from indie and electro to house and more. Whether you wish show off your dance moves, or rock out to your favourite artist, this is the place to be! With endless concerts every month, be sure to check out their website for info on upcoming events.
Metro station: Bogatell (L4)
Dress to Impress
Sutton Club is one of Barcelona's swankiest venues and is a great choice if you're after a true party – great cocktails, top tunes and an amazing atmosphere await. Sutton is a select venue so be sure to dress your best as celebrities such as Paris Hilton have been known to show up here. The club plays host to some of the best after-parties in the city with the likes of Pitbull and Bruno Mars making post-gig appearances. This is a top venue where you're sure to be in for a sensational night!
Metro station: Diagonal (L3 or L5)
Alternative Vibes
Steering away somewhat from the top chart tunes of the moment, Sala Apolo is known to welcome performances by indie bands, as well as blast out some of the coolest reggae tunes and electronic beats around. With two music halls, this venue is definitely worth checking out if live music is your thing. And with different events taking place everyday of the week, you're sure to find something to your taste!
Metro station: Paral·lel (L2 or L3)
So whatever your musical preferences these top Barcelona clubs are sure to meet your requirements and provide you with a night out you'll never forget!
This post was written by Laura Jenkins, originally from Wales and, after a short spell in the north of the UK, now happily settled in Barcelona. She currently writes for Apartment Barcelona, a holiday apartment rental agency with over 1000 apartments, and a whole host of tips and articles for travellers.