No kind of holiday offers travellers as much fun and excitement as a ski trip does. Skiing offers participants lots of fresh air, exercise and fun. Most ski towns also offer visitors lots of fun party atmospheres to enjoy at the end of the day. As fun as a ski trip can be, it can also many times be very expensive. It can be disheartening to see how expensive everything about a ski trip is when travellers are planning it. However, ski vacationers should take heart. Ski trips can be done on a budget. Follow these great tips to ensure that your next ski trip doesn't cost an arm and a leg.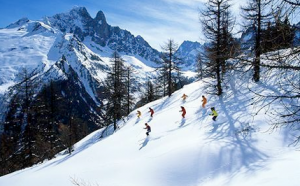 Plan to Go at the Right Time of Year
One of the simplest ways to save money on a ski trip is by taking the trip at the right time of year. The first key in doing this is to avoid vacation times. This means skipping ski vacations around Thanksgiving, Christmas and Easter. Skipping these times of year still leaves plenty of time during the ski season to fit in a vacation.
Travellers who want to get the very best budget ski vacation deals will plan to make their trips during the beginning or end of the ski season. November, early December and April are the best times of year to find cheap deals on ski vacations.
Buy Everything Together in a Package
Another great way to save money on ski trips is to bundle everything in the trip together. It is possible to find great deals on ski packages that include everything needed for the trip together for one low price, including transportation, lift tickets, equipment and lodging. These budget ski packages can be found for especially low rates for groups, so try to get some friends together for the tip to save even more money.
Do the Research
It pays to start planning for the trip several months ahead of time. There are lots of great online resources that smart shoppers can use to find the best ski deals.
Saving Money on Food
One of the most expensive parts of many ski trips is the money that travellers spend on food and drinks while they are at the resort. Ski lodges and the surrounding restaurants are notorious for their outrageous prices. Smart skiers can avoid much of this expense by staying at a place that has a kitchen they can use to cook their own food. It also behooves skiers to save money by drinking as little as possible. Any more than a drink or two at night will eat into tight budgets and lead to poorer performance on the slopes the next morning.
Make Friends with the Locals
Locals will know all the best ways to save money in the area. They will know the cheap restaurants, discount dive bars and inexpensive shops to buy merchandise. This is a great way to make friends and save money at the same time.