There was a time when going abroad meant popping down to your local travel agent and booking a hotel. The internet has put travelling back into our own hands, however, and now the options are seemingly endless… even more so when your wanderlust draws you to a city like Paris. Why not try something new on your holiday to the French capital?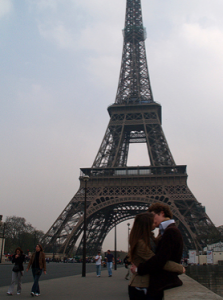 Bunk up
Long-time favourite of long-term travellers, hostels have been accommodating backpackers for as long as they've been heading off on adventures. Hostels may bring to mind images of smelly shared showers and beg-bug infested dorms, but nowadays hostels tend to be clean, friendly and fun. Never one to be behind trends, Paris boasts some of the best. Hostels are often (but not always) the accommodation of choice for those who aren't seeking much sleep: research guest reviews to make sure you choose the right hostel for you.
Something for free
They say that nothing comes for free but the founders of Couchsurfing set out to prove otherwise. The idea is simple: locals welcome you into their homes and offer you a place to stay, not expecting anything in return. Of course, it's always polite to give something back, whether it be a gift from your home country or simply doing the washing up for your host. Paris is a great place to give Couchsurfing a test drive – it has one of the world's biggest Couchsurfing communities. If you're not sure about staying with a stranger (or 'a friend you haven't met yet'), remember that Couchsurfing also organises many meet-ups, perfect if you're going solo.
Home-away-from-home
Everyone likes to feel at home, even when they're away. That's why more and more travellers are opting to rent an apartment when they're on holiday. Aside from the extra comfort and privacy, having your very own kitchen is a major bonus in a city like Paris, where you can do as the locals do and head down to the market to purchase some delectable fresh produce, then test out your culinary skills in the comfort of your own home. Many sites offer holiday rental apartments, but when I was in the City of Light I was impressed by  the large range of apartments in Paris from Localnomad. There's bound to be something that catches your eye.
Pitch in
Camping might not be the first accommodation option that springs to mind when planning a trip to Paris, but it seems that anything is possible in the City of Light. The most central option is the campsite at the Bois de Boulogne but many are, unsurprisingly, located away from the city centre. Efficient public transport links mean this isn't as great a problem as you'd think and you'll certainly be enjoying a unique way of staying in the French capital.