City breaks are the new black. Full of wonder to explore, and all on our doorstep. Is there any better way to spend a weekend?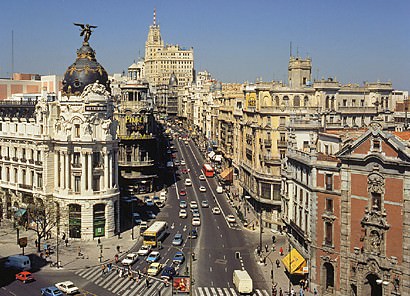 One of the top destinations for a city break is the Spanish capital of Madrid, and at just two and a half hours away, it's quicker than London for the day!
Many cheap flights head to Madrid regularly throughout the year, and you can save even more by pre-booking airport extras, to make your life that bit easier. Of course, a city break is something a little special, so why not make it even more so, meaning you get more out of your weekend away? Early flights can mean tiredness, which eats into short breaks. Combat this travel downside by pre-booking an airport hotel. This of course means an earlier start to your holiday, less stress, more sleep and as a result, a more restful start! I've used the Gatwick Airport hotels in the past, and can highly recommend them, as well as being fantastic value for money.
Of course, once you land in Madrid, you'll be straight into the thick of it. The city is quite easy to get around, despite its size, with a reliable Metro service. You'll be thankful of this little fact because there is so much to see, in such a space of time. Beautiful green spaces appear in the middle of the city, with many museums and art galleries to explore. The Palacio Real is a must visit, as well as the Museo Reina Sofia, where many of Picasso's works are on display.
If you're a football fan, you'll be itching to head to the Santiago Bernabeu, Real Madrid's home ground, which even if you're not the biggest fan in the world, is definitely worth a look.
Shopping-wise, I'd be heading to the Latina district for some out of the ordinary bits and bobs, and some major bargains. If you're more into designer gear, the Salamanca district is for you, with price tags to make your eyes water. There are high street stores dotted around for something in-between too – something for everyone!
The residents of Madrid are friendly and laid-back, and it's because of this you'll find that most restaurants don't open for service until later in the evening. With this in mind, plan your evening accordingly! Once you find your eatery for the night, be ready for delicious cuisine. There are many international menus around, but I'd recommend heading to a traditional Spanish restaurant for some delicious paella and a glass of wine.
Madrid is glitzy, but down to earth – the perfect combination, however it is large and busy, so you'll want to squeeze as much time out of your weekend break as possible. Again, a good way to do this is by combating tiredness and pre-booking an airport hotel, such as one of the great range of Heathrow Airport hotels, for flights from capital to capital.
For a break from the norm, and a stop-gap between your major summer holidays, a city break is the perfect antidote. Madrid is certainly in the top five, and combined with your night's break in a hotel, from AirportHotels.com, you'll be spoilt with money to spare.