When summer rolls round that means one thing: it's festival season. If you're searching for events to go to, don't make the mistake of only looking in the UK. Amsterdam hosts loads of excellent festivals, it's easy to find a cheap ticket to Amsterdam and it doesn't take long to reach, making it a perfect candidate for a quick summer jaunt.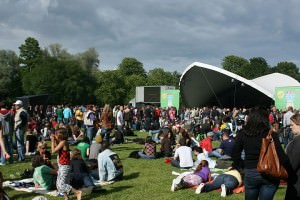 Some of the city's top upcoming festivals are:
The Uitmarkt
This is Holland's favourite cultural event. Running from August 24th to 26th, it incorporates theatre, music, film and books, so there's loads to get involved in while you're here. Plus, since all the performers and organisers donate their time for free, it costs nothing to attend!
So, what exactly can you expect? It takes place at Amsterdam's Museumplein and Leidesplein, which together host the various stages and stalls. The performances are truly eclectic – you can see everything from classical music to hip-hop – as well as browse book stalls and much more.
Amsterdam Roots Festival
If you're after a music festival with a difference, check out the Amsterdam Roots Festival. This is the perfect option if you're keen to hear sounds that stem from outside Western Europe, since it prides itself on showcasing tunes and styles from cultures across the word.
Taking place from July 5th to 8th, it provides a stage for big names and up-and-coming artists alike, and gives you the chance to see all the latest developments in global music. So, if your taste reaches past the latest chart hits, this is likely to be the festival for you.
While it is held at five venues across the city, the ultimate one to go to is Oosterpark for Roots Open Air. This is free to attend and provides seven stages in a stunning setting, as well as an awesome food market where you can pick up all kinds of exotic treats. Definitely not to be missed!
Mystery Land
This charmingly-named festival is a one-day affair that promises the very latest in cutting-edge electronic music, including dubstep, house, techno and disco. Taking place on August 25th, it's expected to attract visitors in their thousands, so sort out tickets soon if you want to be among them! What's particularly nice about this festival is that in addition to the music side of things, it hosts performances by small theatrical and artistic groups.
Over het IJ Festival
If you're into performance art, you'll be pleased to hear that there are lots of theatre-focused festivals running in Amsterdam this summer. Among the most interesting is the Over het IJ Festival, which takes place from July 5th to 15th.
Once you're in Amsterdam, you'll need to catch a ferry from behind Amsterdam Central Station to get the venue, which is the former NDSM shipyard. It might sound like an odd spot for a festival, but this is all part of its charm, since this event is all about location-specific theatre. So, expect to see some interesting uses of the setting!
Holland Festival
This is another festival fans of performance art should check out. This one is held virtually throughout the whole of June (1st to 28th) and has a history stretching all the way back to 1947. It offers a great mix of music, theatre and dance and, since it encourages performances that combine multiple art forms, it's a great place to see some unique acts.
Since most of us are fairly budget-focused these days, make sure you search through  Amsterdam's cheap hotels when picking out your accommodation. You can save a pretty sizeable amount of money if you take a little time to find the right place – and you can always put this towards more partying!