Alright guys, this is something I was searching long and hard for on the net, but couldn't find, but there is no direct bus, you have to freestyle it – so here you go.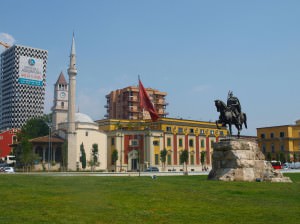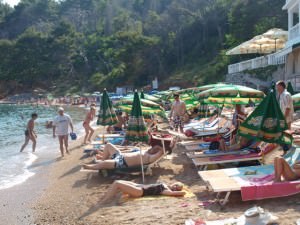 Getting from Tirana to Budva:
STEP 1: Getting from Tirana to Shkodra:
1)   From Tirana you have to get to Shkodra in the north. There are public buses (400 lek/$3.50) that run every hour until lunch time or you can take a minibus (600 Lek, $5.50) that leaves when it's full. Transport starts around 6am.
The minibus takes around 2 hours, the bus can take up to 4. Both 'stations' are close to each other in the north of the city, ask your hotel or taxi driver, they'll know both of the,
STEP 2: Getting from Shkodra to Ulcinj
2)   Once in Shkodra you're only about 20km from the Albania/Montenegro border but it's not so easy. There are public minibuses  (6 euro/$7.5) which run the route from Shkodra to Ulcinj ('Ulchin') at 9am, 2.30pm and 4pm each day, but if you're coming from Tirana you'll probably miss the first one at 9am and not wanna wait for the next one at 2.30pm.
You can take a taxi for a hard-to-negotiate price of 18-20 Euro ($23). You can fit up to 4 people in the taxi so it's cheaper in a group.
STEP 3: Getting from Ulcinj to Budva:
3)   This is finally the easy part. The taxi or minibus from Shkodra will drop you at Ulcinj bus station, from there there are regular buses to Budva (7 Euro/$9). A taxi costs around 33 Euro ($40).
Once your in Budva, all is left for you is to realize how touristic it is and then continue on another 15km to Kotor instead, a Monetenegron paradise. Happy travels!