I count my life in "how many days until the next city?" In the past week, I've spent five days in Vancouver, two days in Seattle and two days in Los Angeles; tomorrow I get on a train for three days in San Diego.
As a touring musician, professional freelancer and world traveler I have spent days in cities both across the country and across the globe. Traveling, for me, isn't a special occasion event; it's a way of life.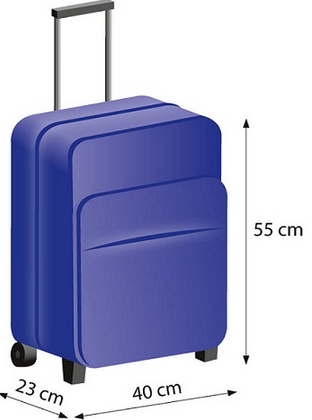 Because of that, I probably know more about travel luggage than the average person. I also know what to pack and how to pack it. Here are the basics.
Buy a durable, soft-sided bag that can hold two weeks' worth of clothes and fit under an airplane seat.
Trust me: you do not want to be checking a bag every time you visit the airport! Nor do you want to be the person stuck finding carry-on space. The ideal bag is lightweight, durable, soft-sided, easy to carry and always able to be jammed under an airplane seat. It should fit on your lap during a bus ride or squeeze into that tiny luggage rack on a train.
It's also a good idea to personalize your bag so you can instantly recognize it in a crowd. When you're taking the shuttle across the border to Canada, or standing in the customs queue at the Hyderabad airport, you don't want to be one of a hundred black rollerboard suitcases. I'm the kind of nerd that has a NASA patch on my bag, along with the Firefly emblem; my best friend is a basketball dork, so for his birthday I went looking for  sports fans gifts and found a perfect drop-bottom duffel emblazoned with the Toronto Raptors logo.
Get clothes that don't wrinkle and don't hold a smell; then roll them up to save space.
The black t-shirt is the global traveler's best friend. It goes everywhere, never shows wear or stains, and is easy to dress up with a pashmina or necklace. It can be worn with skirts, shorts, jeans or trousers and even looks good under a jacket.
If you're looking for clothes to pack besides three black t-shirts and a pair of convertible cargo pants, follow these rules:
Only buy materials that don't wrinkle. That includes polyester and most knits; twill wrinkles a little but manages to stay nice. Avoid crisp cottons, linens, silk and seersucker.
Get clothes that don't hold a smell. Polyester is extremely versatile, but certain types of polyester tend to capture underarm odor. You're going to want to wear your clothing multiple times before washing, so only get clothes that don't stink.
Only pack what you can carry, rolled up, in your soft-side bag. Never fold your clothes; they take up too much space. Always roll them into tight little tubes and pack those tubes side by side in your bag.
Put everything in the same pocket, every time.
If you're a woman, carry your soft-side bag and a cross-body purse, or you may want a simple strong cotton bag; if you're a man, carry your bag and a cross-body satchel. Both items should contain numerous pockets, and your job as a traveler is to put everything in the same pocket, every time. Passports go in the inner pocket of your purse, electronic cords in the outer pocket of your bag, etc. By keeping everything in the same pocket every time, you always know where everything is and never have to waste time digging through your bag to find a particular item. You also have a quick checklist to complete before leaving a hotel or airplane: is every pocket full? If so, you've left nothing behind and are ready to go.
Never let the most important items leave your body.
Why do you carry two bags? So you can keep one bag with you at all times. In that small, cross-body purse or satchel, carry the following:
Your passport
Your wallet
Your cash
Your itinerary, including destination addresses and emergency contact numbers
Your smartphone and charger
Any medications you take regularly
These are the items you can't lose. A travel laptop is easy to replace, since most of your data is probably stored on the cloud anyway, but your smartphone is the link to maps, translators, email and other key information. Therefore it, and its charger, are carried with you at all times, along with all the other essentials in your small cross-body bag; never set it down at the bar and never leave it in the cloak room at a museum.
These are my basic travel tips for packing and hauling my stuff across the globe. Make sure to read Johnny's tips for traveling light, and leave your own tips and tricks in the comments!
*Guest Post