The ultimate challenge to test your compatibility with your romantic partner is travelling together. But of course not all trips are equal. You can't compare the experience of a RTW trip together with staying a romantic weekend in apartments in Paris or Venice.  If you are planning a romantic getaway you are obviously planning your trip with heart-shaped love goggles on. What counts most is to be spending the entire time with your partner. But this dream come true of spending 24h+ together can quickly turn into a bad nightmare on a more challenging trip that lasts weeks or even months to unknown destinations.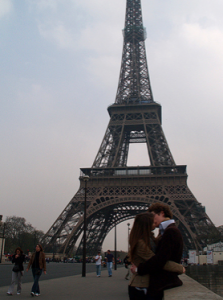 RTW trips are a life-changing experience. If you go alone you will learn a lot about yourself and gain self-confidence. You don't have anyone close around you to rely on and for some it is more of an effort to get to know other people. But if you go with someone the additional challenge is to make the travel relationship work. And this significantly affects the future course of the relationship if there is one. There has to be a balance between making mutual experiences, but also going out on your own, permitting each other to do the things the other person is not interested in doing. This can already be difficult with friends, so you can only imagine how tough this can be when you are travelling with your partner.
If you get thrown into unfamiliar situations true colors come out and the way you deal with adversity says a lot about you as a person. Fight or flight? Do you shy away from difficult situations or do you take on the challenge. In foreign countries and different cultures daily things such as eating a meal or taking public transportation can be a challenge. The trick is recognize when to step up for the other person and vice-versa. You will never be able to avoid arguments, it good to disagree every now and then. Important is to listen to the other person and acknowledge other opinions, just as much as you admire the existence of different cultures that you are exploring together.
Taking a RTW trip is a big decision. So I suggest you don't discuss this matter with your partner during or directly after your romantic stay in Paris apartments. Take off the love goggles first!