If you travel a fair bit, you're gonna be in lifts all the time. 7th floor please, ground floor please. More often than not you're gonna have your backpack strapped on, your mobility (and patience) is at an all-time low as your knackered and weighed down, you've just come back from a 12 hour bus journey. You just need to get out of the lift without any stress, you're nearly there.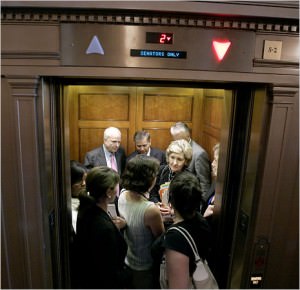 Elevator opens, 15 people staring blankly at you, waiting to get in the lift. Filling the doorway, removing any chance of a stress free exit. You make eye contact, but all you get is a gormless empty stare back, he's not moving. Genius.
Calm, stay calm.
Inwardly thinking "Get out of the f*cking way, you f*cking idiot. Have you never used a f*cking lift before? Well guess what?! Yes, other people are in the lift, it's not coming to your floor just for you, we all are also going to our own respective f*cking floors and you're causing a massive obstruction. Now listen, if this was the first time you used a lift, I'd completely forgive you yet you seem to be working here so you probably use this lift every day, every f*cking day. So do you go through this stupid rigmarole every time you use the lift? Go straight to the sliding doors, blocking the exit, stand there and wait until the lift opens, only to be confronted by a group of people trying to get out of the lift, past you, then offer the same gormless look, surprised that people are coming out?!
Outwardly saying (through gritted teeth) "Excuse me, could I just squeeze past you mate".
Tips for lift-dwelling retards:
1)   The lift isn't there to service only you.
2)   Other people can and will expect to get in and out at any potential floor.
3)   Standard etiquette dictates that you wait by the side of the entrance when waiting for, and trying to board, the lift, thereby allowing current passengers within the lift to disembark at their floor without any obstruction (read: without your stupid face standing slap bang in the way).
I look forward to your compliance.