I'm loving backpacking in Belarus so far, it's certainly the cheapest European country I've ever been too, the sun is shining and I seem to be going to UNESCO world heritage sites every day. Today it's a trip to Nyasvizh, another easy day trip from Minsk.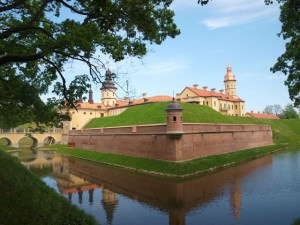 Nyasvizh is about 130km south from Minsk, and it offers two great sights. I headed straight into the city centre trying to find my next UNESCO site, I wasn't sure exactly of the name thanks to my distince lack of Russian but when I saw a group of 10 Chinese people I guesses I was in the right place.
After getting my photo taken with them (their request, not mine), I discovered that they are studying Russian at Minsk university. The had next to no English so I guessed their Russian must have been good, turned out they had only been studying Russian for 3 weeks, good luck guys, you're gonna need it.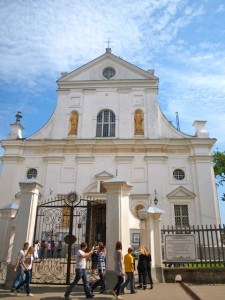 Anyways, I was in the right place – Farny Polish Roman Catholic Church. The oldest church in the country, and famously the most ornate. The 13th century church looks good from the outside, but amazing from the inside. The walls and ceiling have been intricately painted hundreds of years ago, making you think you've been transported to the Sistine Chapel as opposed to walking around the Belarussian countryside. Pay your $0.15 and get a tour to the tombs downstairs, cool to look at but I understood literally know of the explanation!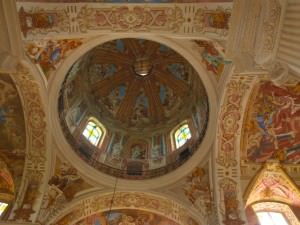 The second attraction in Nyasvizh is the Radziwill Palace Fortress. From the Church, it's a nice 15 minute walk past a beautiful lake, until you stumble across the moat of the Fortress. A few photos later and you'll be paying your $0.60 and entering the courtyard.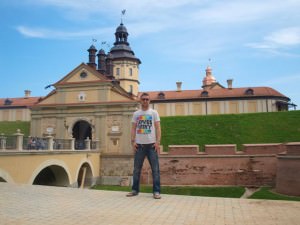 Walking through the buildings, you can see all the remnants from the past lives here. It's been set up in a (not-so-exciting) museum format, it takes around 30 minutes to walk throughout the whole place.  Like most of these medieval getups, I find the architecture, the actually building itself, to be the highlight. Once inside, I'm often a little underwhelmed, and this held true here. It was well worth the trip, and the fortress is in great shape.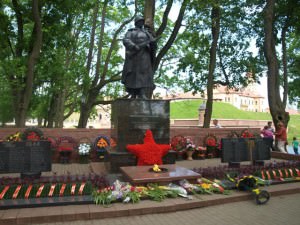 I'm now in my 5th day in Belarus, so I'm off on the morning train to Brest tomorrow. It'll be nice to back on the train tracks for the first time since my Trans Siberian journey. Happy travels!
HOW TO GET TO NYASVIZH
Head to Mink's central Vostochny station, from there there are (infrequent) buses  to Nyasvizh. They cost $4 and take almost 3 hours. Check out the times the day before.