This was the reason I visited Mostar, because I was so desperate to check out the Kravice waterfalls nearby (I've since fallen in love with Mostar, but I digress).
The only problem with the Kravice waterfalls are that they are an absolute nightmare to find. It's true that they're only 40km or so from Mostar but driving yourself is almost not an option.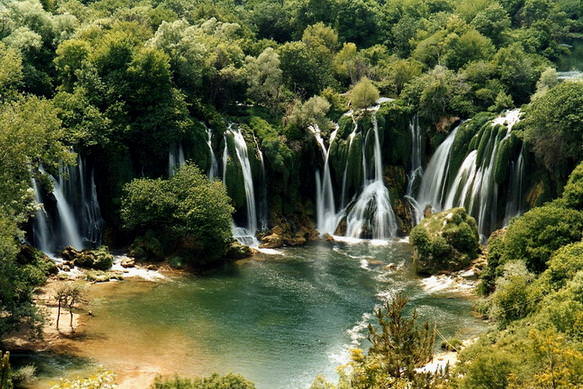 There are no google maps for Bosnia, which is mental but true. So my iPhone and macbook couldn't bail me out of this one. I had planned to rent a car, then a motorbike and then a bloody bicycle in the hope that I could go myself, but after speaking to around 10 people in Mostar I finally gave up on the idea.
The best way to get to Kravice waterfall is by taxi or tour. I'm a staunch independent traveler but sometimes you just have to bite the bullet and this is one of those times.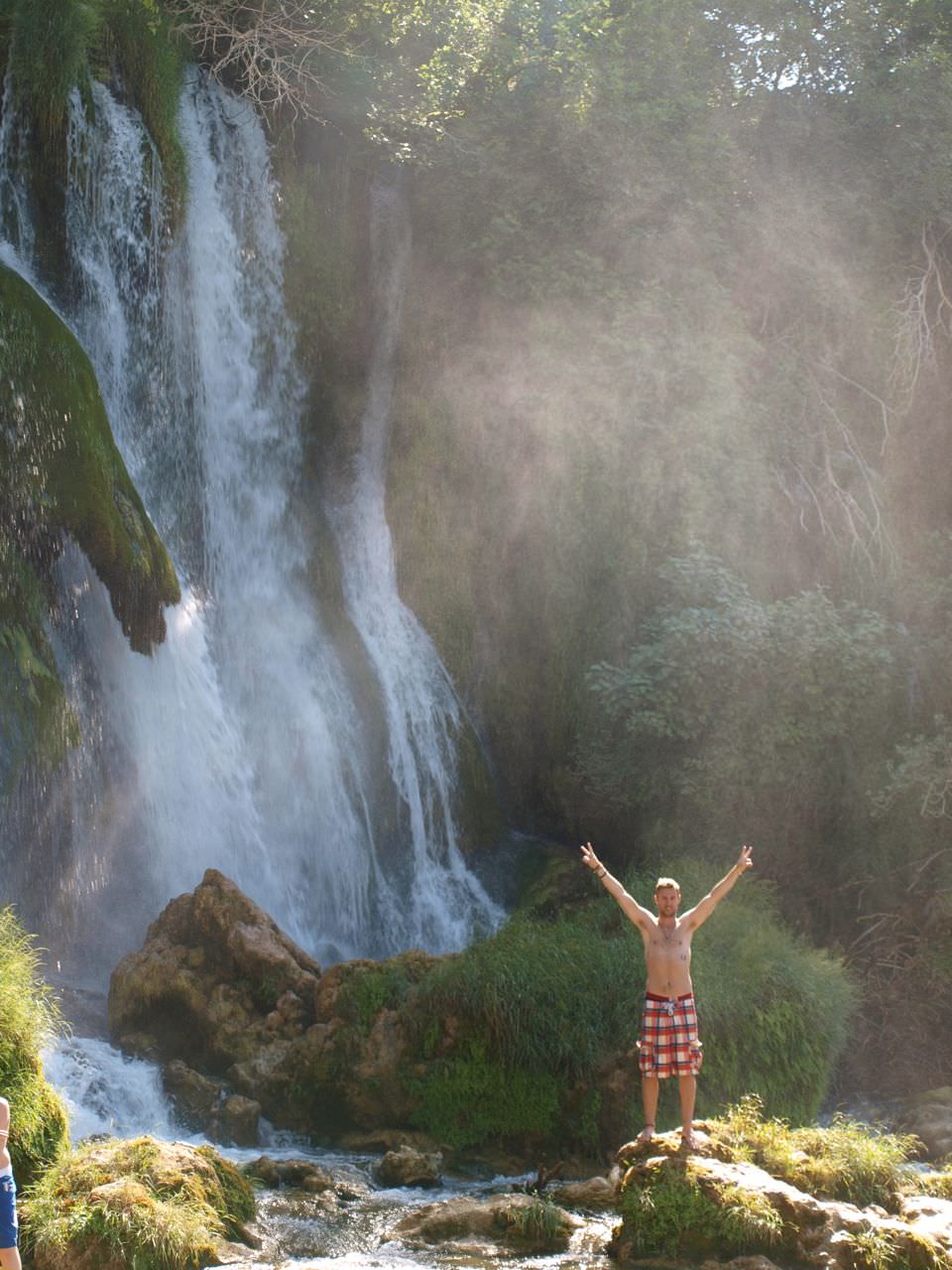 A taxi to from Mostar to Kravice waterfalls, with the driver waiting for you for an hour or so, will cost around 40 Euro ($50) for the taxi, which is an exorbitant amount in a cheap country like Bosnia, but what can you do?! Nothing.
Alternaitvely, if you pay 60 Euro ($73) you can get a day tour with a taxi, which will take you to 4 places – a hidden underground Bosnia airport hangar from the war, Blagaj and its Dervish monastery and Medugorje with its hill top fort. Those prices are per taxi, not per person, so go find a friend or two and it's not so expensive.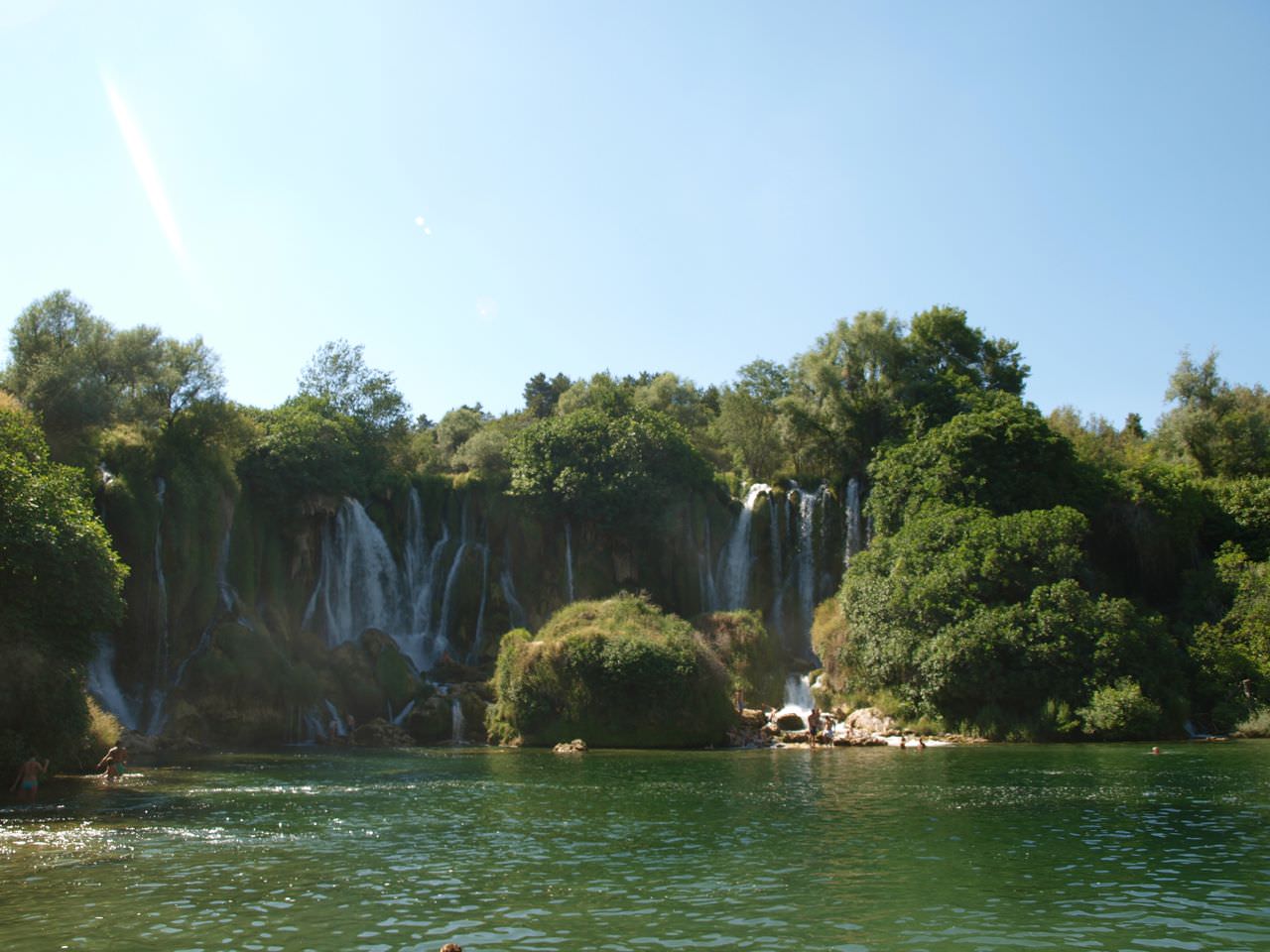 When you arrive at Kravice though, it's really amazing. A large lake surrounded in waterfalls, with only a handful of people there. It's free to enter, and although the water is freezing, you have free reign to wander everywhere. The water falls, through a series of about 20 falls, 25m and it's a great way to knock the Bosnian hangover on the head!
Swimming in a Bosnian waterfall, that's not something I'd ever expected to do, yet it was one of the coolest things I've done in the Balkans. Don't miss it guys. Happy travels!