I don't know about you, but I had never considered going on an all-inclusive holiday. To me, the idea seemed more fit for older people, or travelers who want everything taken care of for them. Not my kind of travel at all! I love to go on adventures, travel spontaneously and get immersed in the local culture. That's just never seemed possible on an all-inclusive holiday!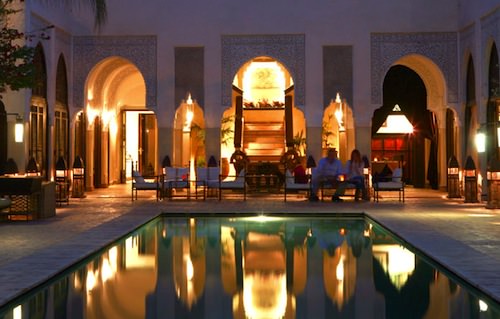 But nowadays, all-inclusive holidays have completely changed for the better and I've realized that my preconceptions about them have been all in my head. All-inclusive holidays definitely aren't just for old people or sedentary travelers. Watching these three girls get whisked away to Marrakech showed me that all-inclusive holidays can tailor to your needs, so you can get everything you want out of your travels. (It also really gave me an itch to get to Morocco!)
One of the problems that some people might have with all-inclusive holidays is that they don't get to pick where they stay, or where they eat. What if the hotel isn't clean or up to your standards? And what if the restaurants included in the package just aren't that great? But as this video showed, an all-inclusive holiday with First Choice makes your comfort and happiness their number one priority. The hotels are gorgeous, huge and comfortable (not to mention clean as can be!) And the restaurants showcase some of the finest local food, so you get to try everything.
Another preconception I had of all-inclusive holidays is that you're shuffled around on outings you don't really want to take, or activities that try to "organize fun." This really isn't the case at all! Your all-inclusive holiday will provide you with plenty of opportunities to try different things in the area, but all at your own leisure. And if you want to go off and do your own thing, that's fine too! You can have the best of both worlds: the convenience of a package holiday and the freedom to explore the local scene and culture.
So when it comes to planning my next holiday, I'd definitely consider going with an all-inclusive package like the ones offered by First Choice. They save money in the long run, and help take care of some of the travel details so you can go ahead with having a great time! Check out the video for yourself, and see if it debunks some of your preconceptions about all-inclusive holidays, too.