Japan is a unique country, a mix between the past, present and future. Whichever way you turn and look you can take in Japan's history or catch a glimpse of its future.

If you decide to visit Japan over the coming months or years, you will no doubt have a bucket list of places that you wish to see and visit. To make any holiday truly special, you need to experience the country's cultural elements.

The best way to travel to Japan is by air. Flight providers, like Air Asia, will ensure that the journey is made as comfortable as possible. You will no doubt experience some great customer service when on-board.

This guide will give you four amazing experiences to try out when you visit Japan next.

Stay in a Japanese Inn
If you are staying in Japan try and avoid the usual western hotels and opt for a ryokan instead. These Japanese Inns are slightly more expensive, but you get a more cultured stay for your money.

A ryokan gives you a more intimate experience in Japanese customs. You can relax using the communal baths or enjoying the peaceful gardens. Whilst in these Japanese inns you can experience a night sleeping on the floor and having traditional meals.

Your room is very traditional with shrines, futons and padded floors. You will also find a robe in your room that you can use at any time of day or night. Be mindful when staying in a Japanese Inn as you will be subject to a curfew.

Traditional Breakfasts
The food in Japan is exceptional, whatever the meal, but breakfast is worth getting out of bed for. A traditional Japanese breakfast is usually served at a low table with cushioned seats. You sit on the floor and are surrounded with bowls and 'instruments.'

A traditional Japanese breakfast consists of fish, salad, rice and soup. However, you have a huge choice of other food items such as; seaweed, beans and other vegetables.

Take the Bullet
If you are looking for a quick and easy way to get around Japan, jump on the Shinkansen. The Shinkansen is the Bullet train, which travels around Japan at speeds of up to 186mph. The railway network in Japan is efficient and comfortable. The Bullet train can take you anywhere in the country, with over 12, 400 miles of track. You can take a train out of Tokyo and travel to Kyoto in just two hours.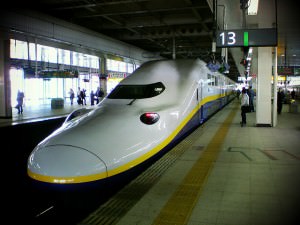 Image credit

The Japan Railways Group, who operate the trains and track, offer a number of travel passes to travellers. You can choose from a 7-day pass, up to a 21-day for unlimited travel around the country.

Shopping
No holiday is complete without a shopping trip. If you have children, the shopping trips are made even more exciting simply by the choice of toy shops to visit.
It is not just the quantity of toy shops that are on offer. Some of the best toy shops are also some of the biggest that can occupy 6 or more floors. They include every toy, which any type of child would love. You will find the latest brand names and characters, such as; Hello Kitty (made famous in Japan). Whether you are on the look out for dolls or cars, you must take the time to experience toy shopping in Japan.