A worthy winner in the Lonely Planet Top Travel Destinations awards, there's more to Louisville than the Kentucky Derby and the Bourbon Trail. Whether you're something of a foodie or prefer non-stop entertainment, you could do far worse than grab a great deal on Louisville hotels and check out these six must-visit attractions.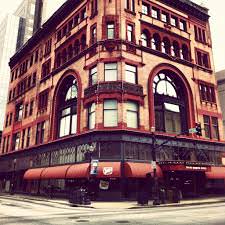 The Belle of Louisville, 401 W River Road
There are few more memorable ways to celebrate your arrival in Louisville than by taking a cruise along the Ohio River on the Belle of Louisville, the United States' oldest operating steam boat. Basic sightseeing tours cost $21, although it's worth splashing out extra to enjoy dinner on board. You can find the boat docked at the city's Waterfront Park. Want to stay nearby? Try the Galt House Hotel.
The Kentucky Derby Museum, 704 Central Avenue
Although you would have to visit Louisville in May to experience the thrill of a live Kentucky Derby, you won't need to miss out if you can't make it. Head to the Kentucky Derby Museum to enjoy a re-run of the last "greatest race, " check out the trophies in the Winner's Circle, and see how long you can last on a simulated horse. Add to the excitement when you head off on the Horses and Haunts Tour – one of several unique tours on offer.
The Muhammad Ali Center, 144 N 6th Street
Located on Kentucky's "Museum Row" in downtown Louisville, the Muhammad Ali Center — named as Kentucky's best cultural attraction — is a must-visit during any trip to this iconic city. Explore permanent exhibits such as Lighting the Way and Global Voices, then mix things up a little by taking a look at the Howard L. Bingham and LeRoy Neiman art galleries.
Louisville Metro Hall, 527 W. Jefferson Street
Although once described by the Louisville Daily Journal as an "elephantine monstrosity, " Louisville Metro Hall has now firmly staked its claim to a spot on the National Register of Historic Places. Take a stroll around the grounds of the hall — formerly the Louisville Courthouse — to see the statues of Thomas Jefferson and King Louis XVI. This one is a must if you like to sneak in a little culture to your trips.
The Louisville Slugger Museum, 800 West Main Street
If the chance to have your photo taken with an enormous baseball bat doesn't attract you to the Louisville Slugger Museum, then the attractions contained inside will. Take the World Famous Factory Tour, check out the names on the Signature Wall, and try your hand in Bud's Batting Cage. Show your ticket from the Muhammad Ali Center to get a discount on entry to the Slugger Museum – or vice versa.
Fourth Street Live, 420 W. Liberty Street
You will no doubt be ready to relax by now. Head to Fourth Street Live where you can indulge your inner foodie at Tengo Sed Cantina and Sully's Restaurant and Saloon or enjoy live music at Howl at the Moon, Tavern on Fourth, and the Kill Devil Club. If you plan on making the most of the party atmosphere and don't fancy having too far to stumble to bed, choose a nearby hotel such as the Seelbach Hilton or the Louisville Marriott Downtown.
Do you have your own favorite attractions in Louisville? Please add your tips below.
Bio
Linda Forshaw likes to write about local haunts and far-flung places. She lives in Liverpool, England, and spends her free time exploring new places, going to live gigs, and planning her next adventure.