This is a guest post by Vera Petryk, an author for Portugal.net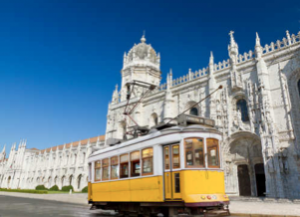 Europe most visited places like Italy, France and Spain overshadow a very interesting country, and maybe, because it is not that advertised it is as attractive as it is.
Portugal or the most western country in Europe is one of the most exciting places I've ever been too. Extremely beautiful nature, rich culture, delicious food and of course the wildest football games made me see what many poets tried to describe. The most interesting of all above mentioned is that there are comparatively few tourists, no jams of people, monuments are still monuments and nature is still nature.
To start your acquaintance with the ever green land I would recommend visiting Porto first. As you probably guessed, Porto is a home place to the world famous Porto wine. But before you try the drink, stop by at the historical center of the city. Standing on the hills, it goes down with narrow streets, numerous cafes, little colorful buildings where people still hang out the laundry outside and kids play football all the way. When you go down, you will get to the picturesque place every artist would appreciate: lines of boats, yacht and even ships fetch away with every wave, music comes from every corner. It is worth mentioning that this part of the city is UNESCO World Heritage site as it has too many historical monuments like the highest chapel in Europe (98 meters) and countless little churches that are placed next to each other. When you are done exploring make a visit to the world finest museum- museum of wine. You will not only learn everything about famous sorts but try and most likely buy 1or2 bottles.
Lisbon
Visiting Lisbon is a priori. The capital city has many interesting attractions inside and outside the city. First of all, it is the second oldest capital in Europe (after Athens), it was a home to various travellers like Vasco da Gama, it is also the only European capital where you can watch sea sunsets on a golden-sand beaches. The city is believed to be a great combination of Arabic, European architecture with an echo of American spirit. I bet you will appreciate ancient marine architecture and interesting museums ranging from historical to contemporary art.  You will surely recognize the city's largest bridge that looks just like a Golden Gate in San Francisco and little cable cars that go all the way through the city.
Madeira
Madeira is the most unexpected surprise I had ever had. It is a beautiful archipelago created from a real volcano with tropical forests, high mountains and great wildlife. Madeira is probably the most visited place in Portugal, in the late XIX century it used to be the fanciest resort in the continent where only rich people like Russian royal family could catch a break. Today, the land is boasting with tourist's attractions that are presented in fine beaches, historical attractions, truly mind-blowing botanical gardens and hundreds of interesting tours that will take you diving, horse-back riding and Jet Ski.
Important tips: 1) to take a Portuguese phrase book as few people speak English;
2) prepare that people are quite emotional;
3) to take few clothes, as Portugal has the most pleasant climate.