One of Spain's food specialties is known to be Iberian Ham, in the native language known as Jamón ibérico or pata negra. There are many different types depending on the region, how long it was cured, what type of pig the ham comes from etc. It is best to have an expert explaining more about the origins of the different kinds of ham that exist. Barcelona is a great destination for the best ham the country has to offer. And staying in  Barcelona apartments you will certainly have experts in closest reach.
But it is always nice to familiarize yourself a bit beforehand. So here is a little bit of advice about Jamón ibérico: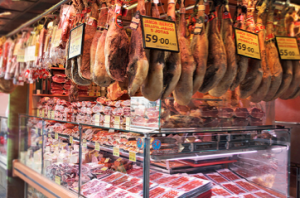 If you would like the cream of the crop you have to ask for Jamón Ibérico de Bellota, which is the finest type of ham. It comes from pigs that have been raised in the wild. During the last period they are only fed acorns (bellota). The exercise from being out in the forest and the diet significantly influence the flavor of the ham, which is cured for 36 months. There are other types of diets that are made up of a mixture of acorn and grain or solely grain, but the strict acorn diet is the most desirable one.
To ensure quality check if producers are inscribed in one of the 4 Denominations of Origin (DO) that exist in Spain divided in different regions: Dehesa de Extremadura (Extremadura region), Guijuelo (Salamanca region), Huelva (Huelva region), Los Pedroches (Córdoba region). The DOs have strict quality controls to maintain a certain standard. However, there are also renowned producers and brands that aren't inscribed in any of the Dos, namely Maldonado, Joselito or Cinco Jotas.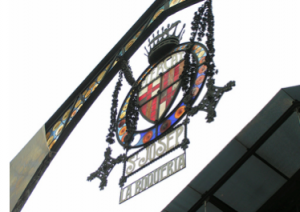 Another thing that you should keep in mind is that the way you slice the ham can also influence the flavor. Iberian ham should always be carefully carved by hand. An electric blade would compromise the taste with its heat. Staying in one of the  apartments in Barcelona you certainly won't miss going to one of the food markets. The most known among visitors is La Boquería and this market alone has 15 different ham stalls. With the knowledge of this post you might surprise or even impress some of the vendors.