The Spanish capital is one of the most vibrant cities in Europe, with so many attractions to see and things to do that it's complicated to know where to start. Which to choose and which to discard is a complicated thing if you're only staying in Madrid apartments for a few days. Aside from all the different cultural activities and monuments to see in Madrid, the city has a great offer of nightlife venues that we can enjoy no matter our taste. In order to avoid all the dead spots and expensive ones, here's a small guide on five cool and popular places that you can go to party away the night.
If big clubs, electronic music, famous DJs and big crowds, Teatro Kapital is the place to go. This popular club plays all genres of electronic music, from techno to house, and it congregates a jovial crowd that wants to party away until the early hours. The weekend parties are notorious in this club so make sure you don't get there too late or you'll be stuck in the queue and possibly won't be allowed in. The appropriate times to go in are between 1.30am and 2.30am. Anytime before and you'll be by yourself in the venue and anytime after you won't be able to get in.
Find it at Calle de Atocha 125, Metro Atocha.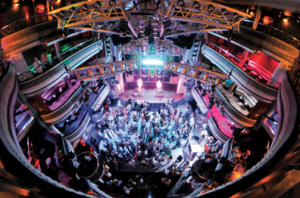 A few minutes walk from the Puerta del Sol we can find another emblem of Madrid's nightlife, Joy Eslava. It's a theatre that stages comedy acts and concerts and then turns into a club after midnight, and stays open until the early hours of the morning. It's theme parties are notorious so make sure you check it's official website (http://www.joy-eslava.com/) for the theme of the day and get ready to turn up, meet people and party the night away. The music ranges from commercial to Ibiza house, which will keep you dancing all night long.
It's at Calle del Arenal 11, Metro Puerta del Sol, Opera.
If you don't like electronic music and you prefer the guitar based rhythms of rock and indie. Honky Tonk is one of Madrid's best spots to enjoy this kind of music. This live music bar/club plays classics of yesterday and today of rock and also has a bar where you can get something to eat. It isn't a proper club per se but it's open until 3am and it's ideal for pre-club drinks and fun if you're heading somewhere else. If you like live music and rock music, Honky Tonk has to be on your list of places to go.
Its address is Calle de Covarrubias 24, Metro: Alonso Martínez.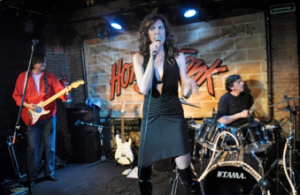 http://www.elpais.com/imagen.php?img=foto_07dd3d6b9ed0f8bf7aad0b0e7906490c.jpg&xl=1
However, if you're a jazz fan, there are two places that you have to visit in Madrid. The first one is El Junco, a jazz bar and club that also plays funk and soul music. They also have live concerts that make the crowd go wild so make sure you visit it if you're a fan of this music genre. The drinks there are generous so you'll definitely be getting your money's worth.
Find El Junco at Plaza Santa Bárbara 10, Metro Alonso Martínez.
http://www.laguiago.com/upload/fotos/directorio/200906/el_junco_escenario_grande.jpg
The other is a more relaxed venue, Café Central. Get there early, get a table and enjoy the live music that's played along with a few drinks. Jazz and soul are the main stars of the show.
Café Central is at Plaza del Ángel 10, Metro Puerta del Sol, Tirso de Molina or Antón Martín.
Whether it's electronic music, rock, indie, jazz, funk or soul, there are plenty of places to enjoy your favourite music during your stay in apartments in Madrid. Now, all you have to do is choose.