Another great day trip from Bangkok is the much-fabled floating market. Bangkok attracts tens of thousands of backpackers every day but few make the effort to visit this cool site.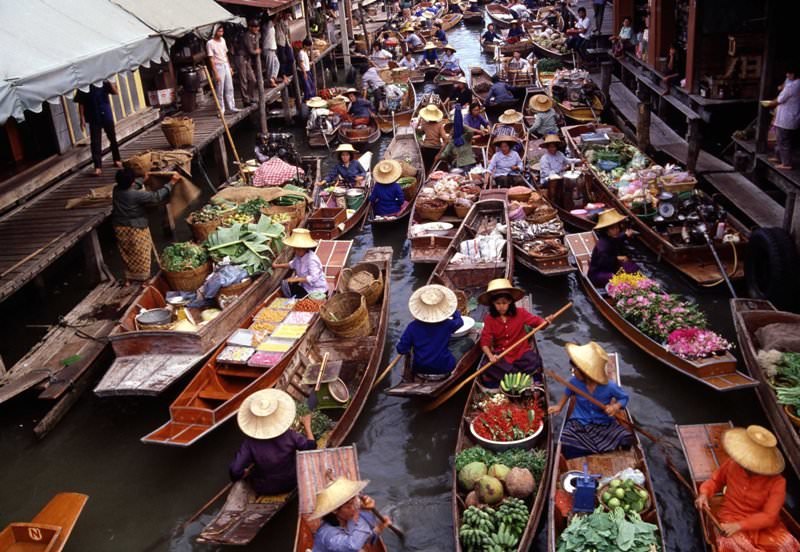 Found west of Bangkok, Thailand's most famous floating market is around 100km from the city. To get here you have to take either the bus or a taxi:
BUS: From the Southern Bus Terminal in Bangkok, buses leave every 30 mins from 6.00am. The journey takes around 2 hours and costs 50 baht (less than $2)
TAXI: They won't go on the meter so you have to use your bartering skills to full effect! Expect to pay around 700 Baht for the return trip, they'll pick you up from your accommodation around 7am, drive to the market (about 90 mins) wait for 2 hours or so and drive you back at lunchtime.  
SCAMS: When you arrive in Damnoen Saduak people will try to lure you into their boat jettys. You can take a long boat around the canals, the trip finally gets you to the market for the last 10 minutes of the hour–long journey. The cost of the boat is approximately 800 baht per person or 1500 baht per boat – and to be perfectly honest, it's a cheap scam.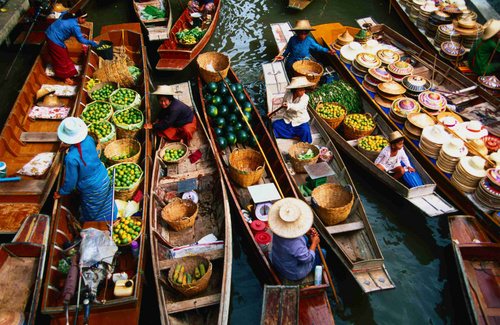 It's much better to get the bus or taxi directly to the market, walk around and if you're still keen to get on a boat, rent a paddle boat at the market for 100 baht or so – no touristy gimmicks and much cheaper!
The market itself is great, everything you'd expect it to be. Endless long boats hawking various fruit, veg and trinkets. Old ladies with a basket on the end of a long wooden stick to take your money and pass you your purchases. It's a fun day trip with loads of awesome photo opportunities – so get yourself out of bed, dust off the Bangkok hangover and get over the floating markey – you won't regret it. Happy Travels!