Like I alluded to in my Bratislava blog, the city can only keep you occupied for so long (2 days maximum, unless you're doing A LOT of drinking!). Luckily thought, there are some great day trips from Bratislava, with the most popular being to Devin Castle.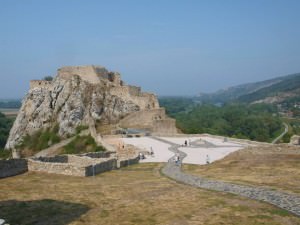 How to get from Bratislava to Devin Castle:
Devin Castle is less than 20km from Bratislava so it's no problem at all to get to.
From the smaller bus station (the one under the bridge, on the side of the river) take bus 28 or 29, it goes all the way through the small town of Devin for less 1 euro.
Don't get off in Devin though, the castle is found on the far side of the town. Ask the bus driver, he'll drop you at the right stop. Once you get out of the bus, you can see the castle immediately, sitting powerfully on top of a large hill. It's about a 15 minute walk to the entrance.
The ticket to the castle is 3 euro/1.5 euro for students, once you pay you're free to wander around the grounds to your heart's content.
The castle is quite rundown, and they're currently renovating sections of it, which is great for the future, but not so great if you're here right now!
The real beauty of the day trip lies in the vast expanse of the landscape, you can see rolling hills, rivers, greenery for miles and miles, and to have this medieval castle sitting proudly in the middle of it all is quite beautiful. The castle offers amazing views of the region as you'd expect, and the museum inside gives a great insight into the history of castles and weaponry.
All in all, the trip to Devin only takes 3 or 4 hours maximum so you can do it in a morning or an afternoon. But it beats lingering on facebook in your hostel nursing a hangover from cheap eastern European beer, that's for sure. Happy travels!