Some awesome trivia for you guys:
1) Liechtenstein is one of only 2 double landlocked countries in the world (Uzbekistan is the other)
2) Liechtenstein has never been involved in any conflict, ever!
3) In Vaduz, their Capital, there are more businesses registered than there are people living there! I'm not sure what sort of insight into Liechtenstein culture that gives, but at least you can bemuse some of your friends with info at the next party you go to.
Anyways, Liechtenstein is a tiny country wedged between Switzerland and Austria, north of Italy. It's rich, beautiful, relaxed and loves its free enterprise economy and its integral financial services sector. In the day that I was here, I literally saw more than 10 Porsches, and in a city with less than 5000 people that's a pretty high number to see.
How to get to Liechtenstein from Switzerland:
There is no direct route. You take the train from Zurich to Saargens (30 euro, 1.5 hours), then you take number 12 bus to Vaduz (2 euro, 40 minutes).
Things to See and Do in Vaduz:
First up, Vaduz, the capital, is tiny. Its official population is 5, 005. One day is more than enough to explore the entire 'city'. Be sure to check out:
Vaduz Castle:
The Royals till reside here so there's no entrance I'm afraid. You can walk around its perimeter though, it's a steep climb from the city centre but the views of both Vaduz, and the surround mountians, make it well worth the climb.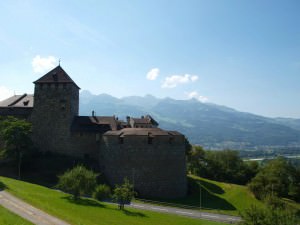 Liechtenstein Passport Stamp:
If you pop into the tourist information, pay an exorbitant 2 euro, you can get an official Liechtenstein passport stamp. I don't know what compelled me to do this, but I succumbed!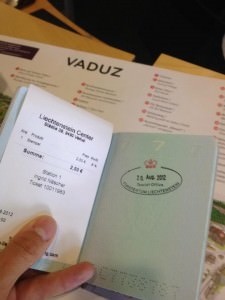 FC Vaduz:
You can check out Liechtenstein's most famous football team if you're lucky. I was here in the summer so I couldn't catch a game, I did check out the stadium though.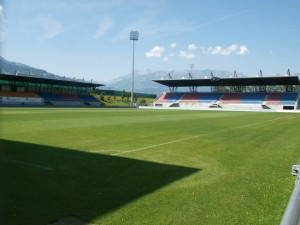 Walking around the town is nice too, a small train will take you around if you're especially lazy although there really is no need. Parliament is 100m from the tourist information, which is 200m from Town Hall, which is 1km from FC Vaduz's football stadium, and by that time you've covered the whole of the capital!
It was a fun day trip, but it cost me around 70 euro ($90) in transport alone to get here and back, so if you're on a tight budget, don't even think about it! Happy travels!