I love holidays in France, and I've a particular fondness for cruising there. After all, since it's so close to the UK you have the option of taking a short cruise, which is really handy if you don't have much annual leave from work to spare, and it also gives you the freedom of exploring multiple destinations in one trip. Honfleur is a port of call that particularly interests me, largely because it's a great base for learning more about the renowned artist Claude Monet.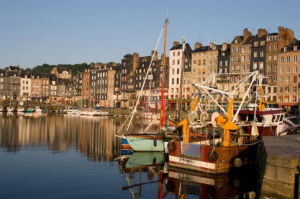 In fact, head to Honfleur and it's really easy to take a leisurely excursion to the beautiful little village of Giverny, where you'll find Monet's home and gardens. What I most love about this attraction is that it allows you to discover more about the painter's life, the things that inspired him and his day-to-day surroundings. For me, this makes a trip here just as riveting as a visit to a gallery displaying his works.
So, today I'll be talking all about the house and gardens, aiming to give you a clear picture of what you can expect to see while you're here. If you like the sound of heading to Honfleur on a cruise, meanwhile, check out the various  2013 cruises from Southampton available.
The Claude Monet House and Gardens – an overview
Claude Monet lived in the little village of Giverny, which is perched on the banks of the River Seine, from 1883 till his death in 1926. The Master of Impressionism, as he came to be known, claimed that the wonderful light here was like nowhere else in the world – and it is this fascination with light that inspired many of his paintings.
Flowers were also a huge muse for Monet, with the painter being a dedicated gardener and claiming that he may have even turned to the brush and canvas purely because of flowers. The colours that inspired him and the scenes that captured his imagination can still be seen at his house and gardens today, which is why I think they are such a wonderful place to visit.
Inside the house
So, what can you see inside the house itself? Visits here usually start with a look at the little blue sitting room (which, by the way, is also known as the reading room) before moving on to the pantry and then Monet's first studio here. Said studio was later turned into a sitting room, and it's retained something of that cosy atmosphere.
Also downstairs are the dining room and kitchen, with the former having been particularly well restored. Upstairs, you can see the painter's bedroom, which has views of Clos Normand (I'll talk more about this in a moment) and still has some of his old furniture, including a roll-top desk. Also upstairs are his wife Alice's room and a small sewing room.
The house has been fantastically well restored, so it's worth bearing in mind that the rooms you see today will be very similar to those Monet spent time in each day – though since there were eight children running around in his day, it probably would have been on the noisier side back then!
The Clos Normand
You can also peruse some of the gorgeous gardens that so captivated Monet during his lifetime. The Clos Normand is where the painter worked passionately to create a beautiful scene, transforming the space after he moved in with arches, new trees and a host of stunning blooms – including daffodils, tulips, poppies and more – to achieve a riot of colour.
The hues of Clos Normand famously inspired those he used in his works, while other areas of the grounds, like the water garden, became the subjects of some of his most famous paintings.