New York City is one of the most cosmopolitan cities in the world and, because of that, we can sample some of the best cuisines from around the world. Today, we're going to find some excellent restaurants that cook some of Asia's finest cuisine.
What a wonderful place New York City is. Let's be honest, for those of us who incline more towards visiting cities than countryside, it's paradise. During our stay in New York apartments we walk out of our door and we see the busy streets full of life and we contemplate the hundreds of possibilities that we have to do, no matter our tastes, no matter the time we've got and no matter our budget. One thing that's becoming more and more popular around the western world is Asian cuisine. Its delicious variety of ingredients make it suitable for all gastronomic tastes, no matter what your preference is. In New York, being such a cosmopolitan city, we can find some of the best Asian restaurants in the world, almost as authentic as if we were eating in the country of origin.
If we want to sample the most authentic Chinese cuisine, we must go to Chinatown. There are so many restaurants there that choosing one becomes a bit of an impossible task, but that's what we're here for. Head over to 13 Doyers Street just off Bowery and go to Nom Wah Tea Parlor. From the outside it might not look luxurious but the food inside is great. Try the roast pork buns and the pork or shrimp shiu mai. 10.30am-9pm.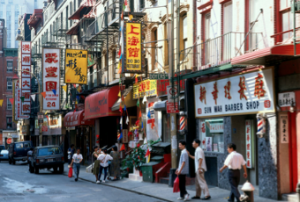 We couldn't recommend Asian restaurants without recommending a Japanese one and one of the best places to eat authentic Japanese cuisine is Soba Nippon. Soba is the star dish here and it will be the best that you've eaten so far, especially in a broth. Excellent sushi as well although it's not the house speciality, rather Japanese cooked dishes, mostly delicious fish and seafood. Find Soba Nippon at 19 W 52nd Street. For traditional sushi lovers, no better place than 15 East, on 15 E 15th street, with its authentic Japanese interior and seating, for the ultimate sushi experience.
A type of Asian cuisine which is fast growing is Korean cuisine. This cuisine based mostly on rice, vegetables and meats can also be found in New York. Right in the heart of Koreatown we find Cho Dang Goi, whose kimchi and pork stews with rice dishes are the star of the show. This restaurant will hook you on Korean food, with all the variants available here that come with free appetizers. Expect mid-range prices. It's on 35 W 35th street.
Thai food has always been a hit amongst Asian food lovers and for the best Thai experience in NYC, we have to go all the way to Queens to find Ayada, where no concessions are made to the Western tastes for a true Thai food experience. Try its different curries if you enjoy spicy food or the fried pork and noodle ones if you don't. There's an infinity of dishes and the waiters will help you choose. Find it at 7708 Woodside Avenue.
Another fast growing trend is Vietnamese food. Nha Trang One offers what they say is the most authentic one this side of Vietnam, and the prices seem out of there too, being ridiculously low. Choose from their large variety of pho (noodle soup), especially the suon nuong one (pork chop) along with summer rolls or the increasingly popular bánh mi sandwiches with pork meat inside. Nha Trang One is at 87 Baxter Street in Manhattan.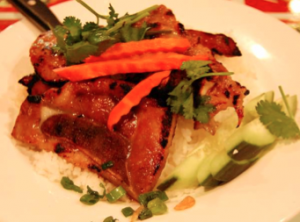 East Asian food is a delightful way of eating and sampling some of the most intense and delicious flavours from the Far East. Whether it's Chinese, Japanese, Korean, Thai or Vietnamese, you can find some of the best Asian restaurants when you rent apartments in New York.