My rules, my schedule, my itinerary and my trip! That's the mantra of a solo traveller. Romantic relationships formed on the road often fizzle out because of a difference in travel style, which is ok since you didn't really have anything invested in the first place. But how do you make it work when your whole trip includes that special someone by your side?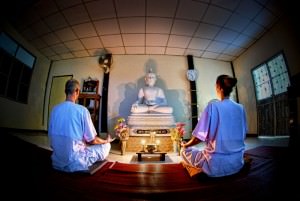 Over the past decade, my wife Carrie and I have successfully navigated the highs and lows of multiple extended backpacking adventures across the world. Our first trip was as a newly-dating couple and it was only through communication, patience and compromise that we managed to not kill each other and actually want to do it again.
Living at home, most couples get just a few hours a day with each other. On the road it's 24/7, and that's where the true test of compatibility begins. Little differences become magnified and, if left unchecked, can unravel the fabric of your relationship. However, following a few simple tips should help make your trip one of the most memorable, happy and fun experiences of your lives together.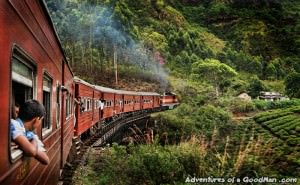 Before leaving home, you should have a good understand of what is important to each of you: especially where you both stand on how much time to spend on nature and outdoor activities vs visiting cities and ruins.
While on the road, check in with each other multiple times a day. Circumstances and opportunities change quickly and the plan you agreed on when you woke up may need to be revised before breakfast.
If your travel styles or goals are different, make sure both of you are doing enough of what you want. One of the biggest traveling relationship pitfalls is one person resenting the other for "always doing what they want to do and never what I want to."
Travel-burnout is inevitable, especially if you are trying to cram in a bunch of locations in a short period of time. One great way to recharge is to choose a tranquil place that you are both comfortable in and stay there for a while doing nothing but relaxing and having "me/us time."
If one of you likes to take photos of everything, make sure that the other person has a camera to take their own. There's nothing worse than just standing around bored while your boo is being a shutterbug.
Everyone poops. Considering all the things that can go wrong with your trip to the toilet and what it means for your health, you need to get over any embarrassment of talking about your most recent bathroom experience or "going number 2" in plain sight of your partner.
Sure, even if you follow all these tips there will be some days that you'll want to throw your partner out of the nearest moving tuk tuk. But if you just look past those times, focus on all the fun you're having and keep on communicating, you should be just fine!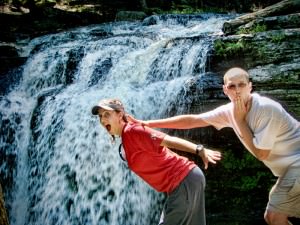 Greg Goodman chronicles his journeys across the world through digital photographic art, storytelling and multimedia presentations at Adventures of a GoodMan, which is his answer to the age-old question: I traveled…now what.
Originally from a small island in the middle of New York City, Greg first became addicted to extended backpacking adventures when he sold all his stuff, left home and joined his Peace Corps volunteer wife in Nicaragua. In the years since, they have quit the rat race multiple times to travel, live like the locals, help out and better understand our world. Greg and Carrie also would love to help you plan your backpacking adventure across the world.