There are two ways to approach winter. You can give in to it, hide under your duvet and not surface until the spring arrives, or you can embrace it fully, throw on lots of warm clothes and get out and explore some beautiful cities.
Some places just seem to be better suited to the winter, and don't lose any of their charms as the temperatures drop. For me, classic places to go in the depth of winter include Amsterdam and Prague.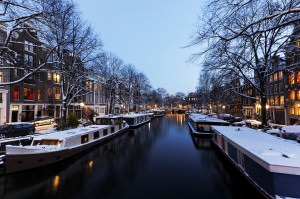 The other great thing about these cities is that you can get to them on a budget. Flights to Amsterdamand Pragueare easy to find and will often be at bargain prices, especially with budget airlines flying to them from a number of different UK airports.
The city of Amsterdam is packed with cultural sights of interest as well as a huge number of bars and cafés where you can drink coffee, hot chocolate or beer. You can pop in to any of these cosy nooks and warm up before heading out again to do some more sightseeing. If you're lucky to go in a really cold snap, you may even see the canals freezing over, and maybe try out some canal skating – though in recent years the winters haven't been cold enough for this.
Prague has a similar magical flavour to it in the wintertime, with all the amazing architecture of the old town looking even more beautiful with a backdrop of snow. The Charles Bridge is a beautiful bridge that spans the River Vltava and is probably one of the most iconic sights in the whole city with the thirty statues that line the bridge interspersed with beautiful street lamps.
Wencelas Square is also a big tourist attraction in Prague as well as Prague Castle and the Jewish Quarter. Much of the draw of Prague is simply meandering around the streets taking in the sights. Again, like Amsterdam, there are plenty of cafés and bars where you can thaw out before strolling along the streets again.
Going to places like this helps make the winter a better time of year. So what if it's cold, you can still have plenty of fun!