Once the least populated southern state, Florida grew populous and wealthy in the early 20th century. With the rise of air-con and increased tourism, it eventually became one of the most loved and visited tourist destinations domestically and worldwide.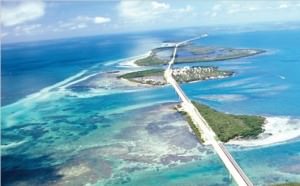 With its white sandy beaches, diverse wildlife, vast orange groves, lush everglades and laid-back Keys, Florida has been attracting winter tourists since wealthy high society Americans fleeing the snowy wastes of New York and Eastern Seaboard started coming here in the 1870s.
Holidays to Florida are now more popular than ever, attracting up to 60 million visitors a year. From the amusement parks of Orlando, yachting in Tampa, to the glorious beaches, Art Deco architecture and nightlife of Miami, subtropical luxury of Palm Beach and the laid-back paradise of the Keys.
Orlando
For families travelling to Florida, Orlando offers limitless fun and attractions at SeaWorld, Disney World, Universal Studios and Gatorland, the state's first attraction park, opened in the 1940s.
With waterparks, fairgrounds and luxurious all-inclusive hotels, everyone gets the holiday experience they want.
Miami
If you're looking for languorous days and wild nights, head for Miami, where the subtropical winter climate averages 28 degrees Celsius daily.
Ranked America's cleanest city in 2008, it has a large Latin-American population and accommodates some of the world biggest and most luxurious cruise ships in its port.
With an abundance of shops, bars and nightclubs, the city is a hub of interracial culture, entertainment and fashion.
Go snorkelling or scuba diving among the coral reefs of Biscayne Bay and enjoy the distinctive local Floribbean cuisine: a combination of Latin American, Caribbean and American cooking.
Palm Beach
For a touch of refinement, why not opt for Palm Beach, haunt of the wealthy for over a century?
Shop for haute couture on Worth Avenue, visit the stunningly ornate Breakers Hotel (originally opened in 1896), the Norton Museum of Art and the beauteous Flager Museum.
The Keys
If it's a truly relaxing holiday you want, you can do no better than make your way to the Keys – you'll get there via a small passenger plane direct from Miami Airport.
The Keys are essentially a coral peninsula made up of a multitude of islands, Key West being the southernmost. This city, with its white sandy beaches, swaying palms, bars and restaurants, is also the southernmost point of the USA – closer to Havana than Miami.
When not sampling local delicacies such as Key Lime Pie and Conch Chowder (the city was briefly declared a separatist 'conch republic' in 1982), why not visit Ernest Hemingway's old house – which is overrun with descendants of his cats. Or opt for the LaConcha Hotel where Tennessee Williams wrote his first draft of a Streetcar Named Desire in 1949.