How Do Air Miles Work?! A BEGINNERS GUIDE
Estimated reading time: 17 minutes
UPDATE JANUARY 2023: I know how complicated air miles and travel hacking is when you don't have a clue. Believe me! This blog post will break it down much more simple for you. Hopefully, it'll be much clearer after this. Also, I know it's annoying for you guys to spend 10+ minutes reading 1 article. But after this, you'll 'get it'.
TLDR? But if you can't be bothered for my whole explanation about how do air miles work, and you just want to know how to earn air miles from the UK. Then the short answer is that the best option credit cards to earn air miles in the UK are (in order):
*I use the Amex Platinum. But if you use my link for any of the cards you get 1000 to 5,000 air miles on top of the normal referral bonus. Yaaay! Just select the card you want at the bottom of the page.
Use THIS LINK, and if you want to choose a different card but still want the extra referral bonus miles, click in the top left-hand corner where it says "View all cards with a referral offer"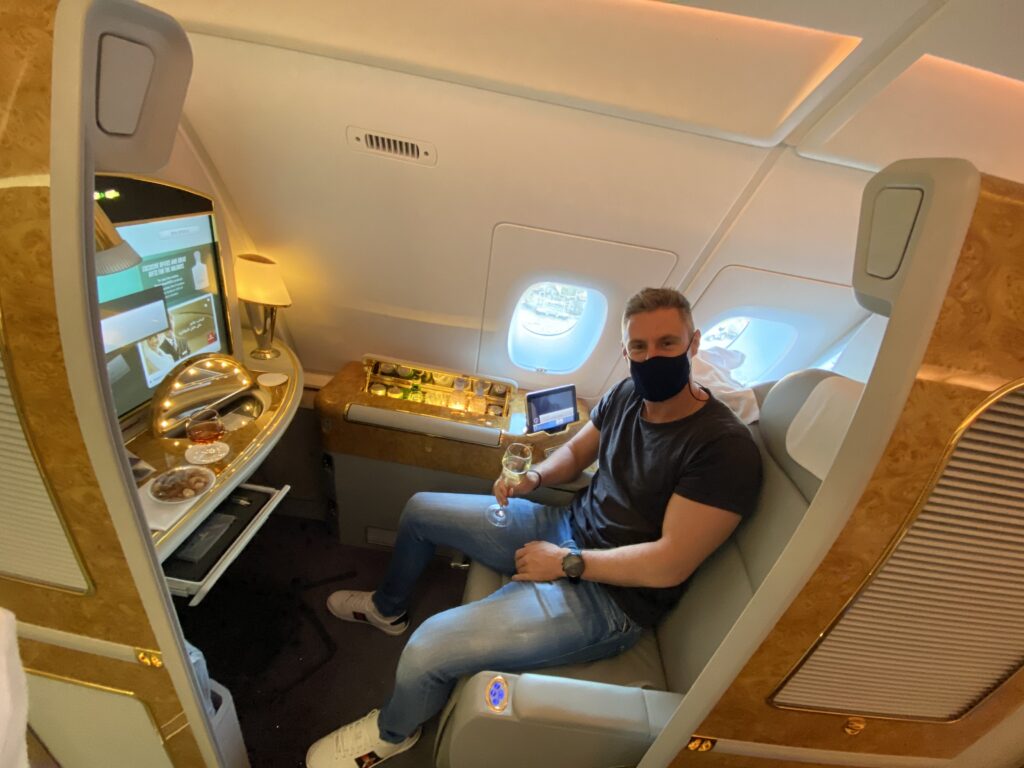 An Idiot's Guide to Air Miles and Travel Hacking (from the UK & Beyond)
If you're a complete beginner, like I was, then you won't have a clue about air miles. And you'll see people flying business class and think "hang on, don't those tickets cost about $3k, how the h*ll do they afford that all the time".
I visited every country in the world, for over 10 years, and thought the same thing. I didn't understand it. Now I get the basics, and it's not as complicated as I thought.
CONFESSION: I DIDN'T COLLECT 1 AIR MILE IN MY JOURNEY TO 197 COUNTRIES!
Travel hacking: Using credit cards and 'free' air miles to upgrade your economy flight ticket to business class (or even better, first-class!) for free! You see it all the time on Instagram. But it's super confusing right? How do Air miles work?!
And it always seems to be Americans. Never people from the UK. So this blog post is your final answer to 'how do air miles work'. And if you're from the UK, how to earn them and use them too.
I'll also go through the best uk credit cards with air miles too briefly here, and in a more detailed article HERE.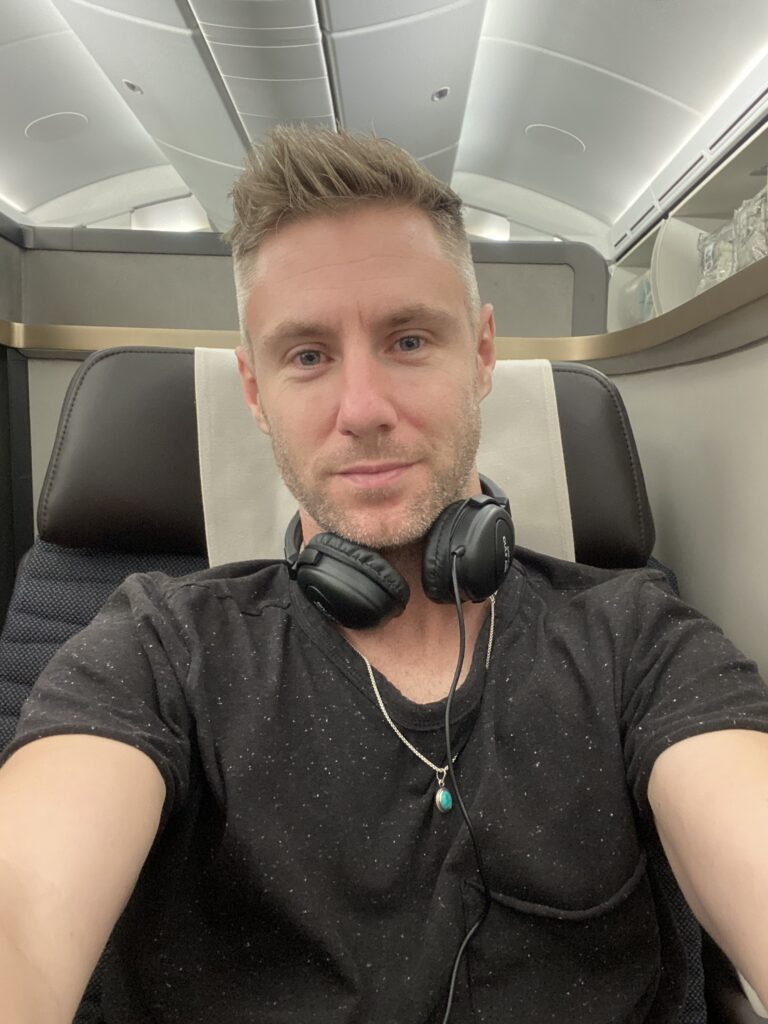 What is an 'air mile'?
An air mile is something you can earn and save up. Like loyalty points. Once you have accumulated enough of them you can use them to book flights, or upgrade flights (and occasionally book hotels, airport lounges, and duty free purchases with too).
The confusing thing with air miles is that 1 air mile point has nothing to do with traveling 1 mile by air. London to Sydney is 10,000 miles in distance for example. But if you fly those 10,000 miles with British Airways you don't earn 10,000 air mile points. You would earn around 16,000 points.
Equally, if you want to spend some air miles/points that you have already saved up, it would cost around 150,000 air miles to fly the 10,000 mile distance in economy class from London to Sydney.
So you see, the 10,000 mile distance between the 2 cities you're flying has nothing to do with 'air miles' as a point system.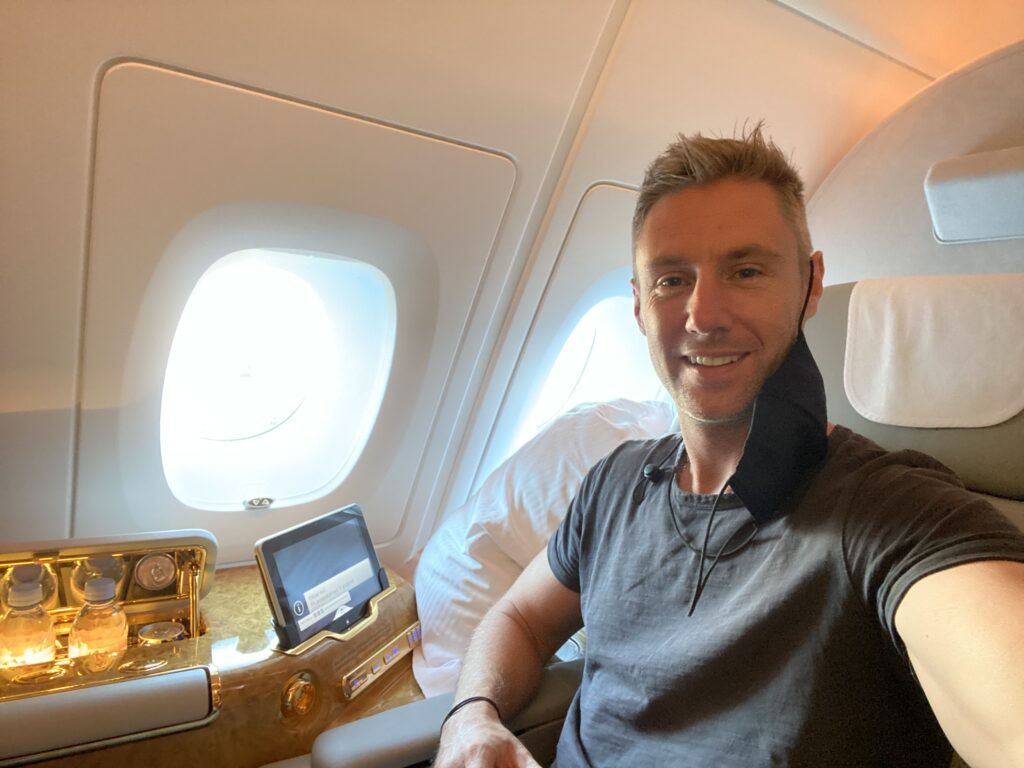 How Do Air Miles work?!
Air miles work in 2 ways. You earn them (by flying, and more importantly by using a credit card that rewards you with them). Once you have earned and saved enough air miles. You can spend them! Ideally on 'free' upgrades to business class and first class.
COLLECTING AIR MILES
You can collect 'air miles' or 'points' (they're the same thing) by either flying with a specific airline all the time (I know now it doesn't have to be the same airline, just the same 'alliance'). I used to think this was the main way people collected air miles. WRONG!
You can also collect air miles/points by using a specific credit card. The credit card rewards you for using them by giving you air miles. THIS is how people collect 90%+ of their air miles, and 'afford' to fly business class.
1. Collecting air miles by flying with an airline
First of all, remember collecting air miles by flying with an airline will only make up about 10-20% of your points. The rest of people's air miles are all earned via credit cards, see below.
With this, don't make the newbie mistake of signing up with EVERY airline's points system. Don't do this…Flying with Emirates? Sign up for their points. KLM? Sign up. Air France? Sign up. Lufthansa? Sign up. British airways? sign up. STOP!
There are 3 Alliances
It's a common mistake. Don't do it! There are 3 large alliances that almost all airlines belong to one of.
One World
Sky Team
Star Alliance
ONLY SIGN UP FOR 1 IN EACH GROUP. Me? I have American Airlines (OneWorld, although I would now use Qatar instead), Air France (SkyTeam) and I have United (Star Alliance).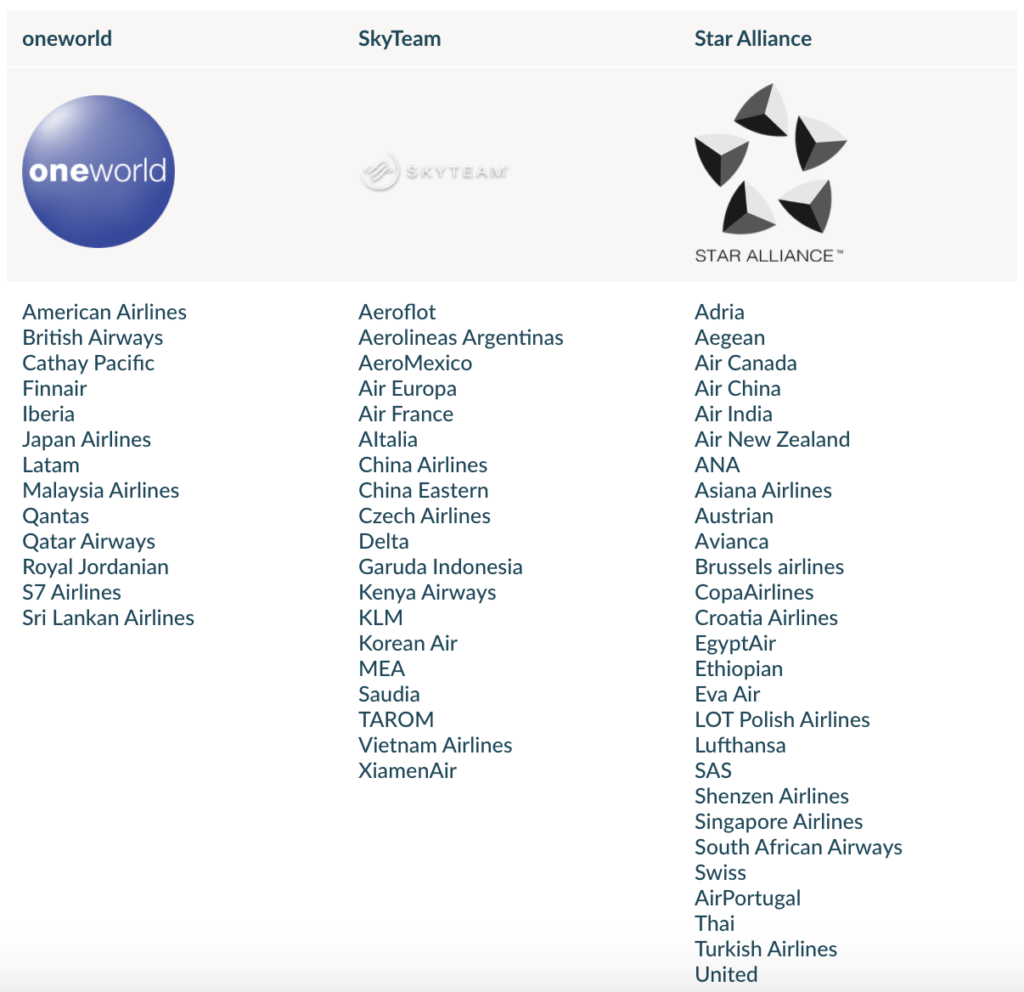 Now I will always book the cheapest flight from A to B. Once I have found that, I see which alliance that airline belongs to, and I can collect air miles. For example, I have a SkyTeam membership through Air France. But if the cheapest flight is with Vietnam Airlines, I will use Vietnam Airlines. I will input my AirFrance number into their frequent-flyer section when I buy the flight. Voilà. Miles are credited to my Air France account. Why? They're both members of SkyTeam.
NOTE: There are some exceptions. Etihad and Emirates don't belong to the alliances. So DO sign up for those ones. AND try to be loyal to one specifically. I'm loyal to Emirates thanks to their Stand-up bar inside the business class on the A380.
TLDR? Sign up for memberships American Airlines, United Airlines, Air France and Emirates. That should be enough. You can do that TODAY.
Finally, this method doesn't earn THAT many points. You need to fly LOADS to get enough points this way to get an upgrade. Or you need to pay for business class tickets (where you get given more air miles because the ticket is so expensive). Then you'll have enough points to upgrade.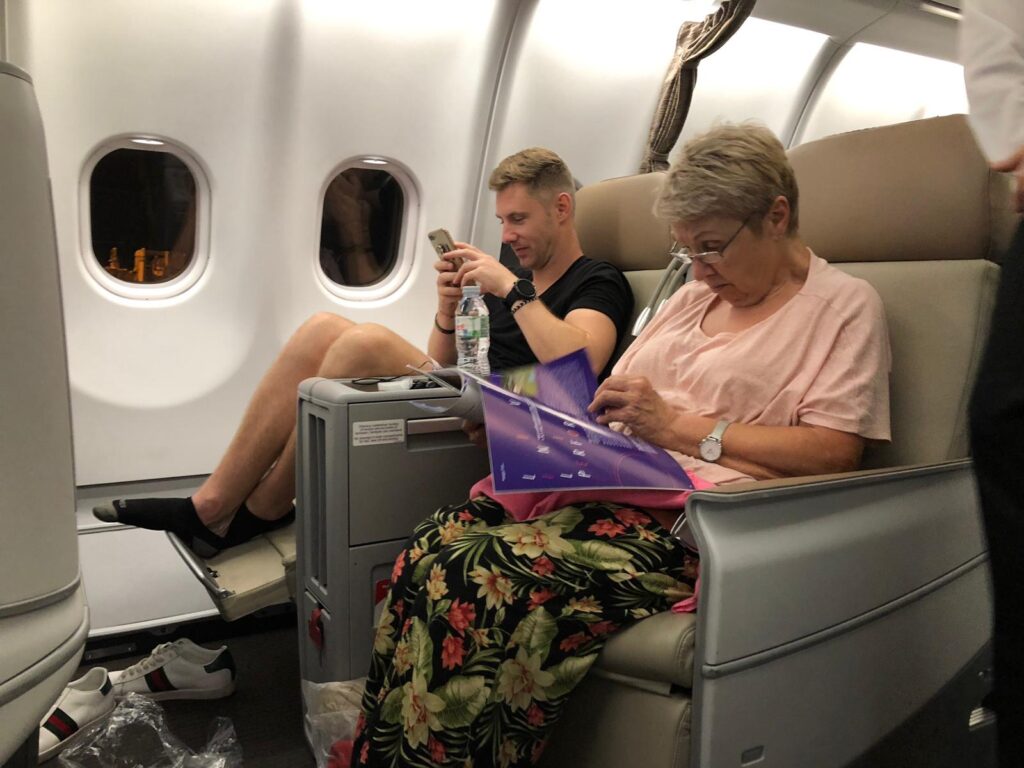 TOP-TIP: REMEMBER.
Just because a flight from London to Bangkok is roughly 6,000 miles IN DISTANCE. That DOESN'T mean you earn 6,000 air miles from taking that flight. They are 2 different things. How many miles you fly in the air and 'air miles' are actually unrelated! (Took me years to work that out!).
For example, an economy flight from London to Bangkok return is normally priced around £600 ($800) or so in the cheapest class of economy. By booking that, paying for it, and then flying to Thailand and back home, you'll earn around 3,000 or 4,000 air miles to use in the future. NOT 6,000 miles, which is the distance you covered on the journey.
They should really call 'air miles' something like 'air points' actually. It would be much easier for people.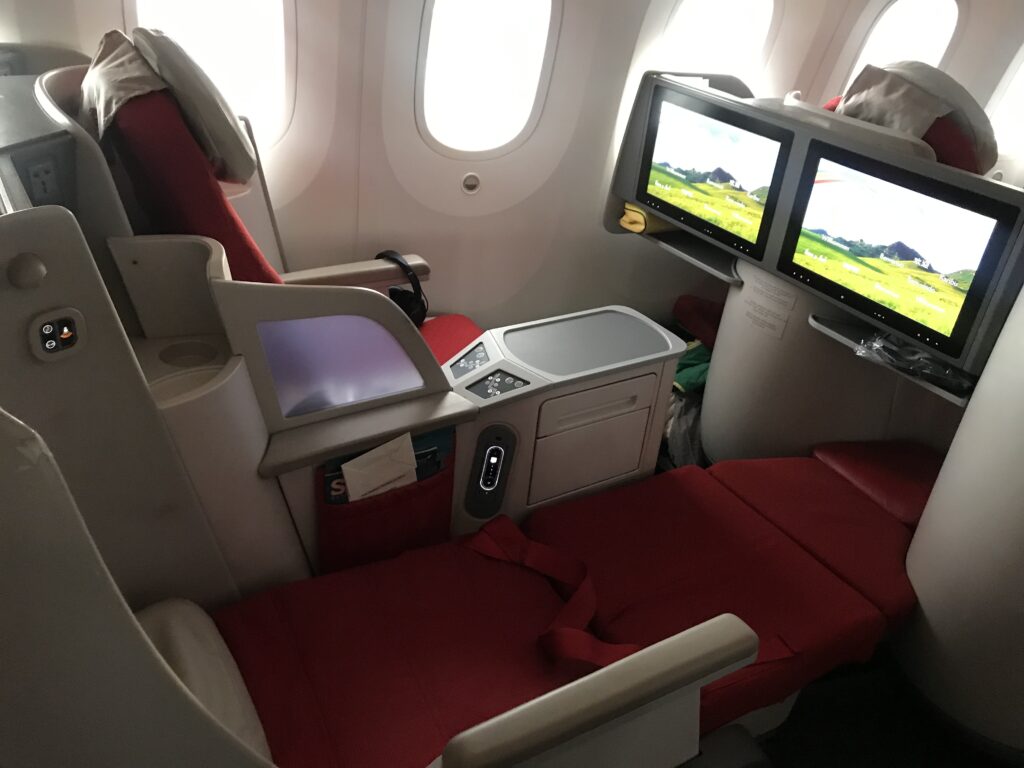 2. Collecting air miles with a credit card
This is the bread and butter of collecting and earning air miles. The cornerstone of the whole travel hacking concept.
If you're from the US, you can choose any number of credit cards, and they all give you some kind of airline benefit. You can sign up for multiple cards at once. Each one giving you 30,000 points, and within a week you can have 200,000 points 'for free!
In the UK, it's not as generous. It's only American Express (Amex), and Lloyds that are worthwhile for earning air miles and flight perks.
Regardless of that though, you earn air miles with your credit card in 2 ways. The first is the sign-up bonus. Great. Normally you have to spend a certain amount of money within the first 3 months to earn it (normally around $5k). Then you get 30,000 points (or whatever it is) credited to your account.
The other way is that for every $1 or 1GBP you spend you get another point credited. Sometimes, depending on the credit card, you can get 2 or 3 points credited for every dollar or pound you spend. And if you spend on travel, hotels etc, there are often even higher points per pound rewards.
In your credit card statement, you can see your credit card balance of course, as usual. But you can also see your 'points balance'. With Amex, these points can be transferred to almost every airline, or airline alliance, and then you can use them as air miles.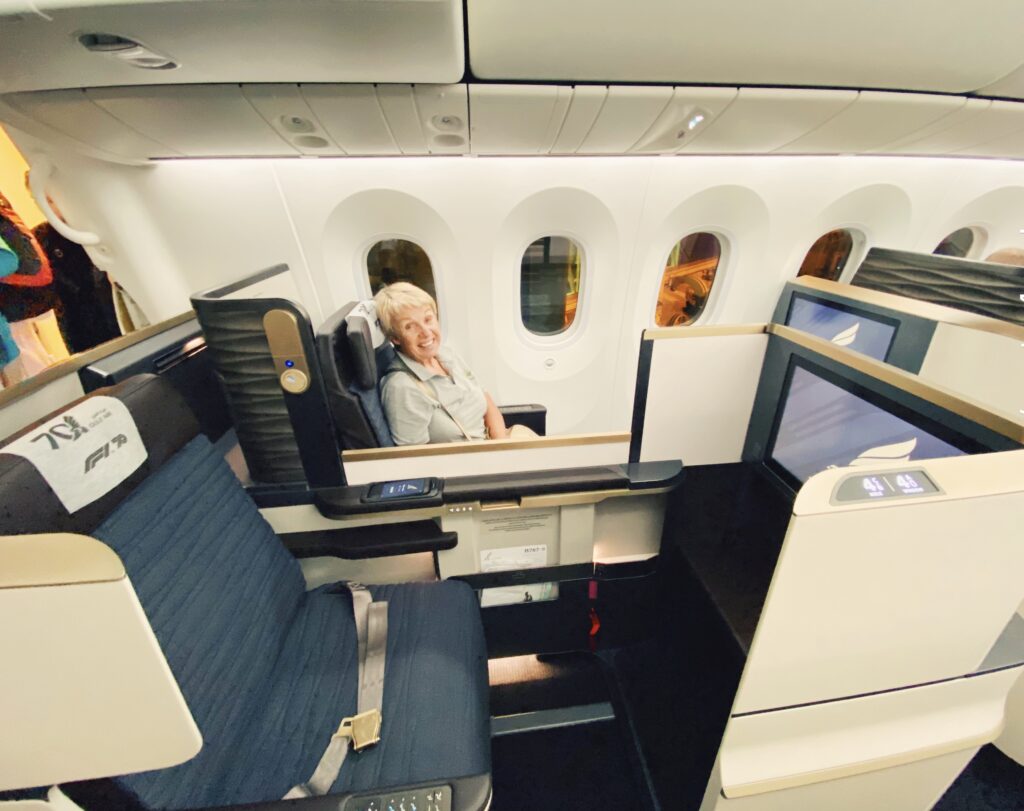 Where Do You Keep All Your Air Miles (points)?
Good question. When you earn air miles from flying with one of the 3 alliances, those miles will be credited to your points account with whichever one you signed up with. You can use those points WITHIN THE ALLIANCE. You cannot move them between the 3 alliances though.
Secondly, when you earn points/air miles with your credit card, you store the points in your credit card account. The best credit card for air miles in the UK is one of the Amex (American Express) card options so you would store your points WITHIN your Amex account (see my platinum account below).
You can then move them to your desired airline from here. See the next question.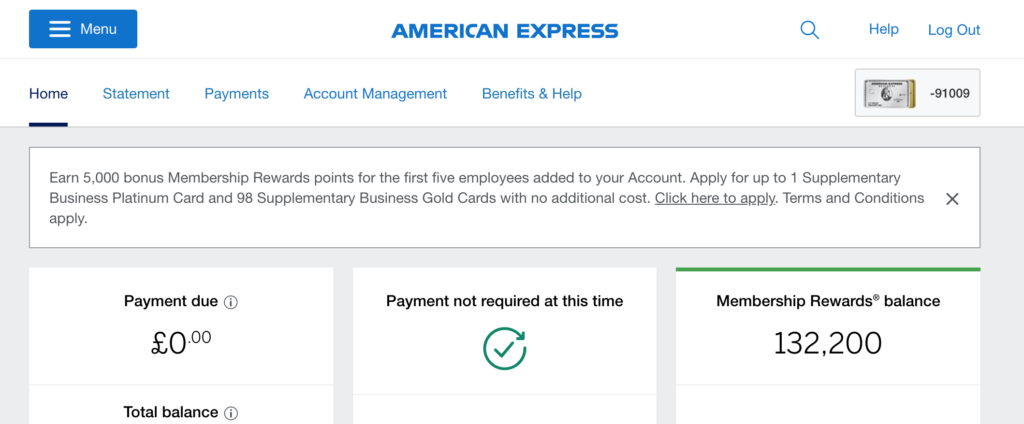 How Do You Move Your Air Miles/Points Around?
So, first, your points/air miles that are in your airline account CANNOT be moved. That means your Emirates points are stuck there. Your Air France miles are stuck there. But don't worry. You can use these points within the Alliance. So if you've signed up to Qatar (member of One World alliance), you can't move your points out of your Qatar account BUT you CAN use your Qatar points to book/upgrade flights with British Airways or Qantas because they're both One World too.
With your AMEX points though, they're gold. You can move those into any alliance, or airlines with no alliance (like Emirates). So you check how many points you have in each of your alliances, then see how many points it would cost to upgrade, then simply 'deposit' your points into that airline account directly from your Amex account. Super easy.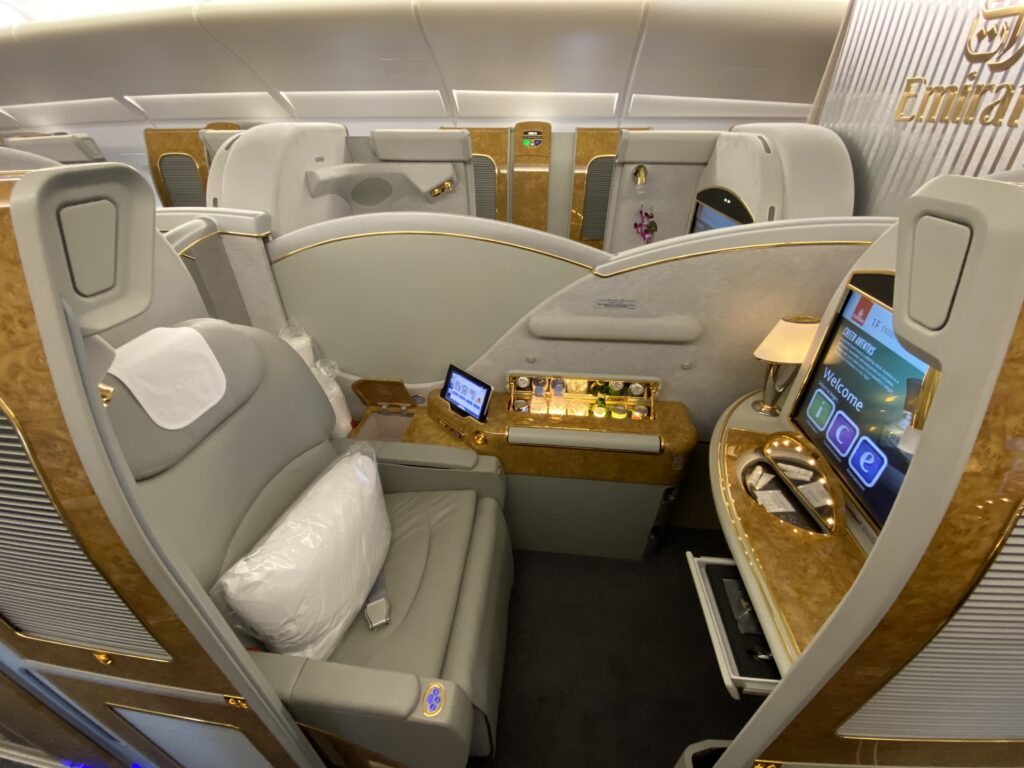 What is travel hacking?
Travel hacking is a term for people who manipulate the credit card system. They constantly sign up for multiple new credit cards, often up to 20+ per year. Each credit card they sign up for gives them 20,000 to 80,000 air miles as a joining bonus IF they spend $5k (4kGBP) in the first 3 months, for example. They do that. They then get the bonus air miles credited to their account, then they cut up the card. Then sign up for another card, and do the same thing again.
Often they are doing this on multiple cards at the same time! Soon they can have 500,000+ air miles for 'free'. This is called 'credit card churning'
However, this 'credit card churning' is generally only possible at this level if you're from the US. The UK doesn't offer huge credit card sign-up bonuses like that. But here are 5 CREDIT CARDS IN THE UK WITH AIRMILES.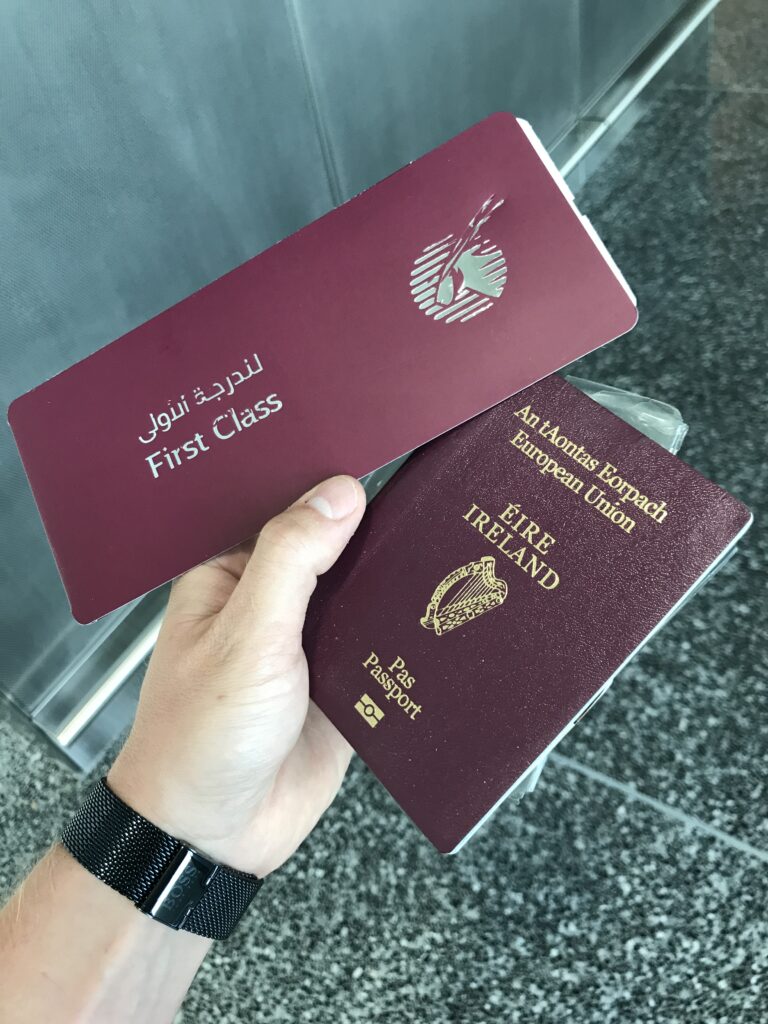 So, Travel Hacking Is Only For the US?
The Credit Card market is much more competitive in the US (blame consumerism/capitalism/debt culture, whatever). So credit card companies HAVE to offer big incentives to encourage people to choose their card and not another card.
In the UK, and across Europe in general, our credit card culture is different. And those amazing 'sign-up deals simply don't exist.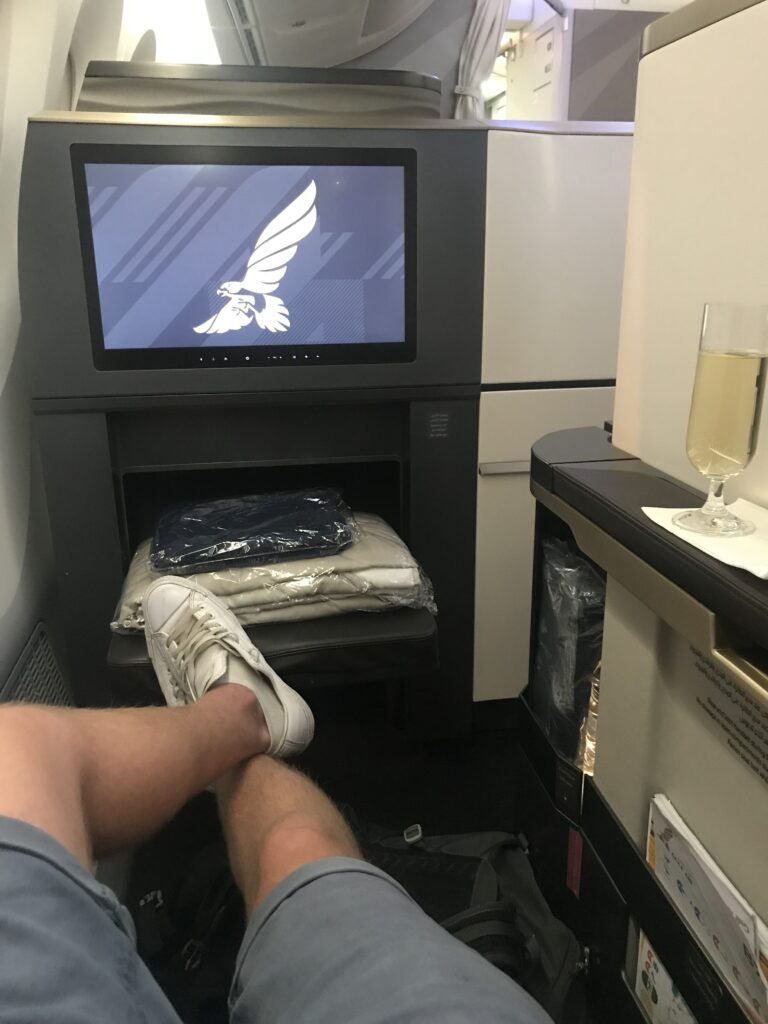 Can you travel hack if you're from the UK?
Don't worry, you can. It's just not as effective as in the US, but it's still possible. I fly first class with Emirates just last month (private cabin, $3000 Hennessy etc) by doing just that. But it still is 100% worthwhile, and if you've never flown business class or first class before, my article about best credit cards for air miles in the UK should allow you to do it at least 1 time every couple of years. That's well worth it, right?
In short, these are the only cards you need (in order)
*USE MY LINK FOR BETWEEN 1,000 to 5,000 EXTRA FREE AIR MILES ON TOP OF THE NORMAL BONUS!
https://americanexpress.com/en-gb/referral/jOHNWW6a58?CPID=100389259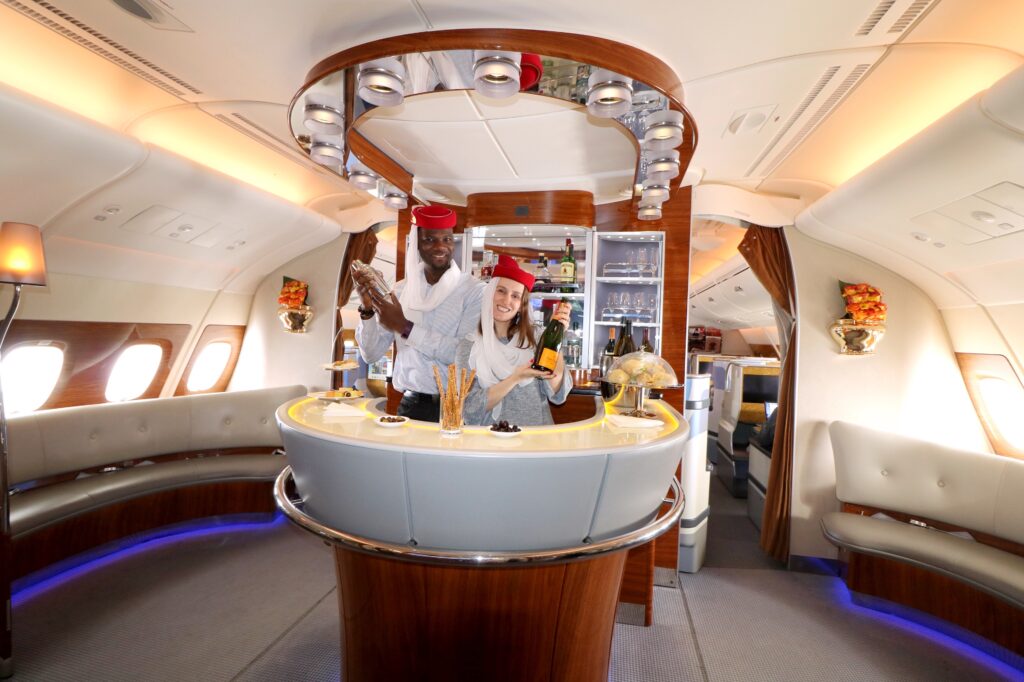 What's The Best Way To Spend Air Miles?
For me, I send nearly all my credit card points to my emirates account. They become air miles there. And then I can upgrade my flights.
You can use air miles for various things. You can buy stuff from the airport shops. Or you can book an economy flight with them (you still have to pay taxes). But the best? You can upgrade from economy to business, or from business to first.
From a dollar value perspective, the best value use of air miles is to use them for upgrades. Biz to 1st is best. But that means paying for business, which is already expensive. So the next best is to book economy (and pay for it), then use your points to upgrade to business. That's what I do 9 times out of ten.
NOTE: If you book the cheapest economy ticket, they are often NOT upgradable. If you want to upgrade later, check that before you book your economy ticket!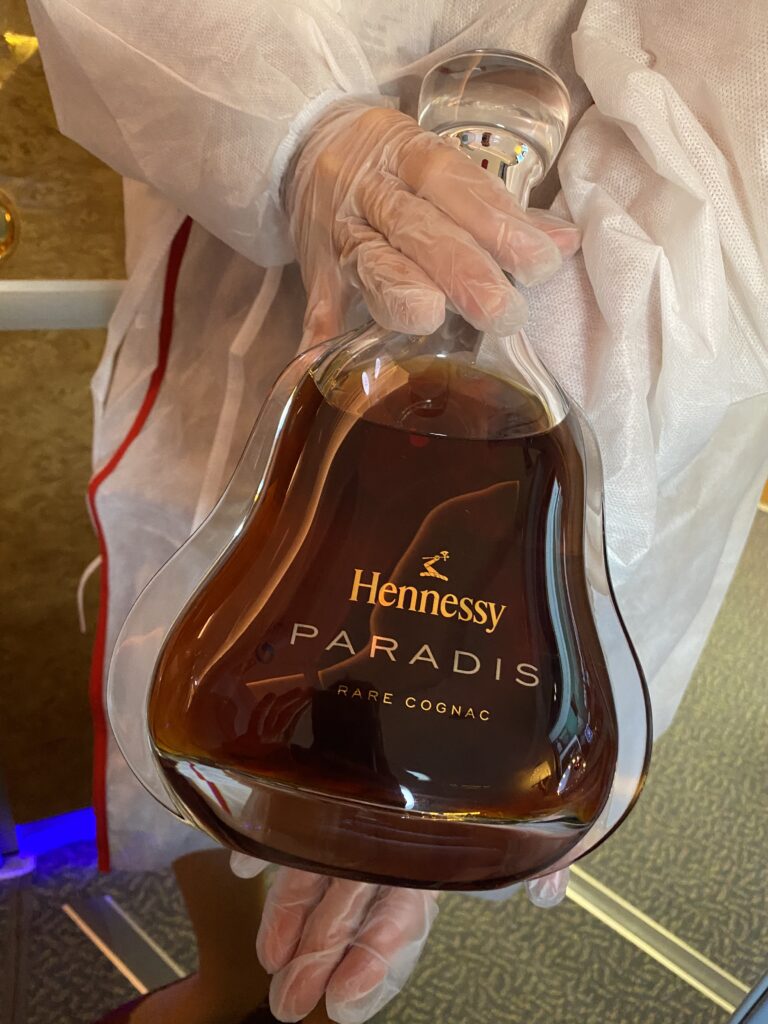 How Many Air Miles Does It Cost To Upgrade to Business Class?
It depends which airline it is. Of course, it depends how long the flight is. It depends if the ticket you bought is upgradable. But I know you want an approximate answer.
I often book economy from London to Bangkok with Emirates (1st leg 7 hours, change in Dubai, 2nd leg 8 hours). To upgrade one leg costs me about 60,000 air miles. To upgrade both is around 100,000 air miles.
NOTE: If you literally want THE CHEAPEST POSSIBLE flights. The cheapest routes. And the cheapest airlines (like I did for years). Then it's tougher to upgrade. You can't book the cheapest ticket if you want to upgrade. Also, it's tough to be loyal to an airline when there is a cheaper option. And the best credit cards have a yearly fee that you may not want to pay. For me though? It's a few hundred dollars year extra, for thousands and thousands of dollars of experiences in the sky.
How much is 1 air mile worth in 2021?
It's complicated. And it depends on how you use your airmiles. But if you really want a number, then 1 air mile is roughly worth $0.12 to $0.20 (0.10p to 17p). So 10,000 air miles is worth something like
If you redeem your points for cash (which you sometimes can) then you get much less.
If you redeem your air miles for an upgrade from business class to first class, you get much much more.
NOTE: The BEST VALUE way to use points is to upgrade. Not to buy booze in the airport, not for access to a snazzy lounge. And the best value of all, in dollar terms, is to use it to upgrade from biz to first.
Final thoughts on how Air Miles Work
I hope that cleared up how air miles work. You earn them mostly by credit card. You top them up by using your frequent flyer ID for just 3 accounts (1 from each airline alliance). And you book economy and use the air miles/points to upgrade to business for the best bang for your buck. And if you want to sign up for credit cards from the UK that give you air miles, there aren't many. BUT THESE ONES DO WORK!
If you want to see that collecting airmiles in the UK is a genuine thing, check out my $10,000USD Emirates A380 First Class review, or my recent Gulf Air Business Class Review.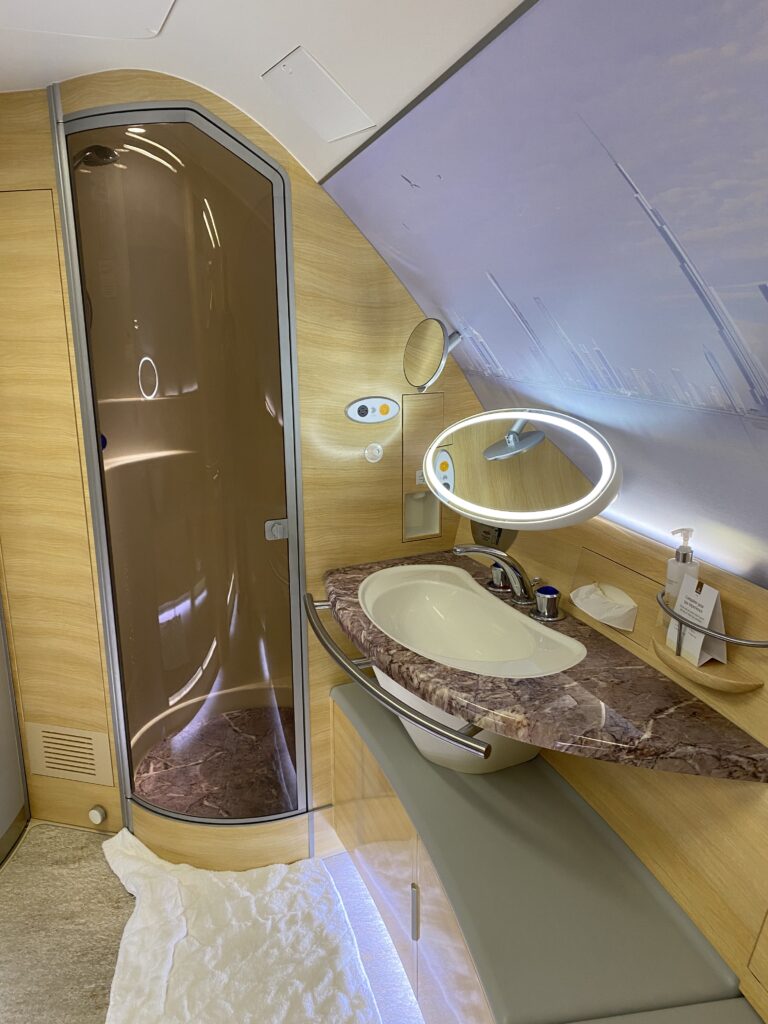 Remember, never travel without travel insurance! And never overpay for travel insurance!
I use HeyMondo. You get INSTANT quotes. Super cheap, they actually pay out, AND they cover almost everywhere, where most insurance companies don't (even places like Central African Republic etc!). You can sign-up here. PS You even get 5% off if you use MY LINK! You can even sign up if you're already overseas and traveling, pretty cool.
Also, if you want to start a blog...I CAN HELP YOU!
Also, if you want to start a blog, and start to change your life, I'd love to help you! Email me on johnny@onestep4ward.com. In the meantime, check out my super easy blog post on how to start a travel blog in under 30 minutes, here! And if you just want to get cracking, use BlueHost at a discount, through me.
Also, (if you're like me, and awful with tech-stuff) email me and my team can get a blog up and running for you, designed and everything, for $699 - email johnny@onestep4ward.com to get started.
Do you work remotely? Are you a digital nomad/blogger etc? You need to be insured too.
I use SafetyWing for my digital nomad insurance. It covers me while I live overseas. It's just $10 a week, and it's amazing! No upfront fees, you just pay week by week, and you can sign up just for a week if you want, then switch it off and on whenever. You can read my review here, and you can sign-up here!