Costa Rica may be a small country https://onestep4ward.com/volcan-arenal-costa-ricas-iconic-landmark/ but it is one of the best places to visit if you're thinking about a holiday. The country is located in Central America and is famous for it's amazing surf spots, lush green jungles and the inconic range of volcanoes. When I headed over to this magical country I was instantly in love and will definitely be going back there again when I get the chance.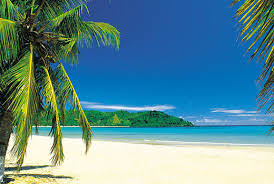 Have any of you guys been to Costa Rica? I would love to hear about your experiences and stories. If you have any top tips or must see places then all you have to do is pop them down in the comment section below – I can't wait to read them all! Here are my top 3 reasons why Costa Rica is so easy to fall in love with!
The Beaches
If beaches are your thing then you will fall in love with Costa Rica just like I did, there are some of the best beaches in the world waiting for you over here. There's over a thousand miles of amazing coastline, so even if you choose a public beach or the private beach at your hotel you are in for a treat. You should try and avoid the rainy season to make sure that you have the sun beaming down on you when you're strolling along the sandy shores.
The Food
We all know that when we visit a new country we get to sample new flavours and tastes, Costa Rica will help you discover the amazing Lizano Salsa! The salsa is similar to a barbecue sauce, it's tough to describe it perfectly so you'll have to try it yourself! People love it so much that it's on sale in large quantities at the airport. If you're thinking of sticking to a strict diet then forget all about it now guys! It would be an absolute crime to not eat everything that is on offer when you're in Costa Rica, the food is absolutely amazing!
The People
The local people make ir break a country as far as I am concerned, amazing people can make up for many things that a country is lacking. Well, Costa Rica is not lacking and also has amazing people! I love how people here are so friendly, happy and just great to be around. I loved walking down the street with people smiling at me, it was much different to walking down the road back home!