This year's opening ceremonies at the Ontario Power Generation's Winter Festival of Lights at Niagara Falls will highlight Canada's relationship with South Korea. 2013 marks the 60th anniversary of the signing of the armistice that "ended" the Korean War, in which 27, 000 Canadians saw battle and over 500 lost their lives. 2013 also marks the 50th anniversary of diplomatic relations between the two countries. So important are these historical events, and their ongoing cultural significance in the Canadian consciousness, that the government declared this year "The Year of Korea."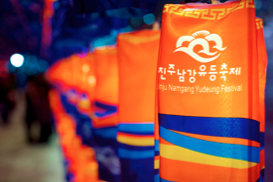 If you and your family are looking for a uniquely historical and cultural vacation at the largest waterfall in North America, plan to rest your boots in some high-quality Niagara Falls lodging and take in the Winter Festival of Lights. While you're welcome to see Canada's premier illumination festival throughout the holiday season — until Jan. 31, 2014 to be exact — the opening ceremonies take place Nov. 9, 2013, and they will bring the wonder of Korea to the Canadian hinterland.
The Usual Spectacle Is Still Spectacular
Since it first got underway in 1982, Canada's Winter Festival of Lights has always been something to admire. With over 120 lighted displays throughout the Niagara Parks Winter Wonderland and millions of sparkling colors and lights illuminating it all from the Skylon Tower and the Zimmerman Fountain to the Religions of the World displays, the Festival transforms the winter nightscape into something that can be experienced nowhere else. This year's opening ceremonies, however, look to be especially noteworthy.
Korean Dance and Drum Performances
Starting at 2 p.m. on Nov. 9, traditional Korean dance and samulnori drum troupes will open the festival. Samulnori has its roots in what Koreans call "farmer's music, " which is similar to Canadian and American folk music in that it started among the poorer classes. It is a genre of traditional percussion that consists of four Korean instruments, all of which correspond to a weather condition:
The Kkwaenggwari: a small gong that represents thunder
The Jin: a larger gong that represents the wind
The Janggu: a drum shaped like an hourglass that represents rain
The Buk: a barrel drum similar to a bass drum that represents clouds
The sights and sounds of a samulnori drum troupe and dancers is inimitable, full of accented and punctuated rhythms, bold body movements and high spirit.
Korean Lanterns
A highlight of this year's illumination will be a display featuring hand-painted lanterns from the Jinju Namgang Yudeung Festival of South Korea, which started in 1592. The display of this festival's lanterns is especially appropriate given that lanterns were used in wartime to make military signals, as well as communicate with reserves and family members who were outside the battle lines. Over time, the lanterns came eventually to mark those who died in battle. These days, the history, traditions and legends of Korea also play a part in the lanterns' stunning variety. As Canada and South Korea celebrate their mutuality on the anniversary of a war that cost both sides dearly, these lanterns mark the current nature of their ongoing friendship. A 70-meter Tunnel of Wish Lanterns is the centerpiece of this display.
Taekwondo Demonstrations
Taekwondo is a Korean martial art combining self-defense with sport and exercise. Developed in the middle of the 20th century by a handful of Korean masters, it has quickly grown in popularity — so much so that it has been an Olympic sport since 2000. The demonstrations will be part of the festivities on the opening day of the Winter Festival of Lights.
Korean Food
From kimchee (fermented cabbage) to hoeddeok (sweet pancakes), Korean food is as unique as the culture from which it sprang. Marked by sharp flavors, fresh vegetables, marinated meats, mixed rice and porridges, vendors will be present with samples sure to surprise — and delight — you and your family.
2013's Ontario Power Generation's Winter Festival of Lights at Niagara Falls will be memorable for many reasons. Go for the lights; go for the falls. Go for the opportunity to experience South Korea in Canada amid the history and fanfare of two countries still growing in understanding with one another.
About the Author: Jessie Holder is a contributing blogger who recently completed her graduate degree in Korean studies.