Lisbon might not be one of the trendiest or busiest shopping cities in Europe, but be sure that you can have an authentic shopping experience there. Hopefully you're not one of those monothematic shoppers, shoe fetishists who just can't avoid entering in any shoe shop they come across, otherwise stop reading here.
If  you would like to purchase some arts & crafts to take home, there is no better place then A Arte da Terra ( Rua Augusto Rosa 40), 12th Century stable of the Lisbon Cathedral turned into a showroom and shop, where you can find the finest Portuguese crafts: hand-painted azulejos,   figurative sculpture made of diverse materials, embroidery etc.
Those who would like to have a dive into the Portuguese old times shouldn't miss A Vida Portuguesa in Rua Archieta 11. All the products, that go from candy to notebooks over toothpaste and many more objects and products, have a traditional retro packaging.
This one is not the only old fashioned shop in the Portuguese capital. You may first have a small rest in apartments in Lisbon, but then go back to the Chiado quarter. There are still many shops with antique wooden interiors with old glass display cabinets. You shouldn't miss the tiny gloves shop Luvaria Ulisses in Rua do Carmo 87A. Nowadays it's not so easy to find such high quality, hand made leather gloves. No bargain prices here, but the place itself is worth the visit for its Art Deco interiors and probably for being the smallest shop in Europe if not in the world.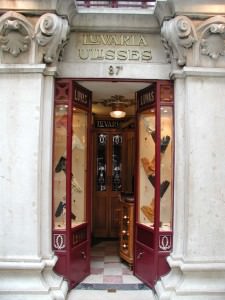 If you have a sweet tooth then go to Confiteria Nacional in Praça da Figueira 18, where you will have a wide selection of sweets and pastries. In case you haven't heard yet about it, you can't leave the city without visiting the Monastery da Santa Maria de Belém, and taste the unique pastéis de nata at Antiga Confeitaria de Belém. Talking about food…Mercado da Ribeira  is the place to visit for fresh products. Will you dare to cook a typical Portuguese dish in Lisbon apartments?
Want to try the flea market experience in Lisbon? In Campo de Santa Clara street, close to Alfama district is where the Feira da Ladra is held on very Tuesday and Saturday. Here you can  find some hand made crafts for a lower price than elsewhere.
Is design your obsession? Here some absolute musts for you: Jimmy Portuguese Styleshop in Rua das Flores, 100 in Chiado. As its name suggests it is specialized in Portuguese; design; also Tom Tom Shop in Barrio Alto is worth the visit even if it's just to have a look around.
Do you still think that Lisbon isn't one of the European shopping capitals?