Don't you just love it when you come across a city and a country that just feel right? Slovenia did it for me, it really did. It has a laid back Capital, cool people, amazing scenery, good nightlife – I wish I had spent more time here actually. Along with maybe Macedonia and Montenegro, Slovenia has been one of my favourite countries in Europe, it's that good.
I arrived in Ljubljana from Venice, so to be fair the price difference was always gonna have me falling in love with Slovenia. I spent 3 nights here, and while I most certainly covered all the main sights, it's the sort of country you could burn a couple of weeks happily.
Ljubljana is a small capital , with a population around 250, 000. When you're traveling through Europe, chasing famous sight after famous sight it's such a  welcome relief to reach a friendly city that doesn't have you running around like a madman.That's not to say you can't fill a couple of days in Ljubljana, you certainly can, but you won't have your lonely planet out every 30 seconds, fighting against German and Korean tour groups for pics. I loved it here.
When you're in the city, you can wander around and see all the major attractions in just a few hours, I'll go through them quickly, then you can go back to relaxing with beers on the river side. Here are the best 5 things to see in Ljubljana, Slovenia:
1) Ljubljana Castle:
Slovenia have done this so, so well. You access the castle with a fun little funicular, which takes you up the 'mountain' into the castle. From there you're free to explore the exhibitions, which are so well done that even I, a museum-dreader, enjoyed myself. You also get to watch a short documentary about the castle, which is also really professionally done; and you can climb the watch tower for unrivalled views of the city below. 5 Euro for the funicular and access to everthing.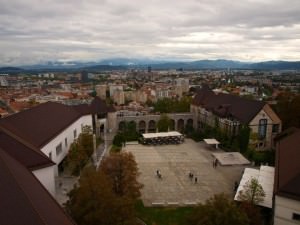 Presernov Trg.:
The cities main square is at the conjunction of the impressive Franciscan Church of the Annunciation and the triple bridge. Lots of cafes, bars and the odd street performer are dotted around. Really happening spot, especially in the evenings.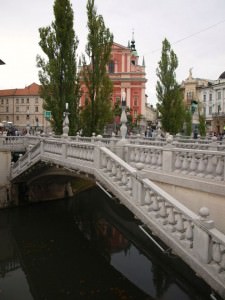 Cathedral of St Nicholas:
Insert generic description of sexy European religious building. Yep, here again. It's nice, check it out, take a photo, carry on with your day.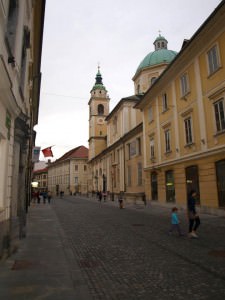 Dragon Bridge:
Pretty nondescript really, but they are the mascot of the city and the people love it! The bridge is home to 4 dragons, all of which are held in huge regard. Disrespect at your peril.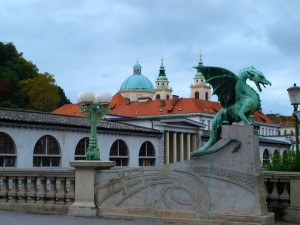 Walk along the Ljubljanica River:
This is the perfect evening activity, you'll meander past the impressive buildings of Ljubljana University and the Philiharmonic Hall, past 101 cafes, ice cream vendors, bars and restaurants.  Splash out and treat yourself to something nice, the atmosphere is spot on.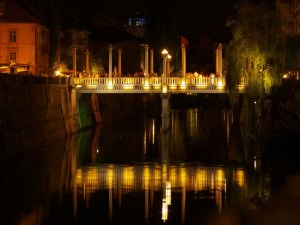 I'm sure you guys can hear my love for the city, buy it stretches for the whole country, with day trips to Bled and Bohinj coming too, it really is a must see for