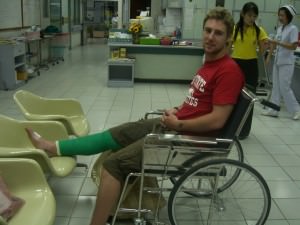 1.   Get an International Cell Phone or Another Way to Communicate
One crucial thing that students looking to study abroad often forget to organize before heading overseas is a reliable form of communication. In this day and age you can easily talk to your friends and family using cell phones, email or through Internet chatting. When you're in another country, however, this is not always the case. Chances are, if you do not set up an international phone service, you won't be able to make calls overseas without spending a fortune. Other ideas for communicating with family and friends back home are Skype and Whatsapp. You can use both of these in places that offer free wifi!
2.   Set Up Travelers Insurance
Travelers insurance often times goes overlooked when it comes to study abroad. People assume that only adventure type vacations require this type of coverage, but this is just not so. Any minor ailment in a foreign country could mean unprecedented medical bills and a huge headache for the person who has to deal with them. Be sure to get travelers insurance, and if they can not pay for your medical needs, other companies are out there who can—companies such as First4Lawyers.com often help with accidents abroad.
3.   Visit the Doctor and Sock Up at the Pharmacy
Speaking of health, one thing you should always do before an extended trip abroad is to visit your doctor and stock up on your prescriptions. When your doctor knows that you will be overseas for a long period of time, he is able to get your necessary prescriptions in advance. That way, you will have all that you need while you are there and won't have to deal with trying to translate prescriptions or shipping things expensively overseas.
4.   Make Sure Your Grades Will Transfer
It's important to meet with a study abroad advisor at your college when you are planning your coursework for overseas. Often time classes will line up just right with classes that are in your home university requirements. But sometimes they wont, so go into the office and make sure that everything you're going to take transfers correctly—studying abroad is expensive, so make it count!