The Olympic Games are now in full swing and if you're in London, you're sure to have an unforgettable experience. Make your time abroad this summer even more memorable with a London to Paris day trip. You can make the trip via train in about two and a half hours, spend the day exploring Paris, and be back in your London hotel room by nightfall to prepare for the next day's events.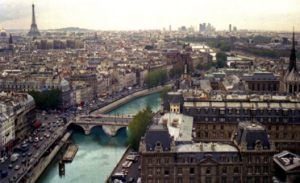 What's worth seeing in Paris during your day trip? Let's take a look:
1) Classic Paris
An excursion to Paris will allow you to finally see the city's iconic sights and attractions with your very own eyes. Do a grand sweep of the city to take photos of all the city's classic attractions: The Eiffel Tower, Concorde Square, Notre Dame Cathedral, Triumphal Arch, Alexandre III Bridge, and Avenue des Champs-Élysées. The best part? Getting your souvenir snapshots of these famous monuments and attractions doesn't have to cost you a penny.
2) Must-See Museums
Paris boasts a plethora of interesting museums, many of which are free of charge. The Paris History Museum, Madame Curie Museum, Victor Hugo Museum, and several of the permanent collections in Paris' art museums are all free of charge. If you're looking for somewhere to take the kids, try the Grevin Wax Museum, Paris Science Museum, or the Tropical Aquarium. And, of course, leave time to visit one of the most celebrated museums in the world: The Louvre. If you happen to make the trip the first Sunday of the month, admission to The Louvre is free.
3) The Latin Quarter
One of Paris' most charming districts, the Latin Quarter is home to the city's prestigious Sorbonne (University of Paris), making it a place that academics, intellectuals, and artists frequent. Do a walking tour of The Latin Quarter to discover its many charms; here, you'll find the landmarks of the Pantheon, Conciergerie Palace, Place Saint-Michel, and the idyllic Luxembourg Gardens. Stop in at one of the district's many bistros or cafes to get the total experience.
4) Disneyland
For families with young children, Disneyland always makes for a magical excursion. The park is a short train ride away from the city center. This summer is the perfect time to visit as the park is celebrating its 20th year anniversary with new shows and attractions, including the 20th Anniversary Celebration Train and the world premiere of a brand new Disney Color, Light, and Magic Show. Plus, there are always plenty of opportunities for your children to meet and greet their favorite Disney characters.
5) Food Tour
Your day in Paris is bound to be jam-packed with activities, but don't forget to leave some time to sample the city's renowned cuisine. Start off your morning with a café au lait and a croissant or decadent pain au chocolat. For lunch, try the croque monsieur, a grilled ham and cheese served with a poached or fried egg. Finally, try a signature chariot of cheese with a bottle of wine. And don't worry: Paris is packed with great eateries that are suitable for even the most economical budget.