Egypt is one of the most visited countries in the world and with sights like the Great Pyramids and the Valley of the Kings, it's certainly no surprise. I spent 3 weeks backpacking around Egypt last year and was really surprised how cheap it was. Anyways, I had a great  time and look back at it fondly. A good friend of mine did something similar and created this very perfect list about Egypt. If you've ever been you'll certainly relate! Read on: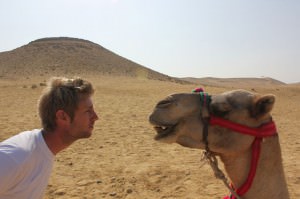 The Ten Commandments of Egyptian Travel
Commandment I
Thou shall not take the countries name in vain when you are overcharged, short-changed or when you are galled by having to seemingly pay twice to see certain attractions
Commandment II
Thou shall remember that posted opening times on buildings and travel schedules are arbitrary at best and that buildings will open and all schedules will be followed 'sha' Allah' (God willing)
Commandment III
Thou shall be in possession of ones passport at all times when moving around to appease the many unofficial looking 'officials' who will covet a look at it
Commandment IV
Thou shall remember to visit Drinkies at least once a day to pay homage to their glorious wall of Stella beer bottles
Commandment V
Thou shall not be tempted to kill in response to the utterance of the words "it is good for you, " "where are you from?" "full, " "complete" or "closed" no matter how many times you hear them
Commandment VI
Thou shall always check ones change after making a purchase
Commandment VII
Thou shall honor thy local buffering you from the oncoming traffic as you cross Egypt's roads
Commandment VIII
Thou shall make an effort to learn Arabic number symbols
Commandment IX
Thou shall give baksheesh (tip) only when the service warrants baksheesh and not because it's simply expected
Commandment X
Thou shall not bear any grudges or cause any harm to the touts who will endlessly harass you
Thanks to Dave for this! Egypt is an awesome backpacking destination, and you can easily get by on $30 so get your ass there as soon as possible. Also, check out sunset on Mount Sinai on one of your Egypt Holidays, that was a real highlight for me. Happy travels!