If you've been travelling then you know that sooner or later you will wake up with an upset stomach, it is certain that you will lose at least a day or two of your time back in your hostel trying to recover. When you don't feel well on the road all you want to do is get better as soon as possible, if you were back home on your sofa then you don't mind if it takes a little longer than usual. Thankfully I have found something that manages to sort me out when ever I travel, Bimuno keeps my immune system in tip top condition and keeps my stomach in good health. Now when ever I am packing up my bag for another trip I make sure that there's a pack of Bimuno in there, I know that if I don't bring it then I will end up regretting it for sure! You have two great options, TRAVELAID or the Bimuno prebiotic powder, I love them both!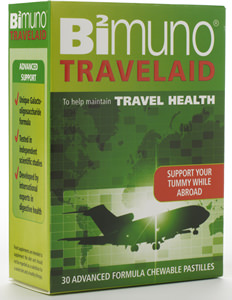 The best thing that the guys over at Bimuno have done is create their new product TRAVELAID. Now it is easy to keep your stomach in check when you travel, all you have to do is take two of the chewy pastilles each day. The pastilles provide your stomach with all of the good bacteria that you need, chewing two a day will make sure that diarrhoea is kept at bay when you are on the road. TRAVELAID is the best thing I have found to stop an upset stomach from ruining my travels.
Multivitamins are always great to have each day when you are travelling, sometimes it is difficult to get everything that your body needs when you are in some obscure or remote location. All you need to do is take some each day to keep everything in working order and to keep those pesky illnesses at bay. Prebiotics are the best thing that you can use and are much more reliable that probiotics because they find their way in to your stomach without being dissolved by all of our natural acids. Thankfully Bimuno also have a prebiotic powder!
Bimuno powders could not be easier to use, all you have to do is add them to your food or drink once a day, this will help with your digestive health and this will then help you to maintain a healthy immune system. You can even add the powder to your daily cup of coffee or tea, so it will make for the perfect start to your day. The company if recommends that you use the powder with a hot drink, according to them the you will see the best results if you add the powder to a hot drink. I noticed a major improvement in my immune system and digestive health since I have started using Bimuno, I recommend that you try it for at least 30 days so that you too will notice differences. Our health is the most important thing, when you are travelling you need to make sure that you are in the best shape possible so take my advice and go to the store buy some Bimuno powder or TRAVELAID, then stick in your case for your next trip.
You will be able to find the Bimuno products at all good chemists. You can also find them online; the Bimuno website – www.Bimuno.com – you can find them on twitter @BimunoUK and their Facebook Page is always good to find out about the latest products, promotions and competitions.