White water rafting is one of those adventure sports you have to try and has quickly become one of those things you have to try. Like other adventure sports (such as sky diving) no experience is the same and while out on the river you get to see some truly magnificent landscapes. Landscapes tourists don't often get to see.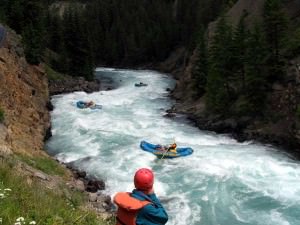 Of course with the winter snap arriving in many countries people think rafting is off the agenda. However this is simply not the case. There are many spots in Europe and in fact the world in which you can do white water rafting all year round. So today we wanted to share some great spots for those who have itchy feet and simply can't wait for the sun to arrive at our shores once again.
Chiang Mai and Northern Thailand
White water rafting is still a relatively new concept in Thailand but while the uptake has been slow they have no shortage of incredible rivers. Thailand`s landscapes are like no other and it is well worth heading north to the best spots such as Mae Taeng River in Chiang Mai. Of course you might not want to head out there in between May and October as it is the rainy season. For some this might be too much but Thailand is quite simply incredible.
Costa Rica
For several years running Costa Rica has been voted the world best white water rafting spots with its class II to class V rapids. There is literally something for everyone here with such a diverse collection of rivers. The best spots include the Rios Pacuare, Sarapiqui and Corobici and while it is expensive to get there prices are very reasonable once there. With so many highlights it's a must visit but don't forget your life jacket.
North and Eastern Australia
Ahh, beautiful Australia. If you want a warm, wet and wild rafting adventure then North and Eastern Australia is for you. Few countries boost such diversity and Australia is a magnet for thrill seekers. The Franklin River is popular with tourists but it's sometimes fun to go off the beaten path and really get deep into the wilderness. Rafting here can be expensive so its worth looking around first and book early.
Zimbabwe (Zambezi River)
If you are looking for something truly extraordinary then a trip to Zambezi River is a must. It's hard to put this place into words but the wild life and natural scenery is incredible. The slow parts of the ride are just as breath taking as the fast bits because of this. You obviously have to take a few more precautions here but if you want a unique experience this is for you. The weather is also nice and warm year round.
There are literally to many places to mention but these are some of the top spots during the so called offseason. If you are looking close to home then it may be worth waiting till summer and hitting the trails in summer. Switzerland would be our top recommendation during this time. Nice and warm and great Swiss accommodation. Have fun guys.