Where can you go for super high quality skiing? Austria – that's where! From beginners to experts, the European nation is recognised as one of the best places in the world to ski. But why?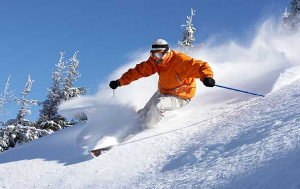 The Snow
Ski resorts in the Austrian Alps are home to some of the finest powder and, a feat in and of itself, powder that remains perfect throughout the Spring.  The St. Anton resort, in Tirol, is known in particular for its deep and light powder, as is Warth Schröcken, in Vorarlberg, which has even been referred to as the 'snowiest place in Europe, ' so if that's not reason enough to try it, I'm not sure what is!
Quaint Resorts
The countless resorts and ski chalets Austria has to offer gives you plenty of choice when it comes to accommodation. Not only are these charming  ski villages surrounded by picturesque scenery, but the culture within them is also extremely inviting. The friendly après-ski culture encourages you to relax after a day on the slopes and converse with some of your fellow skiers.
Vertical Drop
Skiers always look at resort's total vertical drop to give an indication of the length of the runs and, consequently, how crowded those runs may be. Some of Austria's ski resorts, including Innsbruck and Sölden, boast incredible vertical drops, ranging from 5, 500 feet to over 6, 100 feet, respectively.
Ski Schools
Beginners, don't let the pristine slopes and posh lodges scare you off. There are runs fit for everyone and world famous ski schools to help get you on your feet, or your skis, as it were. There's no need to worry about the language barrier either, as private and group ski lessons are available in English.
World Cup Races
Austria's Kitzbühel resort is a great place to go if you've got a great deal of skiing experience under your belt or if you'd like to watch those who do. Every January, the resort hosts the World Cup ski races; a fascinating, yet incredibly challenging race on the Streif, a world renowned downhill course.
Other Activities
Finally, if you see skiing as a fun hobby but don't feel it's your passion, you'll still find traveling to Austria worthwhile.
You can try snowshoeing, hop on board a sleigh ride or trade a day on the slopes for a day in one of the luxurious resort spas. A little retail therapy or a long, leisurely lunch in one of the village's gourmet restaurants also makes for a well-rounded vacation.
So, for a wholeheartedly delightful skiing experience, head to Austria!