The 3 Peaks Challenge UK; How To Do Under 24 hours
The 3 Peaks Challenge in the UK is a hiking adventure that most people can do with a little bit of training. It can be done either in under 24 hours (that's the real challenge!) or leisurely at your own pace. When you call it the "National Three Peak Challenge' however, that means you're setting out to do it in under 24 hours, climbing each mountain then hopping in transport, driving to the next one, climbing it and coming down, then driving to the 3rd and final one and getting up and down it. All within 24 hours. And that's exactly what I recently did!
So I'm going to give you guys the lowdown on how to do it as cheap as possible, as easy as possible (but not THAT easy), and how to ensure you come in under the 24-hour mark. So let's get to it!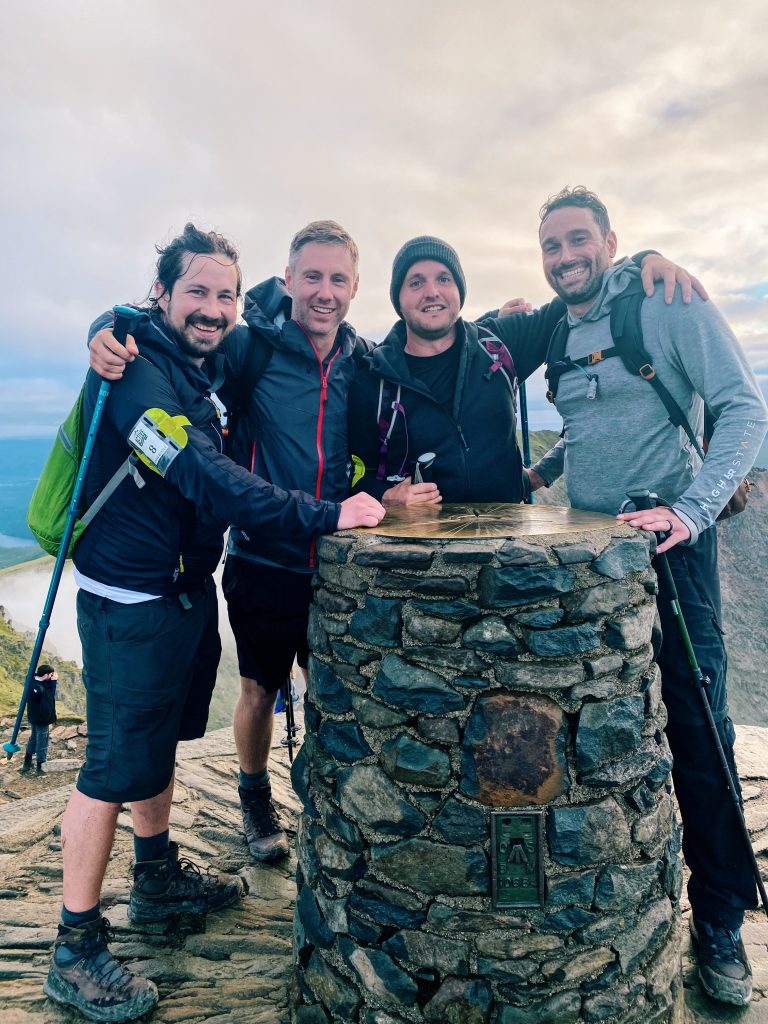 What is the 3 Peaks Challenge (National Three Peaks Challenge UK)?
The 3 Peaks Challenge is hiking race-against-time when you attempt to summit the highest mountain in England, Scotland, and Wales all within a 24 hour period. You have to get up and down each mountain before the clock hits 24 hours. Sound easy? It's not!
It's the logistics that make the experience difficult. You only have 24 hours total, including driving time. And the distance between the 3 mountains is about 480 miles or 772 kilometrers. That means about 12 hours or so driving, leaving you with just 12 hours to get up and down all 3 peaks! Doesn't sound as easy now, does it!
That actual hiking distance up and down those 3 peaks is roughly 26 miles (42 kilometres) across in three stages. So just shy of a marathon. But, that also includes a total ascent of 3064 metres (over 10,000 feet!).
So 24 hours, no sleep, hiking in the dark and through the night, no time for food stops, 12 hours or so driving, and be ready to shoot up and down more than 10,000 feet of climbing. How do you even go about organising that?! Let me help.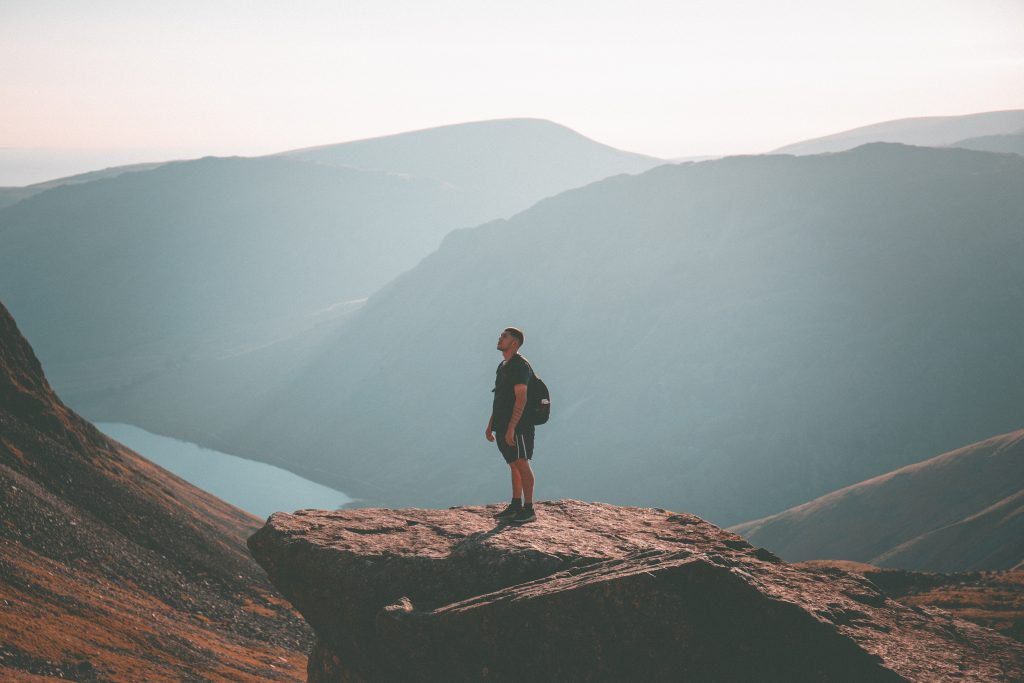 What Are the National 3 Peak Mountains?
The highest mountain in Scotland (and all of the UK) is Ben Nevis at 1,345 m (4,412 feet)
The highest mountain in Wales is Mount Snowdon at 1,085 metre (3,560 feet)
And, the highest mountain in England is Scafell Pike at 964 metres (3,163 feet) 
So you must reach the summit of each mountain AND get down them again within 24 hours. Normally for people not doing the 3 Peak Challenge, it would take roughly 6 hours to get up and down each mountain, maybe a little less for Snowdon. But with 12 hours driving time, that only leaves you with 12 hours TOTAL for all 3 mountains. So you can't hang around. You have to keep moving.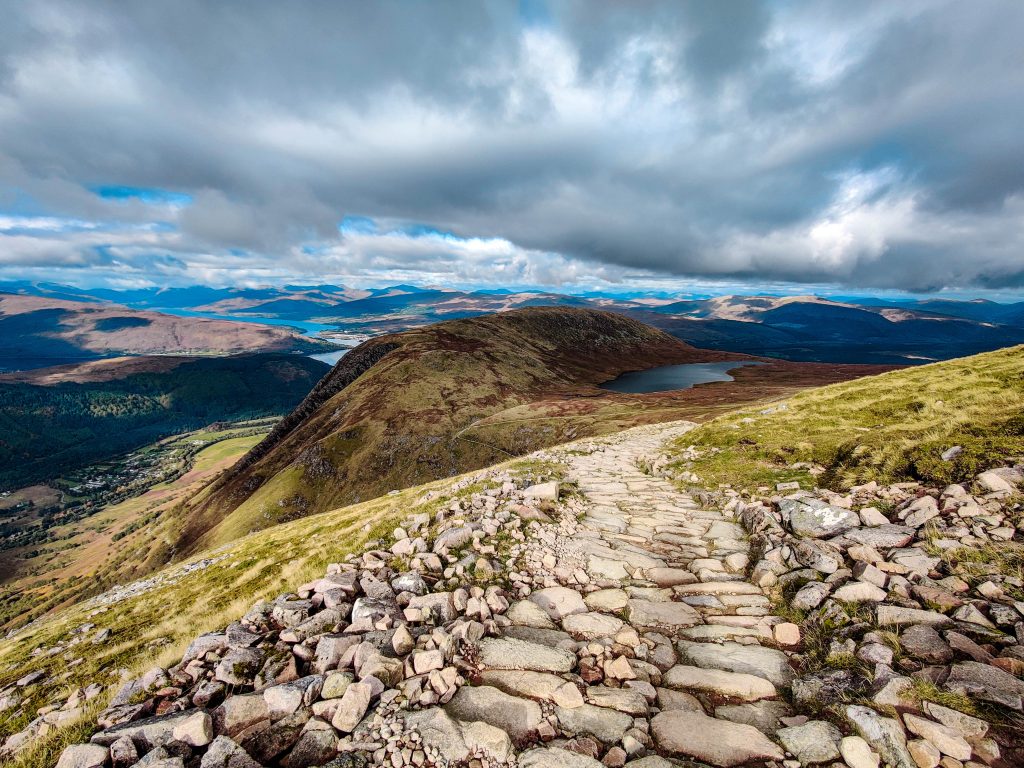 Best 3 Peaks Challenge Route
The Three Peak Challenge can be done in 1 of 2 ways. Either:
Start in Wales and finish in Scotland, via England
2. Start in Scotland and finish in Wales, via England (The best way in my opinion)
However, you also have to choose the TIME you start the challenge too. I'll discuss that here too.
Which route is best for the 3 peak challenge? Really it comes down to convenience for the participant. Personally, though I think it's best to start in Scotland early in the morning, making Ben Nevis your first mountain. Then doing Scafell Pike in England and finally then Mount Snowdon, in Wales, last. Here's why:
Starting in Scotland means that you tackle the most difficult mountain first, Ben Nevis. It's the highest summit, and longest trek by quite a way. So it's best to do it first when you still have a lot of energy and a good night's sleep behind you.
Starting the whole challenge at 8am in the morning means that you take on Ben Nevis (the hardest mountain remember) in the day light.
That also means you'll be climbing and descending the 2nd mountain, Scafell Pike, the steepest climb, still in the evening light. That's the safest way to do it.
Doing it this way around means you'll be climbing Mount Snowdon in the middle of the night. But it's the easiest climb, the shortest climb and by this stage you'll be pretty tired so you'll be delighted you saved the easiest until last!
Doing it this way also means that when you're finished, you're just 2 hours from Liverpool. A major hub for flights and trains to get home. Or a great spot to celebrate that evening, after a nap of course! Whereas doing it the other way around, you end up in Fort William, way north into Scotland. It is super beautiful up there, but you're a little stranded to be honest.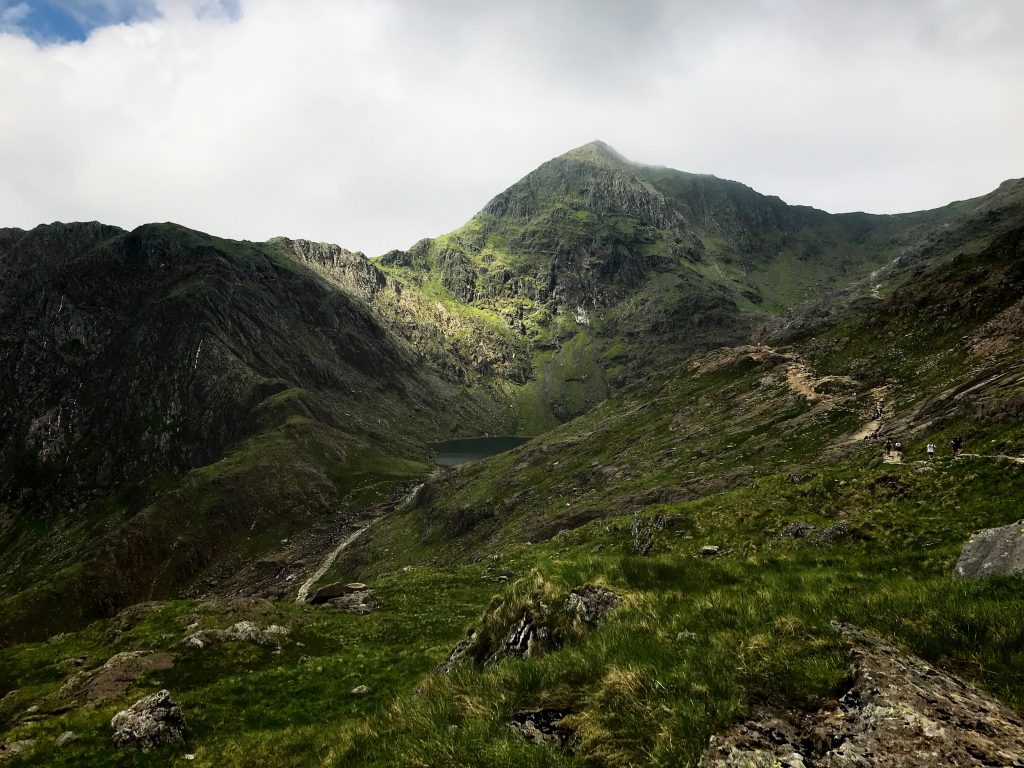 3 Peak Challenge Route Map:
Best 3 Peaks Challenge Schedule
Ok, if you take into consideration my advice on the best route. This is the best three Peak Challenge schedule:
DAY 1:
Get yourself in Fort William, Scotland. Fort William is the closest town to Ben Nevis, just 10 minutes or so from the foot of the mountain. There are plenty of hotels, and restaurants, and hiking shops. So it has everything you need. Get yourself a hotel, have a carb-heavy dinner and an early night.
DAY 2:
8am: Get to the bottom of Ben Nevis, just 10 minutes from Fort William for 7.30am ready for an 8am start.
You should allocate 5 hours MAXIMUM to get to the Summit of Ben Nevis AND back down to the same starting point. That means if you start at 8am sharp, you should be back in your transport and leaving by 1pm.
1pm: Drive from Ben Nevis to Scafell Pike. The journey takes 6 or 7 hours driving time.
8pm: You should begin your Scafell Pike hike by around 8pm. You should allocate around 4 HOURS to get to the Summit of Scafell Pike and back to the car park.
Mid-night: Drive from Scafell Pike to Mount Snowdon. The journey takes 4 or 5 hours driving time.
4am: Start hiking Mount Snowdon, allocating yourself 4 HOURS to get to the summit and back to the car park.
7.59AM: SUCCESS! You have completed the 3 Peaks Challenge in under 24 hours (just!)
Day 3:
You've already hiked through the night into Day 3. But you should be at Mount Snowdon carpark by 8am. Take some pics, celebrate. If you leave at around 9am, you'll be in Liverpool city centre by mid-day. Either go home (boring) or check-in to a hotel, nap for a couple of hours, then go mad in Liverpool that night to celebrate! That's exactly what my buddies and I did, what a way to spend a weekend.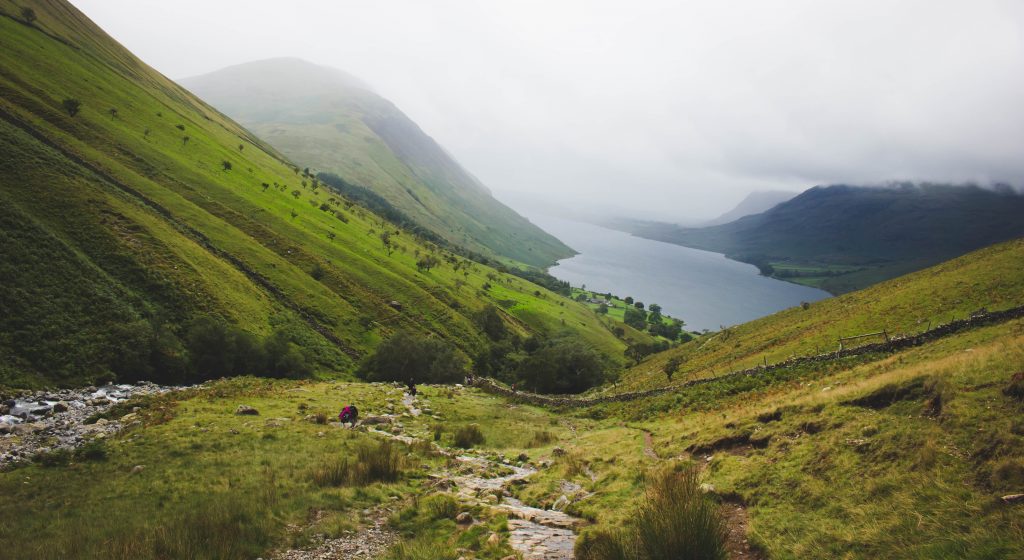 The LOGISTICS: What's the Best / Cheapest Way to Do the Three Peaks Challenge UK
You have a few options to do the three peak challenge. You can self-drive, you can have a driver/support car to drive for you, or you can join a tour. Initially I had planned to self-drive, but I'm not based in the UK so I'd have to rent a car. Already that was getting expensive. But I'd also have to get all the way up to Fort William in Scotland the day before the Three Peaks started. And then I'd finish up 2 days later in Liverpool, and all the petrol that would use.
I was doing it with 1 friend at the time (it ended up with 4 of us), and to price that was already maybe 200 or 300GBP each. AND WE'D HAVE TO DRIVE BETWEEN THE MOUNTAINS. No chance to rest, or recover. We' be driving, which would be uncomfortable, or even dangerous when we're knackered. We soon ruled that out.
Next choice was a support car. Someone to essentially takes 3 days off work, or sacrifice a weekend and just drive for a couple of days. That's a sh*tty gig. I didn't want to ask my mum or sister, or my mate's wife. So we could hire someone, but again that's pricey, or rule this option out.
Finally, I looked at tours. I contacted a few companies and asked them for pricings. They quoted me 1200GBP for a private trip. F*ck that! Finally I found a few companies who run the Three Peak Challenge each weekend during the summer. Done. Which one should we choose? The cheapest one of course! So we booked our spots with those guys. If you want to do the same, here they are: Active Mountaineering
Active Mountaineering:
By this stage there were me and 3 mates, we all signed up to Active Mountaineering's 3 peak challenge for a weekend in June. There were the cheapest operator we found at £295.00 per person. So even if you're solo, you can hop on their group tour and you're good to go.
With the price all we had to do was to get to Liverpool on Day 1. That price included the transport all the way up to Fort William (hotel not included). Then be ready at 7.30am the next morning. They'd then have guides to bring you up and down Ben Nevis, guides for Scafell Pike and guides for Mount Snowdon. And of course, they'd drive you in their luxury coach between each mountain too. This meant you can sort out your gear on the bus, sort out food, and even try to get some sleep. Much better than driving in a tiny car! They also drop you back in Liverpool at the end of it all, so you can limp to the airport, train station or hotel!
Also, Nic and Chris, the owners are super professional about doing the challenge in 24 hours. They work like a military operation. If you want to ensure you do it in time, these are the guys. My buddies were a little out of shape (let's leave it there!) and Nic and Chris dragged them up and chased them down those mountains until we finished in 23 hours and 45 minutes. Victory! If you go with them, say hi from me!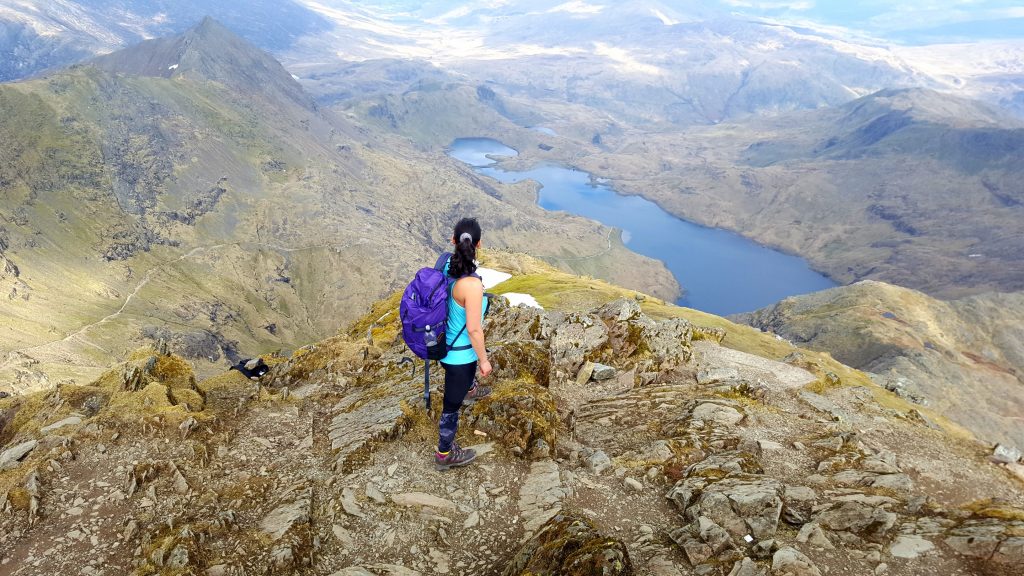 What is the 3 Peaks Challenge Record
Joss Naylor did it in an incredible 11 hours 56 minutes back in 1971. That would break the speed limit these days, so the modern record is Bob Wiseman in a still incredible 14 hours 36 minutes.
Three Peak Challenge Packing List
I'll assume you're going with a tour, it's the best choice. So here's the packing list you need if you go in summer:
Hiking boots
Hiking socks X 2
Flip-flops for the bus
Shorts
Hiking Pants
Waterproofs (legs and torso)
T-shirt x 2
Hoody
Hard-shell
Wolly Hat
Gloves
Sunscreen
Powerbank
Sunglasses
20 litre Day back
1-2 litre Waterbottle (or use a camelpac with bladder built into the bag)
Hiking Poles (so much better for the legs when you're descending, trust me!)
Snacks: Energy bars (I recommend Grenade and Clif bars) X 10
Meals X 3: Something high carb and high fat. I had cheese sandwhiches.
Electrolytes X 8. Drop them in your water each time
Painkillers and anti-inflammatories
*If you have bad knees/ankles, bring supports. You'll need them.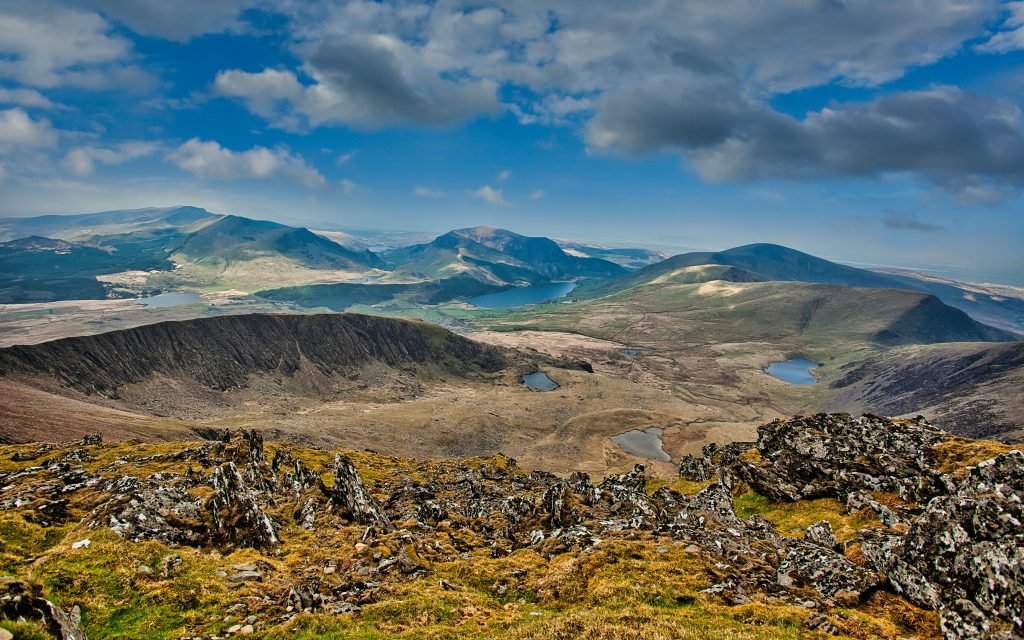 Doing the Three Peaks Challenge; My Experience
The 3 Peaks Challenge is something I've wanted to do for years/ I had never visited the Scottish Highlands or the Lake District in England or Snowdonia National park in Wales. So to tick off all 3 in a hectic 24 hour period would be very cool. But I'm based in Thailand these days, and the only time I ever come home to Ireland or England is at Christmas to spend the holidays with my family. And you can only really do the 3 Peaks in Summer, or at least, if you want to enjoy it you can only do it in summer!
This time, however, I was blessed. I had just finished Rowing the Atlantic (yup, seriously) and I was back in the UK recovering while sorting out my paperwork to return home to Bangkok. I never like to waste time, or opportunities, so I contacted 3 friends and asked them to join me. So I then found the team at Active mountaineering (who I discussed above) and we booked our spots.
Out of the 4 of us, I was broken from my trans-Atlantic row. So weak, I hadn't used my legs for months, stuck on the boat. Brian, another Irish guy, had put on a few pounds during Covid (haven't we all!?) but he's a bit of a beast and has climbed a few super high peaks with me over the years, so I figured he'd be fine. Carl and Paul, however, they were apprehensive about joining. Paul had also added a few kgs during COVID, and was never an endurance guy to start with. Built for power, not distance. And Carl spent a little more time working on his right arm at the bar, than in the gym. So we were up against it!
We all met in Glasgow, Carl and I on the train, and Paul and Bryan at the airport. Got picked up on the coach with the tour operators and off to Fort William we'd go. We met the other climbers on the bus, a group of great guys from outside Liverpool raising money for mental health, a couple of endurance girls, 3 Indian expats. At Fort Wiliam, we checked into our dingy hotel, 4 of us in a room (20 quid each, like being 21 years old again!), and went out for a sub-par pizza. Pit stop at Tesco Express for last-minute snacks, and an even quicker pitstop at the shoeshop for Carl to buy appropriate footwear for the climb. We now had Paul in shoes he had worn 3 times, and both Carl and I in brand new hiking shoes, never worn before. Great plan.
BEN NEVIS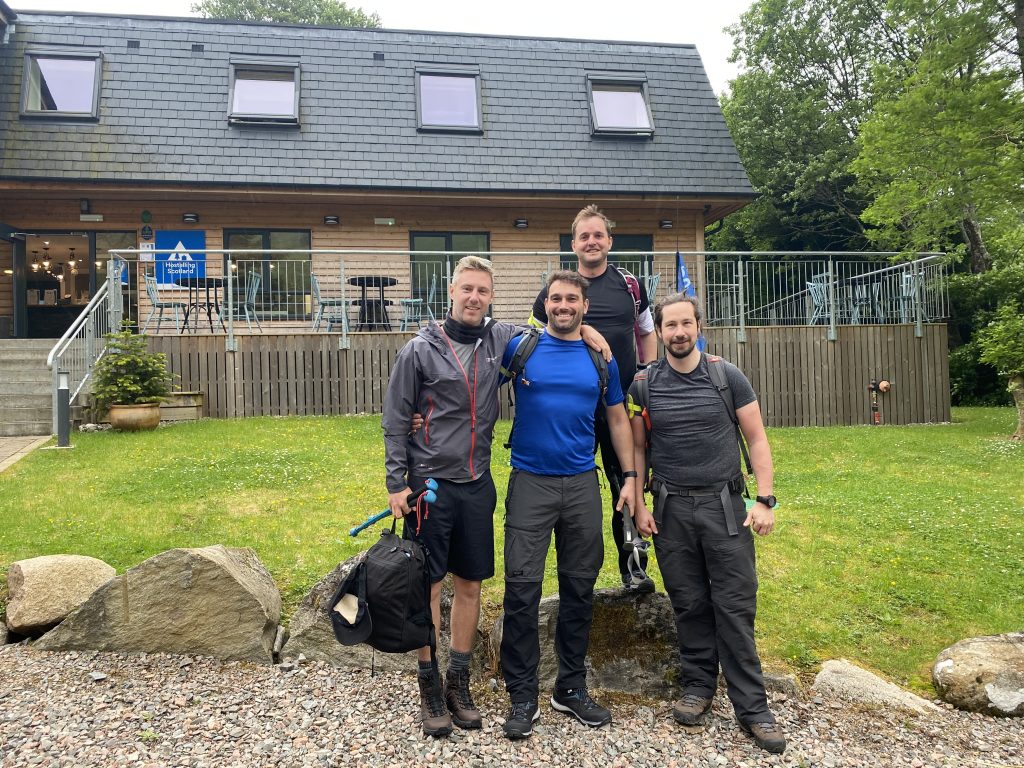 After getting picked up by the coach in the morning we were at the mountain for 8am, for an 8.30am start. Chris, the company owner, led from the front. He takes the fast group, whoever can keep up. Stick with him, and you're pretty much guaranteed to finish the challenge in under 24 hours. Then there are a handful of local guides with the rest of the group, egging everyone on.
To be honest, the first section of Ben Nevis is probably the toughest section of the whole 24 hours. And they don't go slow! For about 40 minutes, it's a pretty steep incline, with very few breaks. When we finally completed that first steep section, I was a little out of breath truth be told. And I was worried about Paul and Carl. We shared a wide-eyed look the 3 of us, and a puff of the cheeks. This wasn't going to be the walk in the park I promised them!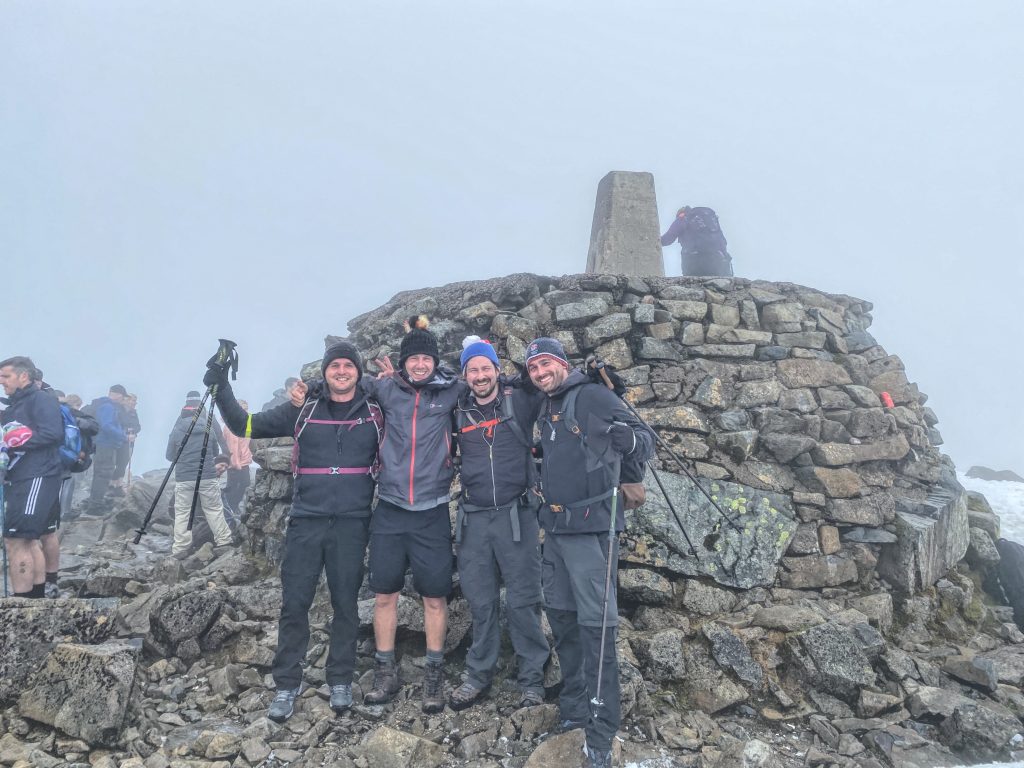 From there the gradient eased off. 90 minutes of zig-zagging and we reached the cloudline. The temperature plummetted here. Visibility dropped to 10 metres or so, and it was time for wooly hats. The summit approach was actually covered in snow! One last slog and we'd be at the summit. We reached there around 11am or so, about 2.5 hours after we started. I stayed for some pics at the top, left around 11.30am and had a bit of a jog down the mountain. Back in the coach around 12.45. Here I was SUPER grateful for my flip-flops by the way, it's a pro-tip.
SCAFELL PIKE
The coach was great. We all had our first proper meal and then chatted for a few hours. Trying to recover. Deal with the blisters from the new shoes (so stupid). By 7pm we were at the foot of Scafell Pike. Because it's summer in the UK, the sun is still high in the sky. Meaning that as long as you complete this mountain in less than 5 hours, you get to do it without being in the dark. Perfect.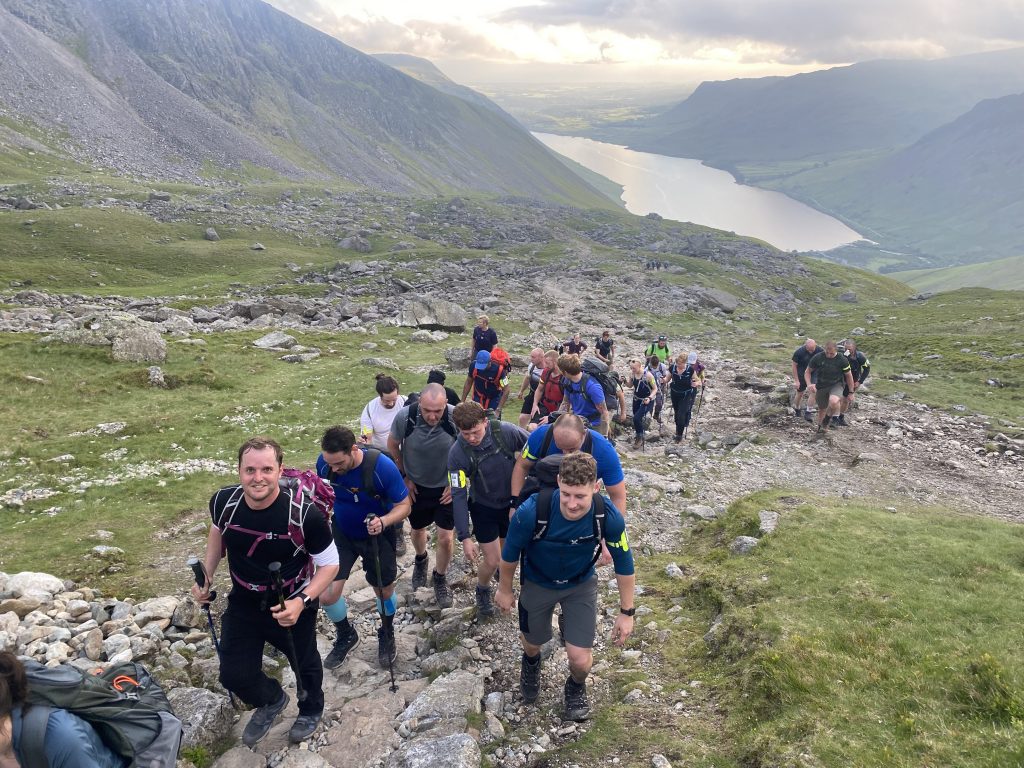 The lake district was super beautiful. Hills tumbling down into lakes everywhere we looked. We had expected it to be much easier than Ben Nevis but perhaps we were a little too cocky, and again the first half of the ascent was actually pretty steep. I was drenched with sweat! But the shorter distance soon told, by the first break sport we were halfway up. All good. From there, Paul and Carl started to get the aching legs. But knowing we were almost at the top meant they could dig deep and make it. Again, the top just about hits the cloud cover so it's instantly freezing. Couple of quick snaps and the descent began.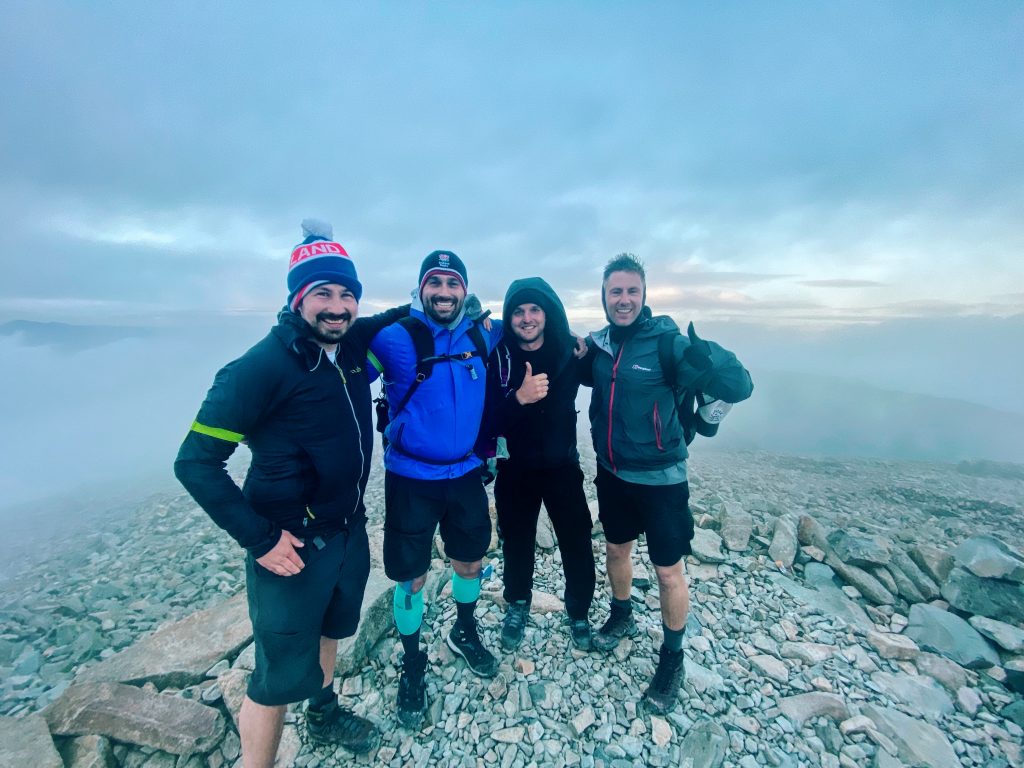 This is where things started to get a little trickier. Mid to late 30s. We're not 21 anyone! Both Paul and Carl had to get their knees bandaged up for some extra support, and our group ended up being last off the mountain. We just escaped the darkness, pull up to the carpark after a long, hobbling descent, at around 11.30pm. 2/3 summits down, and we're at least an hour ahead of schedule. I was very proud of the boys.
Now would be the time to sleep. My new shoes were giving me serious issues, Blisters all over the place, and I'm a terrible sleeper in buses at the best of times. The 4 of us didn't really catch any sleep, but we at least got to sort out our gear, our snacks and have a little debrief. We were holding it together.
MOUNT SNOWDON
From Midnight or so, it took about 4 hours to reach Mount Snowdon in Wales. We were way ahead of schedule. That gave us 5 hours to get up and down Snowdon within the 24 hour period. And we'd need that, with the boys' knees on the cusp of buckling!
Snowdon is noticeably easier than the rest of the peaks. Still not a leisurely stroll, and you have to keep a solid marching pace, but the gradient isn't so intense. We finally did a bit of trekking in the dark, head-torches on, but before long the sun rose and beautiful Snowdonia was there for us all to see.
The last stretch of Snowdon does steepen quite a bit, with about an hour to go. That being said, we started around 4amish, maybe a tad before, and all 4 of us were on the summit by 5.50am. That left us 2 and a half hours to descend and still duck under the 24 hour limit. That was doable!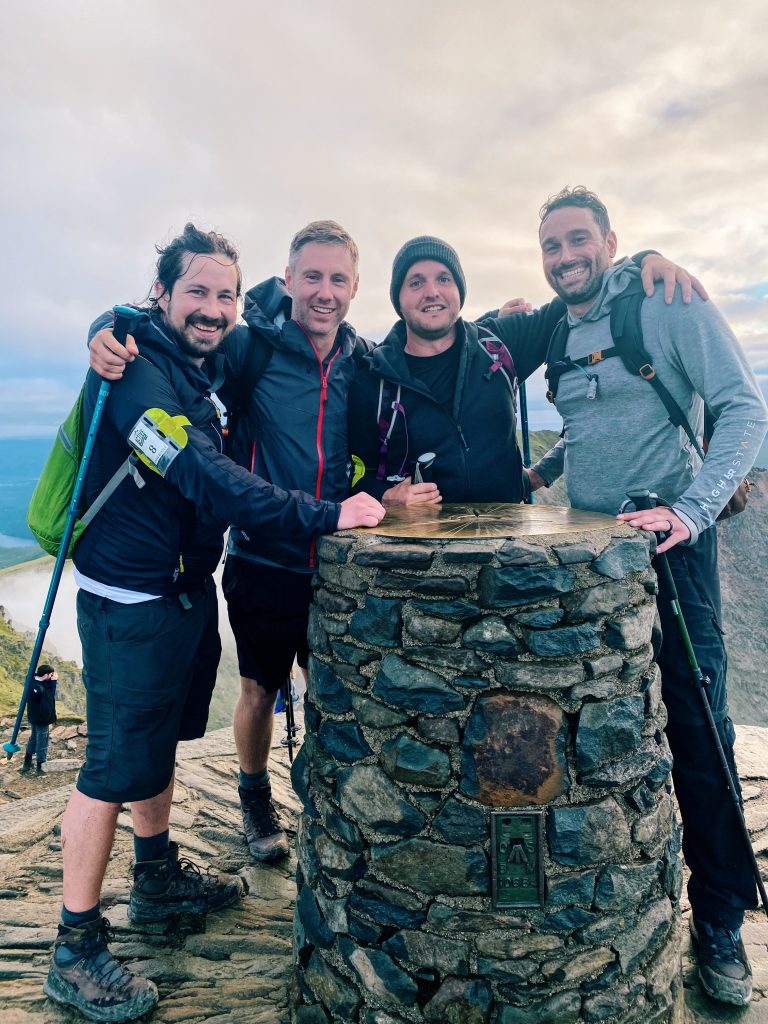 Our descent wasn't fast! A combination of the boys knowing they had some breathing space, the new boots and blisters, and the lack of training meant that 2 hours of the 2.5 hours went by a little too fast. With just 30 minutes left until the 24 hour deadline, we had to double-check just how far the carpark was. And with that, a light jog to the finish line had us all finish in 23 hours and 45 minutes. Job done. And a huge thanks to Nic and Chris from Active Mountaineering for making it happen.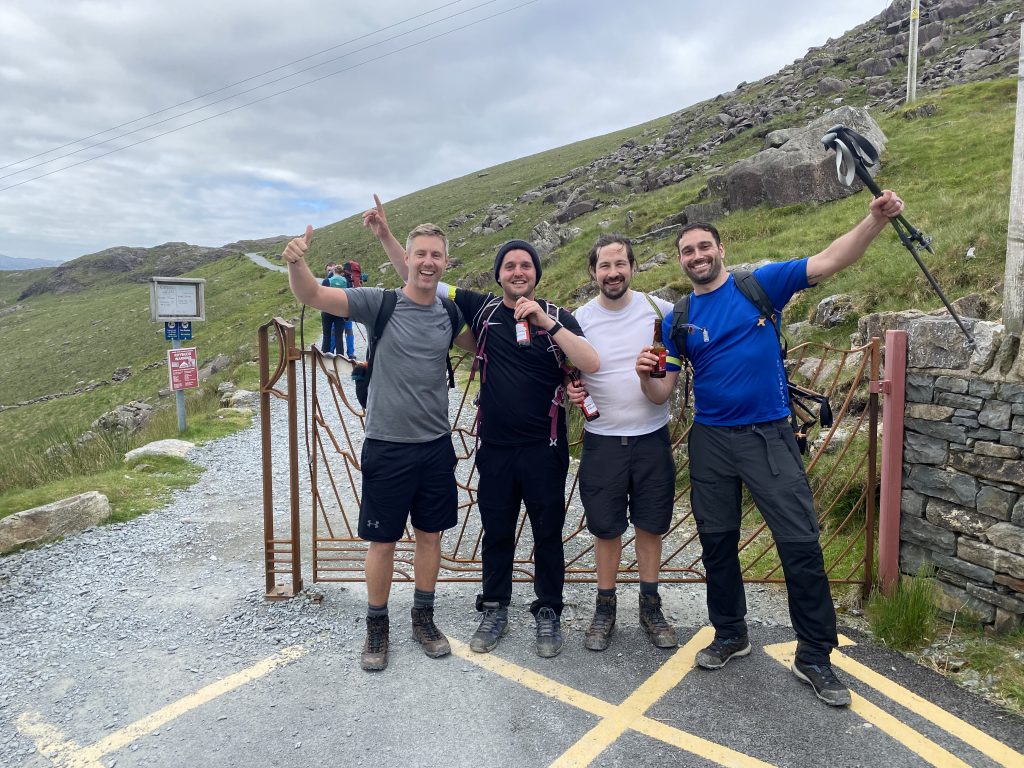 So, complete. A few beers on the bus back to Liverpool. We stopped at an Airbnb there. Had a nap and headed out to watch the football and go on a bit of a celebratory pub crawl. A great night, and a great signoff to a wonderful weekend.
FINAL THOUGHTS ON OUR 3 PEAK CHALLENGE EXPERIENCE IN THE UK
So how hard was it? Honestly, not so hard. If you're fit, it's really fine. The boys managed to pull it off with little to no training at all, and not coming from any kind of endurance background. So that says it all. Having said that, they did have to dig deep to counteract the lack of training, and that was hugely commendable. Stubbornness and heart got them in under 24 hours, not fitness or experience! But if you're considering it, go ahead. Train for a month or 2 beforehand, and it'll be a lot more enjoyable. Good luck!
PS If you want to test yourself a little more, check out running 6 marathons in 6 days through the Sahara on the Marathon des Sables, THAT was tough! And neither my North Pole Marathon experience or my recent 200km ultramarathon run weren't easy either!
Or perhaps you're interested in climbing the seven summits? Check out my experiences…
The time I went Climbing Puncak Jaya – Australia's highest mountain
Climbing Denali – North America's highest mountain
When I was Climbing Kilimanjaro – Africa's highest mountain
Climbing Everest – Asia's highest mountain
In Russia, Climbing Mount Elbrus (and Climbing Mont Blanc) – South America's highest mountain
Climbing Aconcagua – South America's highest mountain
One more to come… Mount Vinson.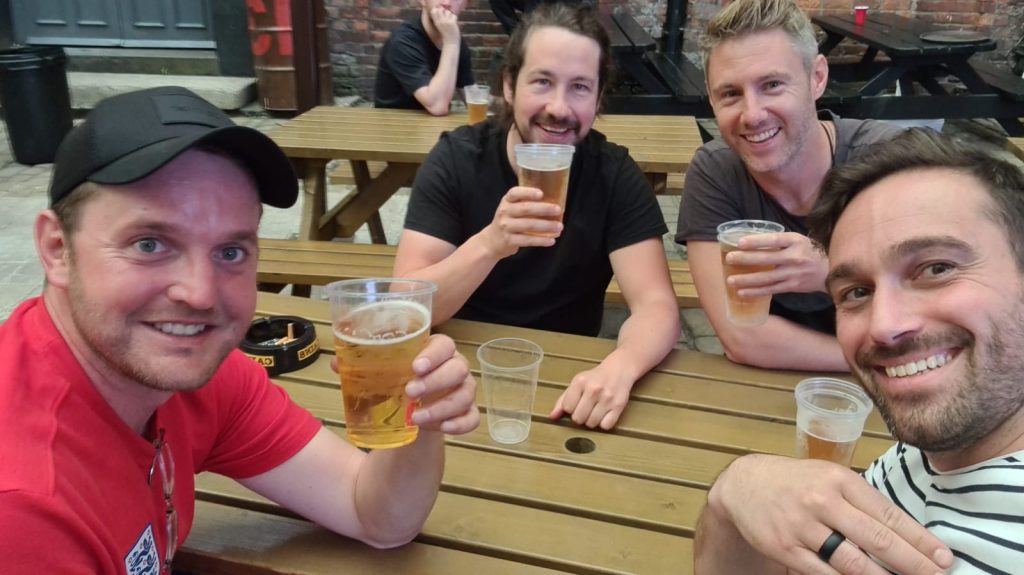 Remember, never travel without travel insurance! And never overpay for travel insurance!
I use HeyMondo. You get INSTANT quotes. Super cheap, they actually pay out, AND they cover almost everywhere, where most insurance companies don't (even places like Central African Republic etc!). You can sign-up here. PS You even get 5% off if you use MY LINK! You can even sign up if you're already overseas and traveling, pretty cool.
Also, if you want to start a blog...I CAN HELP YOU!
Also, if you want to start a blog, and start to change your life, I'd love to help you! Email me on johnny@onestep4ward.com. In the meantime, check out my super easy blog post on how to start a travel blog in under 30 minutes, here! And if you just want to get cracking, use BlueHost at a discount, through me.
Also, (if you're like me, and awful with tech-stuff) email me and my team can get a blog up and running for you, designed and everything, for $699 - email johnny@onestep4ward.com to get started.
Do you work remotely? Are you a digital nomad/blogger etc? You need to be insured too.
I use SafetyWing for my digital nomad insurance. It covers me while I live overseas. It's just $10 a week, and it's amazing! No upfront fees, you just pay week by week, and you can sign up just for a week if you want, then switch it off and on whenever. You can read my review here, and you can sign-up here!