Climbing Kilimanjaro; A COMPLETE BEGINNER'S GUIDE!
Climbing Kilimanjaro, Africa's highest peak, is perhaps the coolest thing to do when you're traveling around Tanzania, or East Africa in general. For me, I climbed it the first time when I was doing my epic Cape Town to Cairo overland trip, more than 10 years ago. And if anything, climbing Mount Kilimanjaro is an even better experience today. Better equipment, better guides, better tour operators.
I've spent A LOT of time in Tanzania over the years, not just Climbing Kilimanjaro, Africa's highest peak. And A LOT of time climbing mountains all around the world. So I hope this blog post should help answer any and all questions about climbing Kilimanjaro (or 'Kili' as the locals call it). You want to know what to pack for Kilimanjaro? Or which Mount Kilimanjaro is easiest? Maybe how much it costs to climb Kilimanjaro? Or simply Kilimanjaro height?! I've for you covered.
So let's get started.
PS. Did you know Kilimanjaro is one of the seven summits (the highest mountain on each continent)?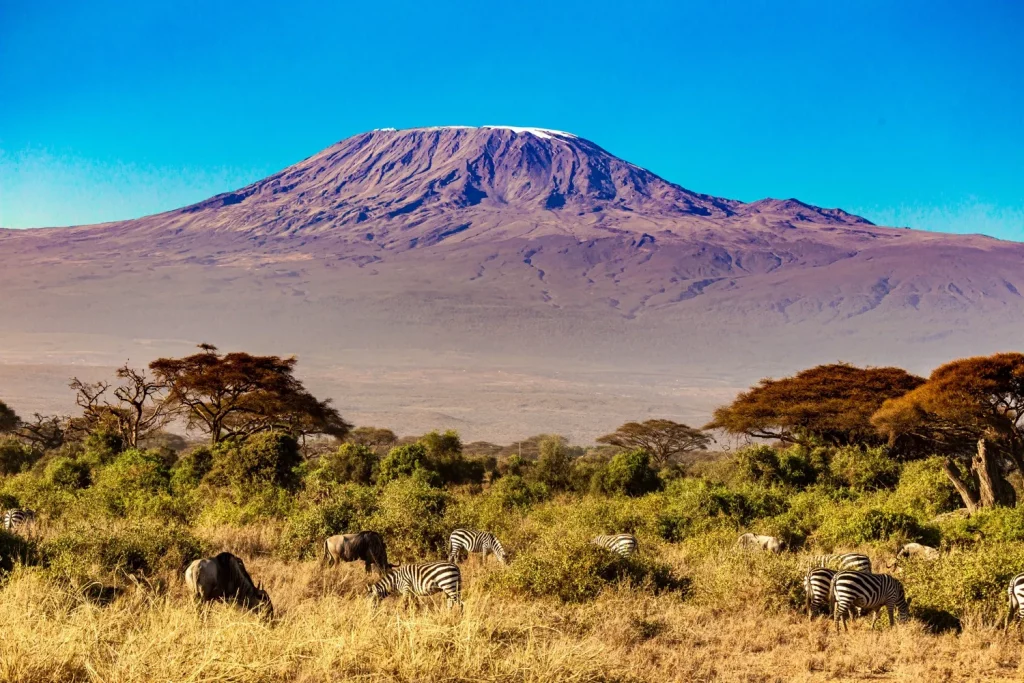 Where is Mount Kilimanjaro?
Mount Kilimanjaro is in a country called Tanzania, in East Africa. The mountain is in the North East of Tanzania. It's near the border with Kenya, and just east of the famous Serengeti National park, home to the Wildebeest Migration.
You can see the google map below. If you want to know how to get to Mount Kilimanjaro, then scroll to the next bit.
How High is Mount Kilimanjaro?
Mount Kilimanjaro's height is 5,895 metres (19,341 ft) above sea level. From the base of the mountain, it's 4,900 metres (16,100 ft).
So although the height is of course 5,895m, if you're climbing Mount Kilimanjaro, you climb from the foot of the mountain, so 4,900m. Call it a headstart!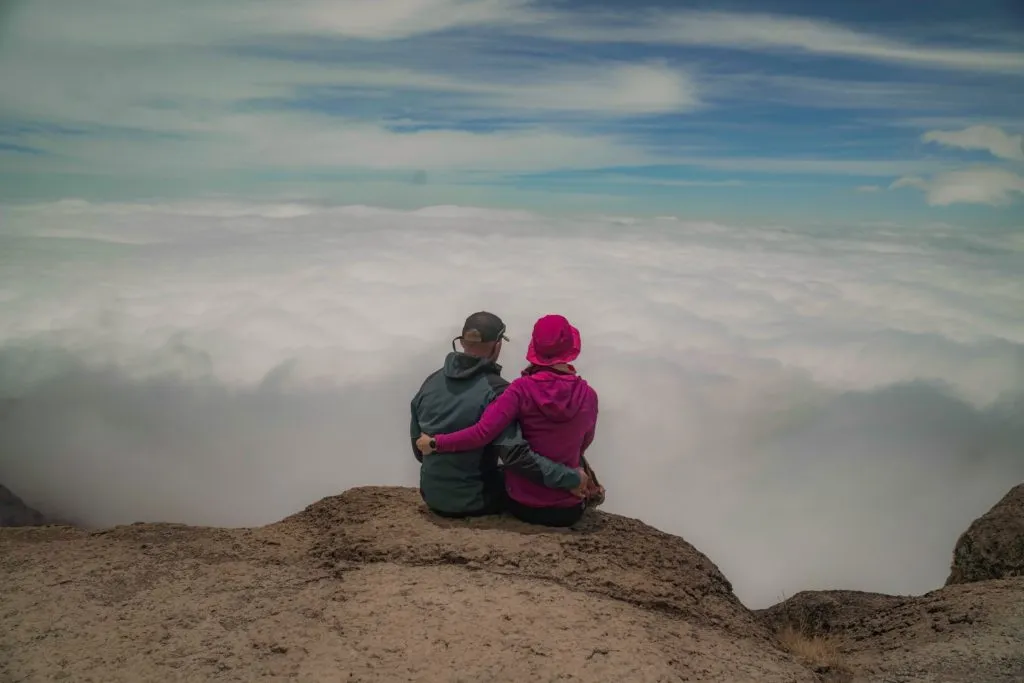 How Do I Get to Mount Kilimanjaro?
Getting to Kilimanjaro is actually really easy. There are two towns around Kilimanjaro that people use as a base from which to organise their climbs, and to recover after. They are the towns of Moshi and Arusha.
Moshi:
Moshi is closer to the mountain itself. So generally all Kilimanjaro expeditions will have you sleeping in Moshi the night before the climb starts. It's a small town, but it's set up for tourism. You can rent/buy anything you need to climb here. Food options are good, decent nightlife, lots of accommodation options. From luxury ($300+) or backpacker dorms for $10.
Arusha:
Arusha is a nicer town than Moshi. It's got a better selection of pretty much everything BUT it's almost 2 hours further from Mount Kilimanjaro. So generally, it's better to get to Moshi to start the climb. Then after you've finished the mountain, it's nicer to chill in Arusha.
Generally, people arrive to Killimanjaro area airplane, and there are a few options to get here, so let's have a look:
KILIMANJARO AIRPORT (JRO):
There is now an airport called 'Kilimanjaro airport', the airport code of this is JRO.
You can fly to JRO internationally, which is great. If people are coming to Tanzania just to climb Kili, generally they fly straight to this airport. You can fly directly here from Amsterdam, Paris etc with KLM/DELTA etc.
Alternatively, some people are already in Tanzania for other travel experiences (safari, Zanzibar etc), so they can fly domestically from the Capital City, Dar Es Salaam, to Kilimanjaro Airport too.
Both Moshi and Arusha are a 1 hour drive from Kilimanjaro Airport.,
ARUSHA AIRPORT (ARK):
ARK airport, or Arusha airport, is in the town center of Arusha. So if you're accommodation is pre-booked in Arusha, that's great. It's not a big airport though, so if you're flying in from the UK/Australia/USA etc, the only way to get to ARK airport is to first land in Dar Es Salaam, Tanzania's capital, then connect on a small domestic plan to ARK.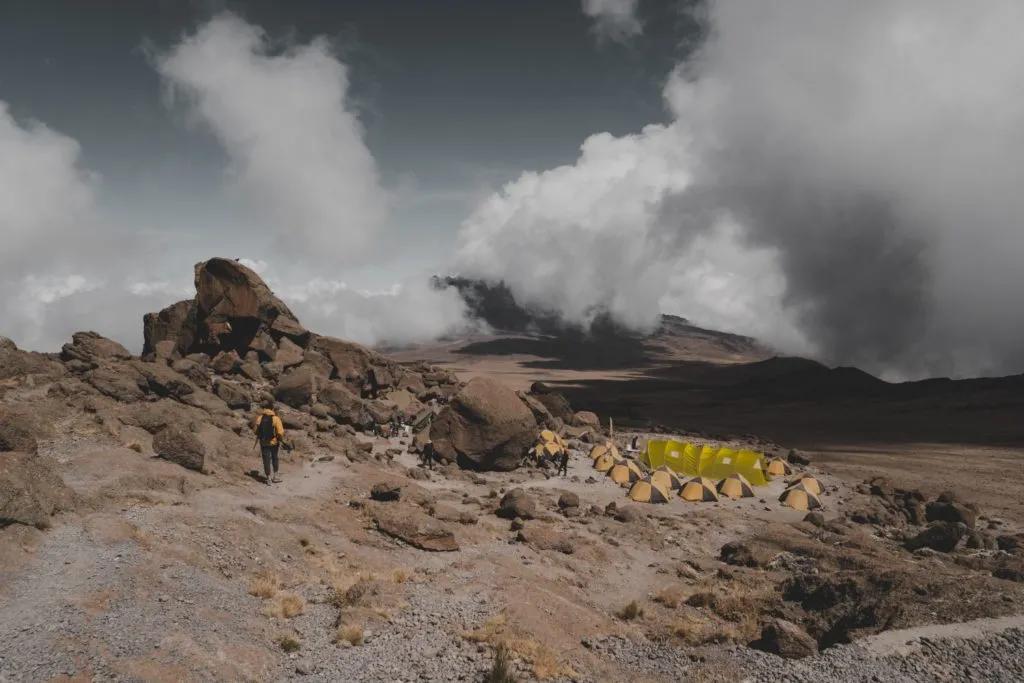 How about the Tanzanian visa?
Almost every nationality can get a visa on arrival in Kilimanjaro (JRO) airport, or Dar Es Salaam airport. But expect long queues. It's not unheard of for 2 big planes to land roughly at the same time, and suddenly the wait for the visa on arrival can genuinely be 2 hours.
You can avoid that be getting your Tanzanian visa online, their E-VISA is available here. But you have to do it at least 2 weeks before your flight, it takes a while to process. Both methods are the same price ($50 to $100 depending on nationality).
You can also get your visa on arrival at land borders, I've done it many times coming from Nairobi, Kenya. But you need your Yellow Fever vaccination certificate, and $100 cash.
NOTE: For those backpacking in Africa on a budget, you can take a 12-hour bus to Moshi, from Dar Es Salaam every single day. Buy your ticket 1 day in advance, as they sell out. It's about $15/$20. Similar for Nairobi to Arusha/Moshi – 10 hours or so, about $30.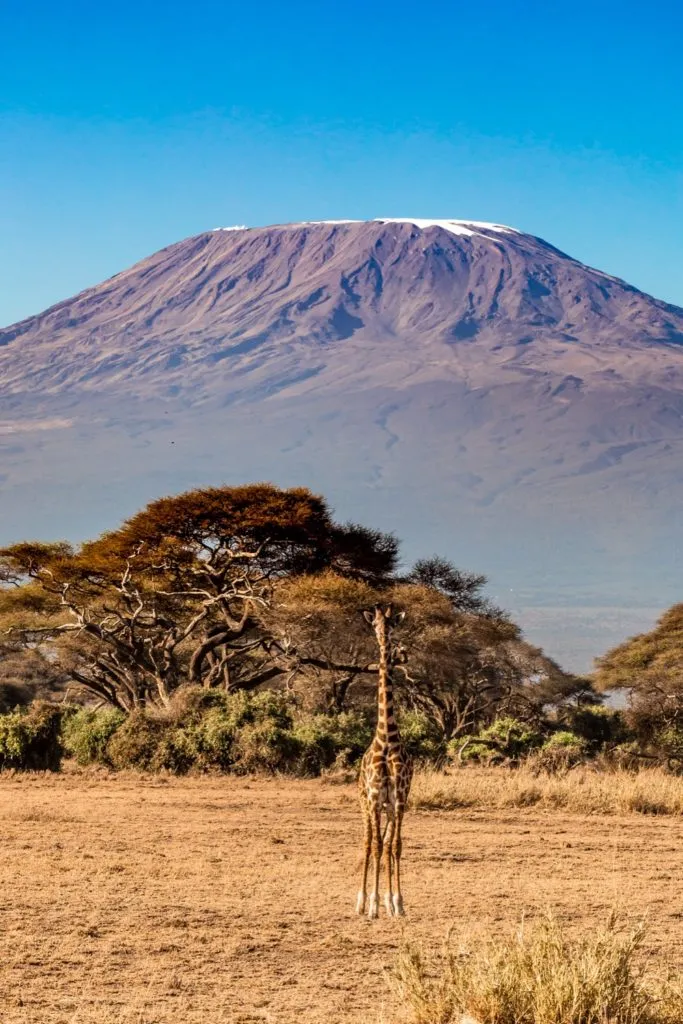 How Long Does it Take to Climb Kilimanjaro?
It takes 5 to 10 days to climb Mount Kilimanjaro. If you go on a private expedition, it is possible to do it in 3 or 4 days if you're already acclimatised to altitude and have experience with mountains. Equally, some people with physical disabilities etc have spent weeks getting to the top too.
But generally speaking, 99.9% of people take 5-10 days when climbing Mount Kilimanjaro, with most people taking 6 days.
Kilimanjaro Climbing Routes
Climbing Kilimanjaro isn't as simple as just starting the climb. First, you have to choose which route you want to climb. And there are many options! BUT don't be daunted, generally speaking, people choose 1 of 2 routes (Machame or Marangu) and I'll explain the differences below.
Machame: Said to be the most beautiful route, and you sleep in tents the whole way up. The 2nd most popular option (and the one that I did)
Marangu (aka the Coca-Cola Route): The easiest route, and the most popular. Commonly done in either 5 or 6 days (depending if you spend 1 extra day acclimitasing on the way up). You sleep in huts rather than tents.
Rongai:d Quite a quiet option, it starts from the north east, along the Kenya border. Also normally 5 or 6 days
Lemosho: Much more a remote option. You actually have an armed ranger on day 1 due to the potentiall for big game animals (buffalo, elephants etc!)
Umbwe: Shorter, and steeper, and therefore harder! It meets the Machame hikers for the last 2 days. It's only really recommended for people with altitude experience. If you're going to do 3 or 4 days, this is the one for you.
Shira: A mix of Lemosho, Machame and Northern routes, weaving between them,
Northern Circuit: The longest trail at 9 days. It's the only trail that starts in the West of the mountain. It's also the quietest route as less people choose it. At the longest, it's also the most expensive.
Each route starts from a different entry gate to the Kilimanjaro national park. Also, each route has differing lengths and levels of difficulty.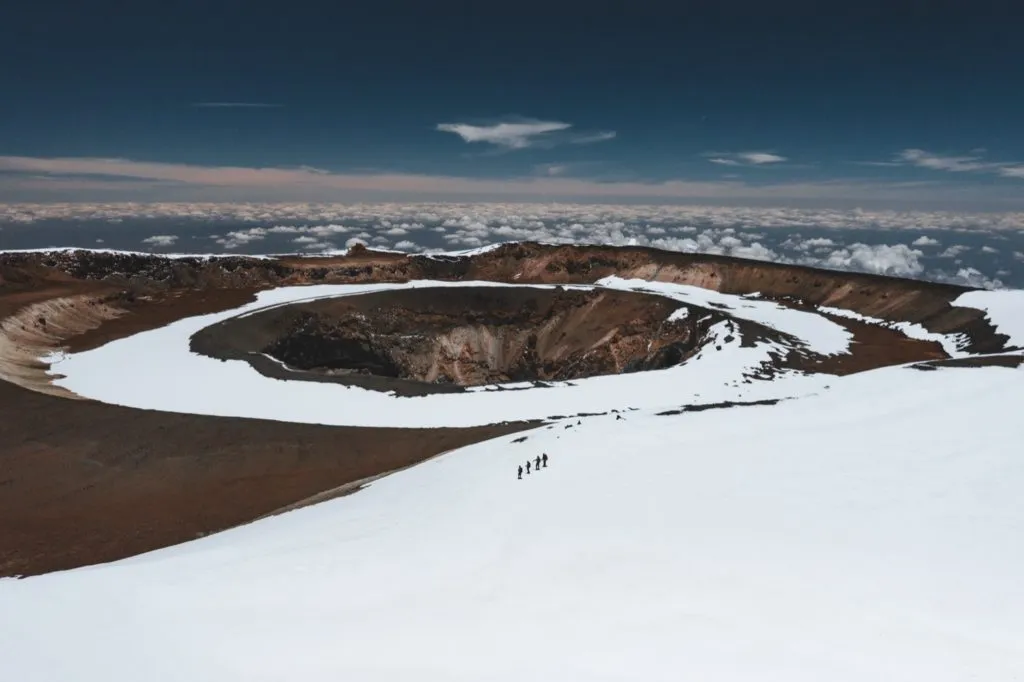 Which Kilimanjaro route is easiest/best?
As I mentioned, Machame and Marangu make up more than 95% of all climbers. And personally, if you're new to climbing high mountains, either of these is the best choice. They're cheaper, they have better facilities, there are more people to chat with (and to help you if you're in trouble)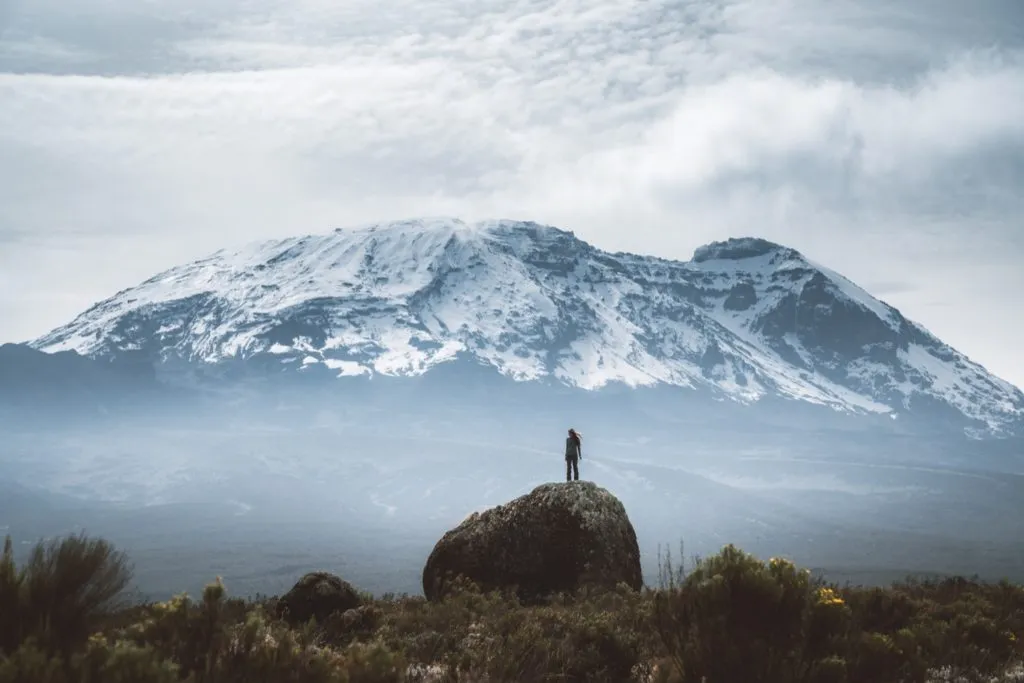 How Hard Is It To Climb Kilimanjaro?
First, it's not actually a 'climb'. It's a hike. Or a walk. There's no climbing involved. You don't need any skills or any equipment. There's no ice climbing, no ropes, or anything like that. It's just a walk, at a progressively higher altitude.
But, it's also not easy for the average person. Please know that first.
Equally though, it's no Mount Everest either. Most fit people between the ages of 14-55 can climb Kilimanjaro without any serious training. They'll find it tough going, but manageable. If you exercise somewhat regularly and aren't overweight, you could do it tomorrow. The first 4 days are, quite literally, a walk in the park. It's casual.
However, summit day, which starts around 2am is quite tough. It's cold (below zero, icicles etc), it's dark, it's steep and the lack of oxygen means that each step leaves you out of breath. And the day can last anywhere from 8 to 18 hours that day. So it's a slog!
If you've never been a regular hiker, or been to the gym, then you will need a training regime to consider climbing Mount Kilimanjaro though. At least 3 months before.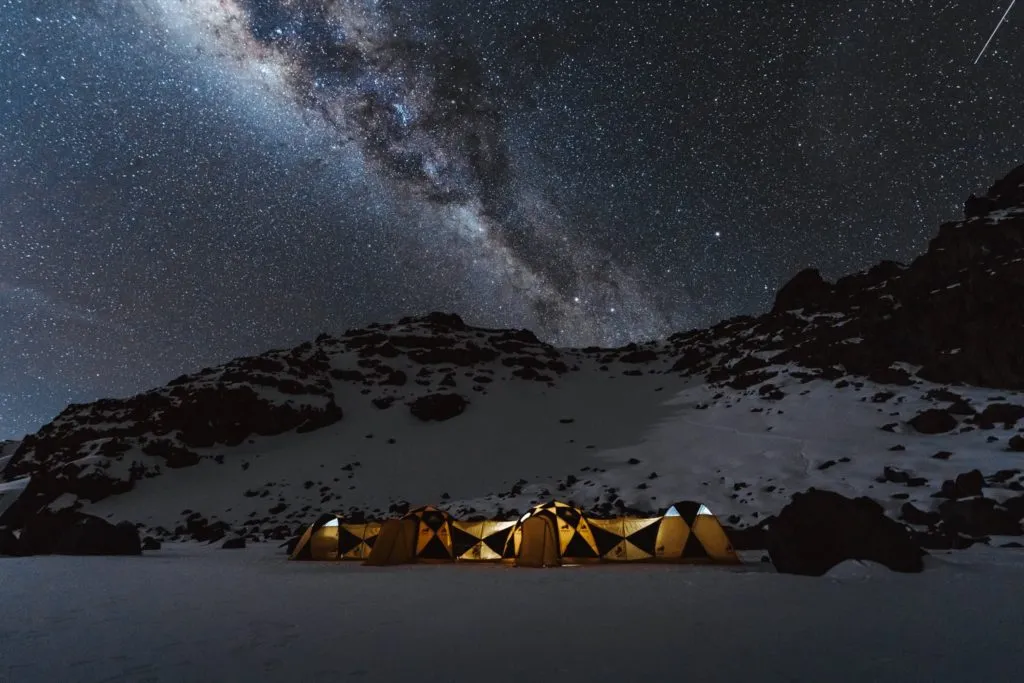 How about Altitude Sickness?
The higher we go, the less oxygen there is in the air.
Altitude sickness (also called Acute Mountain Sickness or AMS) is a real thing. It happens to people at high altitudes due to reactions of the body to the low oxygen pressure or where the air is 'thinner'. With less oxygen available, our bodies start to make more red blood cells, so they can carry more oxygen around our body, and compensate for there being less oxygen. Amazing really. When our bodies do this, this is known as acclimatizing. And we all do it. But some of us do it slower than others. If we climb up high, too fast, our bodies don't have time to do this and we get altitude sickness.
If it's bad, the climb is aborted, simple as that. We can avoid it by climbing slower, spending a whole day on the mountain, halfway up, with no climbing. Just acclimatizing. This is why some people climb Kilimanjaro in 6 days, rather than 5. You can also take medication, known as 'Diamox' which helps the process. You can buy this in Moshi and Arusha.
NOTE: Everyone experiences 'some' form of altitude sickness. Headaches, a bit of nausea, shortness of breath etc. It's 100% normal, don't worry. It's only if you start acting like a drunk, stumbling around, slurring your words, that there's a problem.
How about training for Kilimanjaro?
If you're objectively fit, don't worry, you can do it tomorrow. That means if you run marathons, or play football 3 times a week etc, you're good to go.
If not, you need to train! You need to get used to being on your feet for up to 12 hours a day. The best type of training isn't running. It's strapping on your hiking boots and walking up hills, as often as possible, ideally with a bag and 10kgs on your back. Do this for 1-2 hours per session, 2 to 3 sessions per week, for 3 months, and you're set.
How Much Does it Cost to Climb Kilimanjaro?
I climbed it back in 2020 (I'm getting old!), and I managed to do it on the tightest budget for somewhere between $1k to $1500. But I cut corners, and it wasn't ideal.
Anyway, nowadays it costs $2k to $10k (yup!), so expect somewhere in the $2k to $4k for a standard Kilimanjaro expedition.
Why does it cost so much? You're legally obliged to book through a licensed guide. YOU CANNOT CLIMB INDEPENDENTLY. A single climber will have on average one guide, three to five porters and a cook. Excessive? Maybe, but it's law. And it helps the locals with employment. So embrace it. It's their mountain.
No frill expeditions are not the way to go. Go mid-range, $2-$4k. Local staff aren't exploited, you will get quality tents etc. You won't be left with a bitter taste this way.
The luxury services, $5k+, includes HOT SHOWERS, beers, beds within the tents etc. Madness really.
How about tips for the guides and porters?
A touchy subject. Tips are 100% expected. And if you don't pay, there can be quite a bit of animosity. So please budget for tips. You will be tipping each person of your team $10 (porters) to $20/$25 (guides) PER DAY. Yup, you read that right. So 2 porters, 6 days? That's $10 a day, for 6 days ($60) for 2 people ($120). And now you've got your guide and chef! Budget a minimum of $250 for tips for a budget climb.
Suggested Tour Company for Kilimanjaro
There are HUNDREDS of companies offering tours to climb Kilimanjaro. Literally hundreds. And it's difficult to distinguish between the cowboys and the legitimate operators. Also, you really want to make sure it's ethical, and your guides and porters are appropriately paid and taken care of. Not to mention that the gear they use, both for staff and for you, is of the highest standard.
Furthermore, you can decide whether to book online in advance or sort it out on the ground. For me, it's better to go with a reputable company, booked in advance, to ensure everything is above board.
With that in mind, I have no hesitation in suggesting Altezza Travel. Number 1 on TripAdvisor for climbing kili! They have tours every 2 or 3 days, so their dates will always suit and they have a great reputation for being safe and ethical. What more can you want. Also, they're neither bargain basement, nor super high-end so they suit pretty much everyone with trips somewhere between $2k to $2500. Perfect.
Believe it or not, they run 15% of all climbs on the mountain, so you can feel secure that they're here to stay and your money is safe. So enjoy!
NOTE: They also do cool safaris etc, to celebrate after. And it's pretty handy to have everything booked with one provided to avoid any extra stress.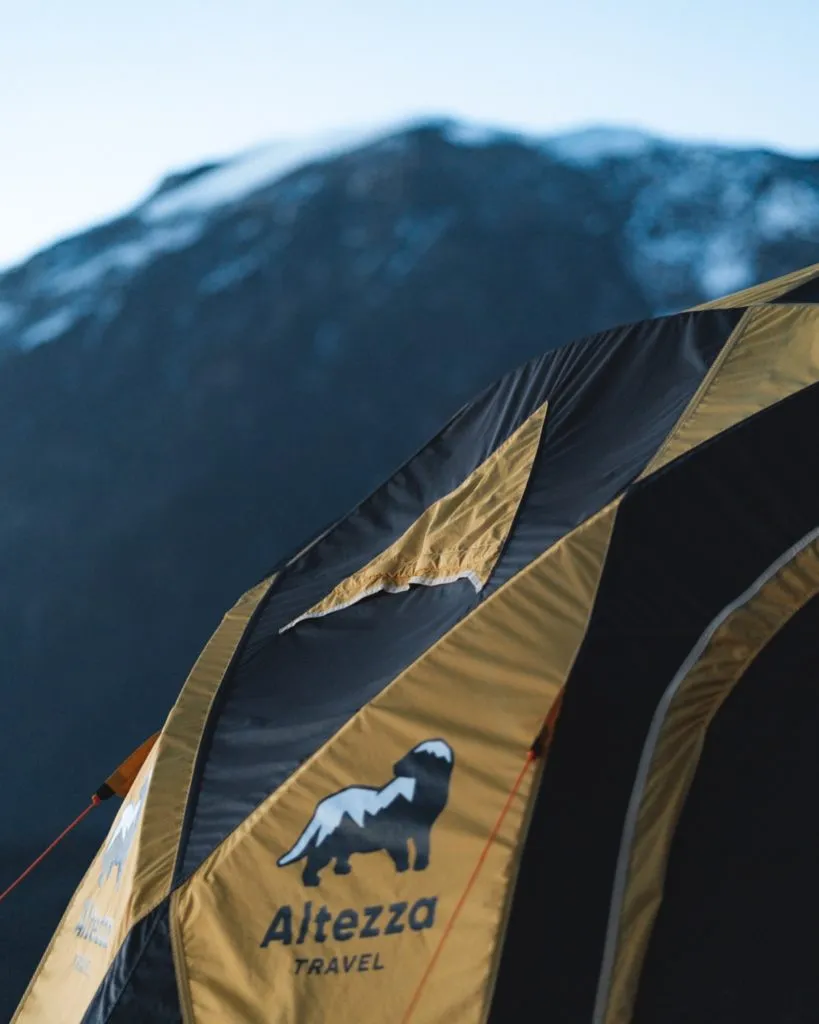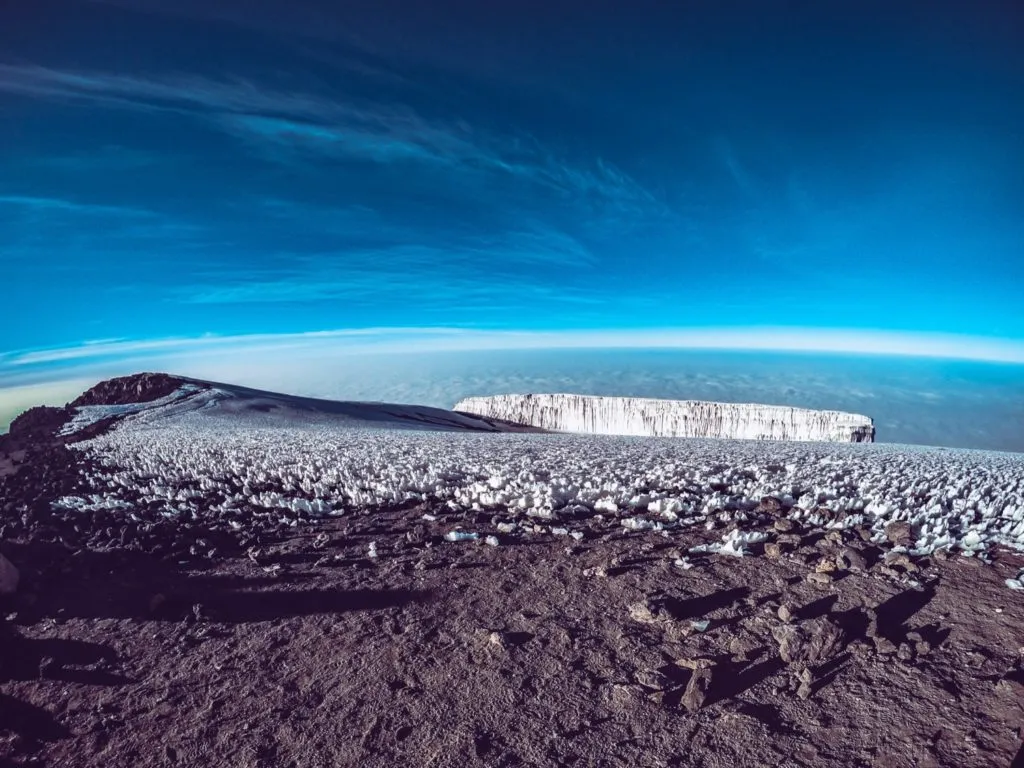 Do I need a guide to climb Kilimanjaro?
As I mentioned above, you're legally required to take a guide when climbing Mount Kilimanjaro. The bare minimum, legally, is 1 guide for 2 climbers. However, porters and chefs are expected to join too.
How about the accommodation and toilets on Kilimanjaro?!
It depends on the route (Marangu being in huts, the rest of the routes in tents) first. Then on the price of your climb. Super budget (under $2k) expect cold, holy tents and low quality food and gear. Your toilets will be in a bush somewhere.
Mid-range ($2k to $4k) you have comfortable tents, mats to sleep on, a dining tent, quality food at each meal, and maybe even a toilet tent!
As mentioned, $5k+ means you have everything conceivably carried up the mountain!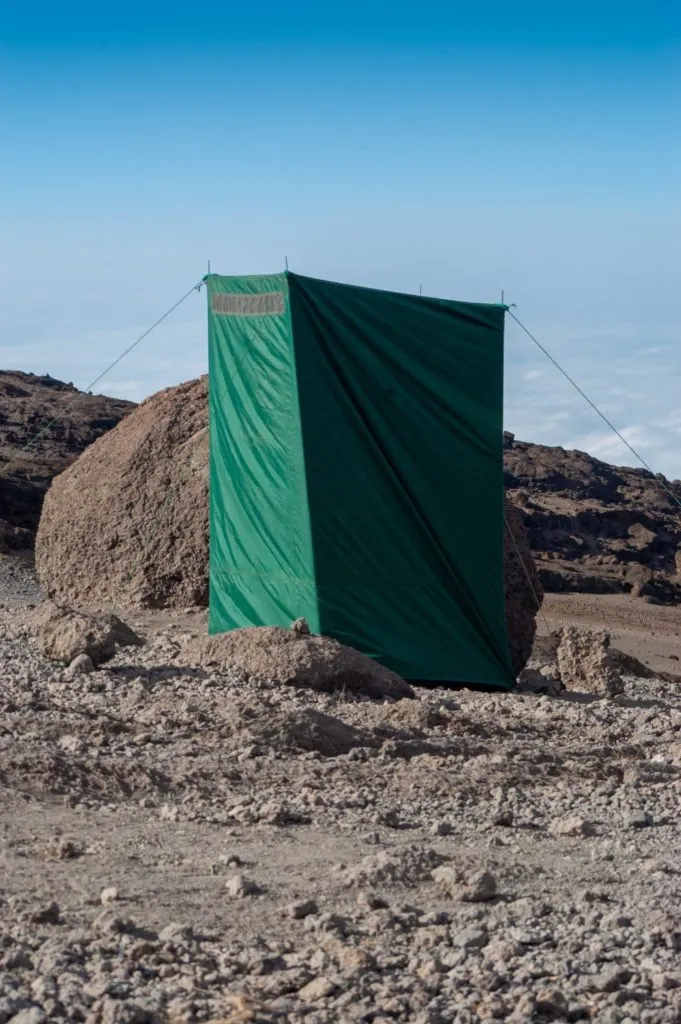 What's the Best Time to Climb Kilimanjaro
You can go about climbing Mount Kilimanjaro all year round, due to the proximity to the equator, which is great. The best time are the 2 dry seasons. Which are from the beginning of December until the beginning of March. And once more from the end of June until the end of October.
When NOT to climb Kilimanjaro
However, try to avoid November, April and May where rainfall is highest, and can be a little miserable. However, if this is the only time you're in Tanzania, then personally I'd still rather climb during these months, than miss out. It's still very manageable. If a little wet sometimes.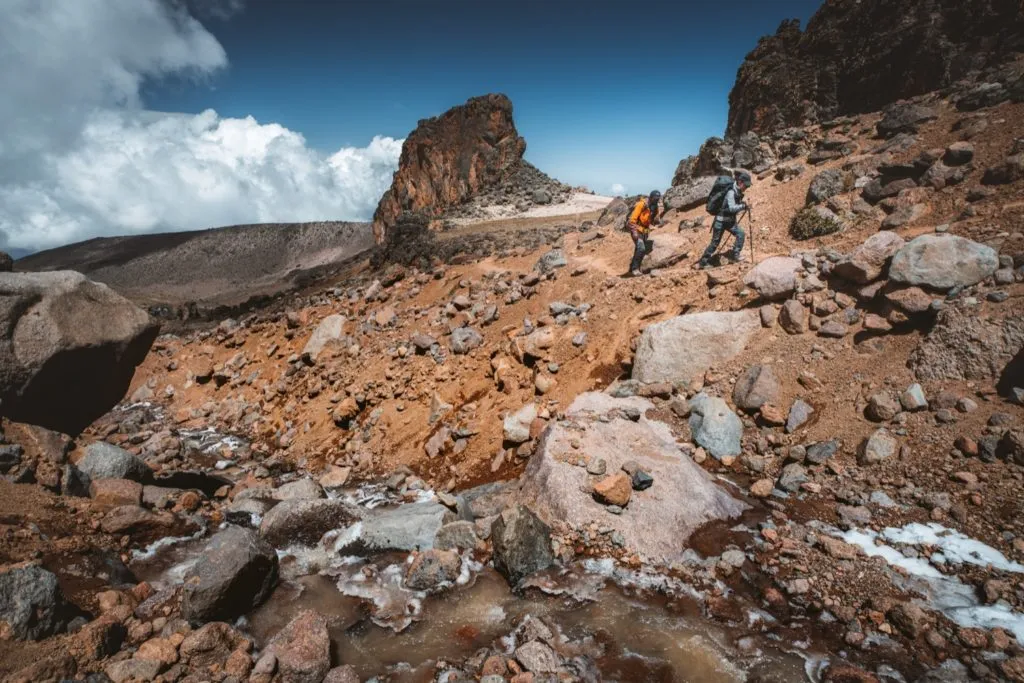 Kilimanjaro Packling List
Packing for climbing Mount Kilimanjaro can be stressful, but please DON'T WORRY! For a start, if you forget anything, you can rent it or buy it the day before the climb. Seriously. The towns are set up for climbing Kili, even if you come without anything, you can get everything in about a 2-hour spree! But I know you want to be prepared, of course, so here's my suggested Kilimanjaro Packing List:
Large Duffel Bag for all your kit
A 'Daypack' back pack
Rain cover for your back pack.
Wide brimmed hat/Peak capped for the sun
Balaclava and/or a wolly hat. You might not believe me but it's FREEZING on summit day,.
Sun glasses. Some people have ski goggles, but you don't really need them to be hoenst. I used raybans!
Rain gear. So either a poncho or water proof jacket and trouser. Cheap ones are fine.
A Down jacket (or quality water proof jacket plus proper hoody) for summit night.
Hiking pants
Shorts for the first 2/3/4 days hiking (it's warm!)
Hoody
Thermals – top and bottom, for summit night.
Water proof gloves (and thin under gloves)
Gaiters 1 set
Thick hiking socks for summit, and normal socks for the other days (X2)
Hiking boots
Flip-flops (for the first few days in camp)
Walking poles
Sleeping bag and liner (built for -20)
Water bottle (1-2 lites)
Head torch and batteries
If you're organised a personal first aid kit (imodium, blister stuff, diamox, pain killers Antihistamines, Antiseptic)
Energy bars and electrolutes
Plastic bin liner and soft toilet rolls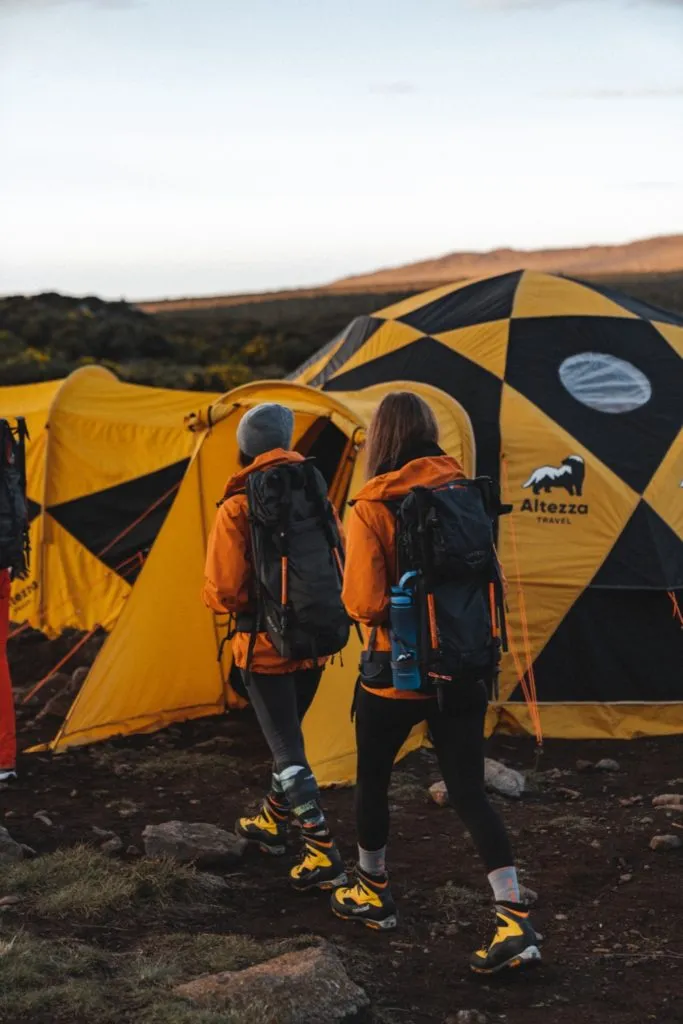 FINAL THOUGHTS ON CLIMBING KILIMANJARO
I LOVED my experience climbing Kilimanjaro. I'm not exaggerating in saying it changed my life. It gave me the taste for bigger adventures, to climb the highest mountains in the world. So be prepared for something similar if you take on Africa's highest peak too!
Here's a pic of me at the summit from years ago, hopefully this will be you soon!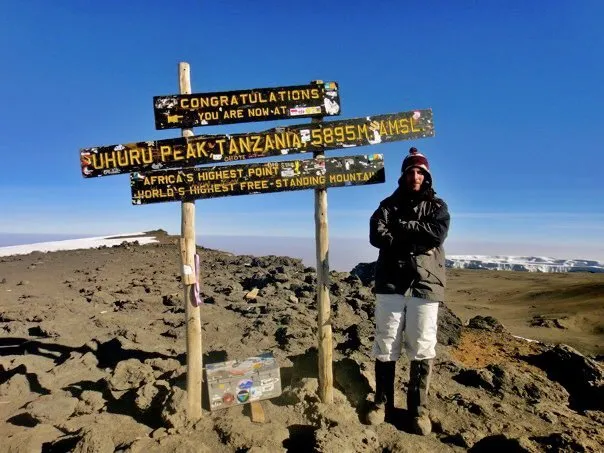 Other reading about climbing cool mountains around the world:
Climbing mountains around the world is a cool way to travel, so if it's your thing make sure you check out my posts on:
Climbing Mount Kinabalu (Borneo's highest mountain)
Trek to Mount Everest base camp
Climbing Aconcagua, South America's highest mountain (and failing to climb Aconcagua here!)
Climbing Elbrus, Europe's highest mountain
Climbing Mont Blanc, Europe's 2nd highest mountain and a packing list for Mont Blanc
Climbing Puncak Jaya/Carstenz Pyramid, Australasia's highest mountain
Climbing Mount Kosciuszko, Australia's highest 'mountain'
And join me in 2023 to climb Mount Everest!
Climbing Mount Nyiragongo's lava lake in the DR Congo
Climbing Mount Fuji, Japan's highest peak
Remember, never travel without travel insurance! And never overpay for travel insurance!
I use HeyMondo. You get INSTANT quotes. Super cheap, they actually pay out, AND they cover almost everywhere, where most insurance companies don't (even places like Central African Republic etc!). You can sign-up here. PS You even get 5% off if you use MY LINK! You can even sign up if you're already overseas and traveling, pretty cool.
Also, if you want to start a blog...I CAN HELP YOU!
Also, if you want to start a blog, and start to change your life, I'd love to help you! Email me on johnny@onestep4ward.com. In the meantime, check out my super easy blog post on how to start a travel blog in under 30 minutes, here! And if you just want to get cracking, use BlueHost at a discount, through me.
Also, (if you're like me, and awful with tech-stuff) email me and my team can get a blog up and running for you, designed and everything, for $699 - email johnny@onestep4ward.com to get started.
Do you work remotely? Are you a digital nomad/blogger etc? You need to be insured too.
I use SafetyWing for my digital nomad insurance. It covers me while I live overseas. It's just $10 a week, and it's amazing! No upfront fees, you just pay week by week, and you can sign up just for a week if you want, then switch it off and on whenever. You can read my review here, and you can sign-up here!