Sudan is reportedly the place where Africa meets Arabia and I would struggle to disagree with that. I suppose I should add that despite what people's preconceptions of Sudan may be, as long as you stick to the approved areas then it's one of the safest countries in Africa. Obviously, I stayed cleared of Darfur (getting shot in the face is the sort of backpacking experience I would rather avoid) and I wouldn't recommend any other people to venture out West either!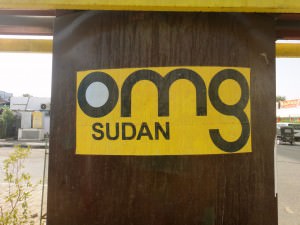 If you're traveling by land you'll be coming from either Egypt or Ethiopia. I was continuing north from Cape Town so I crossed from Ethiopia, the border is Metema/Gallabat – you can easily get a bus from Gondar, Ethiopia to the border (about 4 hours, $3 USD), from there you can get another bus to Gederaf, either sleep there or crack on to Khartoum (another 6 hours or so). There's not much to see in Gederaf but it's quite a nice town to acquaint yourself with what's going on in Sudan.
If you're coming from Egypt the only crossing is by boat, so you need to take the weekly ferry from Aswan on a Tuesday, it drops you in Wadi Halfa in the north of Sudan.
Ok, the visas are quite strict on how long you can stay in the country for – mine gave me 2 weeks. Also, to go to certain areas you need specific permits which is a bureaucratic nightmare in itself, to avoid that here are the places I would recmmoned to visit in Sudan:
Khartoum: Pretty cool city, with it being the capital the amenities you find here are the best in the country. Decent internet, A/C if you're feeling lavish etc. Try to be there on a Friday and check out Hamad el-Nil Mosque to see an amazing Islamic ceremony complete with camel sacrific, one of the most amazing things I've ever seen. Also, ignore the lonely planet's recommendation about the camel market. Trust me.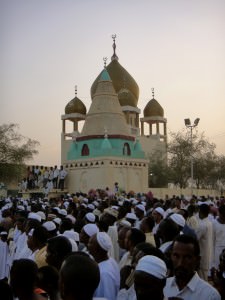 Atbara: As a city, it's fairly nondescript but it's a great base to visit the amazing the Meroe Sites / Begrawiya pyramids. You can get a cab from Atbara to the pyramids and back again for around 100 Sudanese pounds. Check out the full description here
Port Sudan: The best diving in the Red Sea apparently, I'll let you judge for yourself. Regardles, Port Sudan offers a great chance to escape the sweltering heat by jumping in the azure waters and snapping the colourful fish. ALSO, very important – there is a store called Ice Cream Dream (ask anyone, they'll know) which serves delicious ice cream (3 SP), chocolate and milkshakes, amazing. Probably the highlight of my time in Africa! I recommend you stay at Omiya hotel, complete with air conditioning, and disgusting squat toilet. The best value you'll get in Port Sudan, though (25 SP per person).
Karima: Atypical Sudanese town but again, you're here for the awesome sites around, not the town itself. There's only one real hotel (lokanda) in town so no doubt you'll end up there, it's near the massive satellite dish and the hospital. Nearby Karima, there are 2 great things to see. Read about them here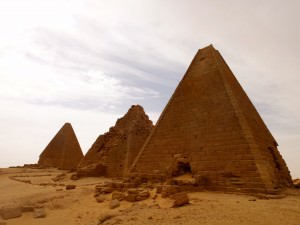 Dongola: Nice place to spend a day or so but no more. Don't waste your time with the temples near by, their in a very dilapidated state so it's quite an effort for little reward.
Wadi Halfa: In effect, Wadi Halfa is a border town but as far as border towns go, this one isn't so bad. You'll have to sleep here as you wait for the ferry but you won't want to stay for more than a night or two. There's no running water in the city so don't, like me, go for a run in the heat and come back expecting a nice refreshing shower only to be stared in the face at by a bucket of dingy water and a bottle to put it over yourself with! Remember to check in with the ferry company when you arrive too.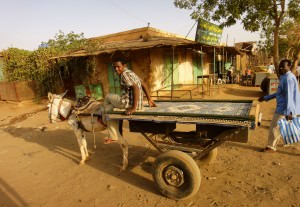 All in all Sudan is a cracking place to backpack, not the decaying war zone that the media portrays, with the nicest people in all of Africa (the world?!). You literally cannot look at someone's food without them beckoning you over and offering you to join them and eat their food. If, and when, you get into a conversation for more than about 2 minutes with someone you'll get an offer to go to their house and stay with them until you leave town – amazing place. The Sudanese people are delighted that you have made the effort to visit their country and they rejoice in the fact that you are seeing that their country is peaceful and friendly.
In addition, they sell the most delicious desserts I have come across in the whole of Africa. They are pastry type sweets, dripped in honey and syrup, similar to baklava. It costs less than $3 USD per kg but be careful, in the 14 nights I spent in Sudan, I ate too much of this stuff on about 10 of them and was in a sugar-induced stupor for a couple of hours each evening! (well worth it tho :P)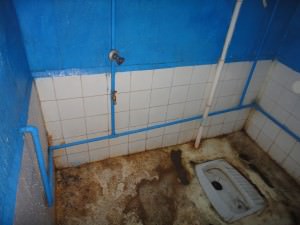 SUDAN:
Budget: $25 a day no probs.
Food: You can eat for around $1-$3 USD easily everywhere – their desserts are amazing!
Accommodation: Completely depends on the quality, ranges from basic rooms for $2 to A/C rooms for $15+
Transport: Amazing roads, amazing buses – seriously! Not overly cheap, $2 per hour on a bus I reckon. So 500km costs around $15 but the buses are A/C with food and drinks. Bargain!
People: You'll here this time and time again but really, the Sudanes are THE friendliest people I have ever met, ever ever ever.
Weather: Unsurprisingly roasting! Easily reaches 40 degrees daily
Religion: Entirely Muslim so dress and act with according respect. Try not to wear shorts on Fridays (I learned this the hard way)
Currency: Officially $1 USD- 2.5 Sudanese pounds BUT on the black market you can get 3.0+ – great business 😛
Visa: Hmmmmm. Costs, depending on Nationality, between $20-$40. Not as hard these days as people let on. Easily obtained in Ethiopia, Uganda and Kenya. You HAVE to get your Egyptian visa first though (can take up to 3 weeks so prepare in advance) so make sure you do leave enough time for that. British nationals need to get a letter of invitation from their embassy. It takes 5 minutes and costs around $90, a disgusting rip off but nothing we can do. Normally you can pick up your Sudanese visas the next day.