Bangkok gets hammered time and time again by travelers as they pass through. I'm constantly having to defend it, after writing about awesome day trips from Bangkok to Ayutthaya, Koh Laan, Kanchanaburi I thought I'd add my personal favourote – wakeboarding in Bangkok.
Lake Taco, about 45 minutes from the city centre, offers some awesome wakeboarding opportunites for novices or experts. There are no boats here, they use the cable system which runs a circuit around the lake so you can climb on and off quickly, it's a great way to learn because when you crash (often) you can get right back up and try again.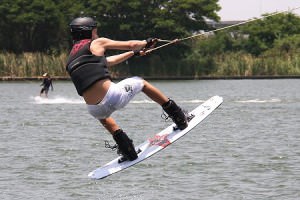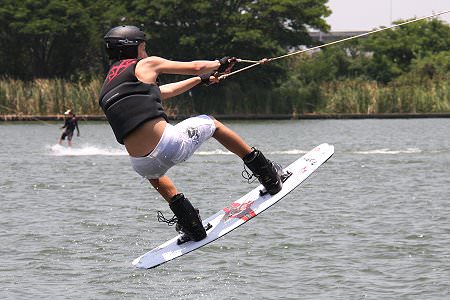 Let me give you some info:
How much does it cost to go wakeboarding in Bangkok?
300 baht ($10) for 2 hours or 500 baht ($17) for the whole day. The park normally opens at midday and stays open until around 6pm.
Do I need to rent equipment?
No! They offer free wakeboards, knee boards, life jackets and helmets. If you want high end equipment you can bring your own or rent them from the shop for around $5 per day.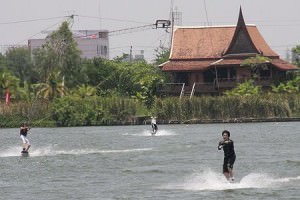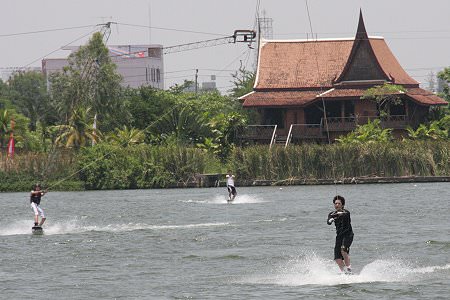 How do I get to the wakeboarding park?
Ok, get a pen ready, this may sound complicated!
From Bangkok you can get the BTS (subway) to Udom Suk station. From here you have two options:
a) Take bus number 132 to Bang Thee and ask the conductor to tell you when to stop (show them the thai writing below). 9 baht ($0.30).
b) Take a taxi to soi Wat Luang Porto (about 100 baht/$3). From here there's big signs to the lake. Show the taxi driver the following picture:

NOTE: You can always call them on 023167810 and ask the taxi/bus driver to speak to the people at the wakeboarding place.
I've never wakeboarded before, is that ok?
Absolutely, I had never done it before either – it's a great place to start. The Thai's are so friendly and helpful you'll probably end up eith a free, impromptu tutor session – that often happens to me.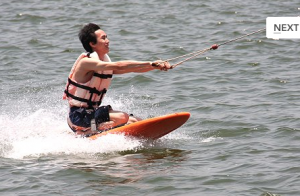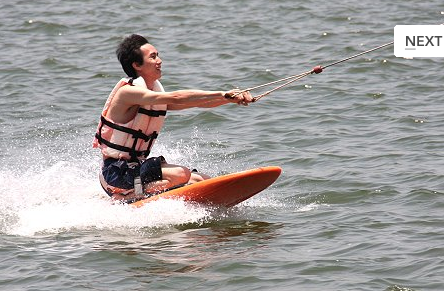 What about food and drinks? Lunch?
There's a local food stall there, serving delicious Thai food for around 40 baht ($1.30) and beers for 50 baht ($1.80). Just leave the beers until after the wakeboarding!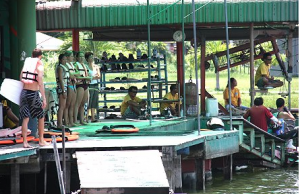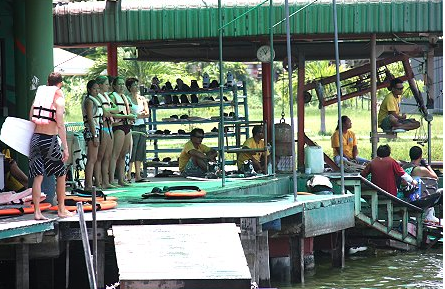 Thailand is such a great place to backpacker, work or travel. With so many  cheap flights to Bangkok, it's a perfect time to visit. But I ask you one thing, don't knock Bangkok until a local has shown you around. There's a lot more to it than Khao San road and Nana Plaza. Happy travels!