Thailand is such a beautiful country. Full of amazing temples, awesome shopping a crystal clear beaches. From the hustle and bustle of Bangkok to the serenity of chilled out vibe of Koh Phi Phi, Thailand is seriously cheap when you're there! But in the first place, you need to have some cash so you can travel. Here are some tips for you to ensure you've got enough cash to spend before you go!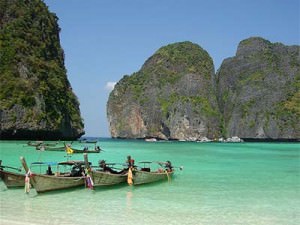 Have a Garage Sale
A garage sale (for anyone reading this who isn't Aussie) is a rite of passage in suburban Australia. For you Brits out there it's just like a car boot sale. Basically you have all your old stuff that you don't want on a table in the garage all for sale, normally on a Saturday. People come to check out what they want to buy and I'm sure you get the gist. A lot of the time you can make a couple hundred dollars from the day as long as your stuff sells.
Get a Loan
If you're in a rush to go then it's worth considering getting a loan. There are many different lending options available so it's worth shopping around. For example Newcastle based bank Greater Building Society has a great range of unsecured loans which are available at greater.com.au. Just make sure with loans that you pay every cent back!!
Get a second job
A second job is a great way of earning some extra money while saving up to go to Thailand. How about working in a Thai restaurant… it may not be the real thing, but hey you're getting a Thai experience before you go!!
Put aside a bit of money each month
By putting away say $500 each month you will soon have plenty of money to spend when you're out there. A high interest savings account for example will help boost your savings. I mean every little helps doesn't it.
In short you don't have to do anything majorly drastic to save up some spending money in Thailand but a few little personal sacrifices here and there are all worth it in the long run!