Know your patois for a Jamaican holiday, mon. There's an app for that. It's called "Jamaicanize " and it's under $5 USD, so it is really thrifty for UK buyers. It is a fun app, and it may even straighten out some language questions in Jamaica. Understanding local idioms will make the trip more interesting and everyone will be well-informed. Visitors will certainly want to order drinks and get what they think they ordered. Rum drinks are quite the thing in Jamaica.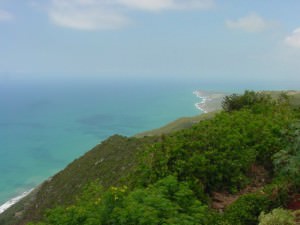 Speaking of rum drinks, there really was a Captain Morgan in Jamaica; he's not just a commercial persona for selling rum. He was a pirate and privateer in the 1600s, for good or ill. Jamaica was an English holding for a couple of centuries and now is part of the Commonwealth realm; Queen Elizabeth II is "queen of Jamaica" and head of state. Consequently, many county, city, street and place names are English. It will be just like home for UK visitors, except for the sun, warmth and umbrella drinks, not to mention the architecture, tropical plants and decor. Well, it won't be just like home, but a small reminder of home maybe. All right, it won't be very much like home.
That's why people go on holidays to Jamaica; they want something completely different. The fresh seafood is very good and the African influence on Jamaican fare makes it more exotic. Again, the "Jamaicanize" app might be informative, especially at dinnertime; just ask. If you're interested in going to Jamaica, check out these links below:
www.firstchoice.co.uk/holiday/location/overview/Jamaica-JAM
www.tcsignature.com/caribbean/jamaica/
Visitors to Jamaica will probably hear a lot of Reggae music, especially by Bob Marley, Jamaican born Reggae musician and activist. There is a Bob Marley Centre and Mausoleum in Nine Mile, the village of his birth, between Montego Bay and Ocho Rios. The centre has a restaurant and gift shop as well. It may be safer to go on a tour dedicated to getting visitors to the centre and back than to drive the back roads in a rental car. The app will probably have something to say about that.
Back to the beach, or the reason to go on holidays to Jamaica. Ocho Rios is a cruise port and holiday venue that has it all. If visitors do not want it all, try Treasure Beach, the polar opposite of Ocho Rios. The beach in Negril, called Seven-Mile Beach, is about four miles in length. It's a sugary, white-sand beach surrounded by turquoise, tranquil waters.
Negril is one of the ten best beaches in the world, according to noted travel magazines, and it does not have giant crowds. It is a resort area with a few smaller, family-owned hotels. Scuba diving and snorkelling are popular pastimes at most beaches in Jamaica, including Negril. There is probably an app for Jamaican beaches, too. Perhaps "Jamaicanize" has the appropriate language for finding out about them.
There are tourist-populated beaches on all coasts of Jamaica, so finding the right one is an adventure that may demand several trips for research purposes. Enjoy the information-gathering and scouting trips.