I was off to find a true island paradise in Koh Phayam and on the way there I stopped off in Ranong to recover from the night bus journey from Bangkok. The boat to Koh Phayam leaves from Ranong so it was a perfect place to spend a day or two.
Ranong is rarely visited by anyone other than people catching the boat to the nearby islands of Koh Chang or Koh Phayam, and a few people doing visa runs to Burma. I wasn't expecting much to be honest but it proved my wrong, it's a pretty cool Thai town, void of the tourist scams, in the midst of beautiful mountains and on the coast. Here are the best things to see in Ranong:
Hot Springs: Only 2km outside town, the hot springs are a natural 65 degrees Celsius! Too hot to jump in, but for 40 baht ($1.30 USD) you get access to 4 pools which are all cooled down to different levels, ranging between 20-45 degrees. This is the most healing hot spring in all of Thailand and apparently the third most healing in the world! It's become a bit of a pilgrimage for some people so take a dip and judge for yourself, I loved it.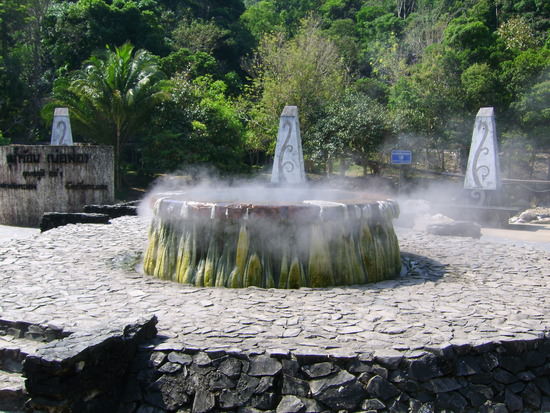 Ranong Canyon: You may find bigger canyons across Thailand but the beauty about Ranong Canyon is that you'll probably have the whole place to yourself. It takes about 25 minutes on a scooter to get there, then you can chill by the water, in the middle of the mountains, read a book or whatever. This is the epitome of peacefulness!
Bald Hill / Grass Hill / Khao Hua Lan: If you're a nature buff then this is all for you. Bowling hills bounding across the country side. It's about 13km from Ranong City, and if you're here at the right time of year (December – March) you'll see the hills covered in golden grass. Photo time.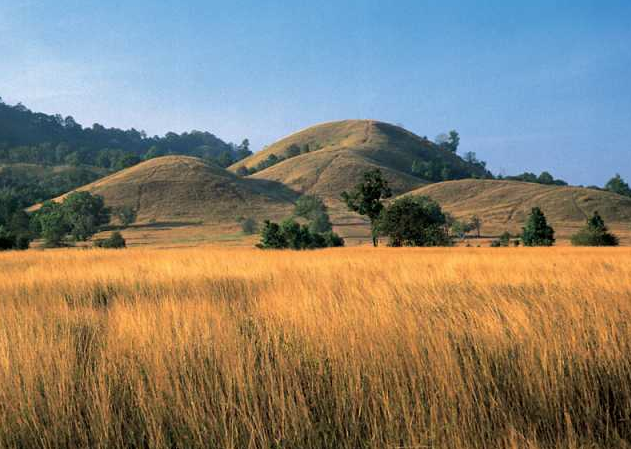 Sunset at Hat Chan Damri: Gotta love a good sunset, and this is the best spot in Ranong, looking over the Andaman sea. About 10km from the city, you may have to keep asking directions because the signs are awful! Worth the effort though.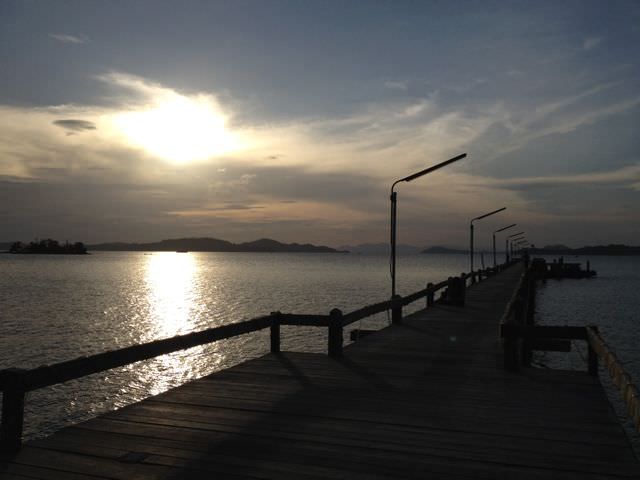 Koh Son: If you're collecting passport stamps or doing a visa run, here's an easy one for you. Koh Son is in Burma (Myanmar), home to some casinos too (as they're illegal in Thailand) so you may even get lucky and pay for your trip.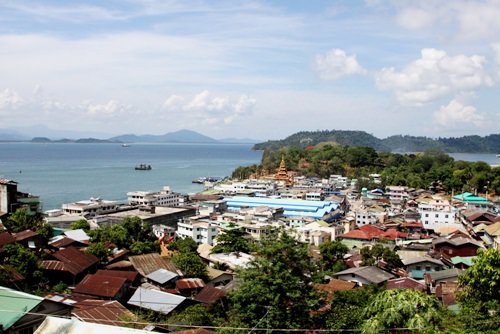 Punyaban Waterfall and Ngao Waterfall: I love waterfalls but after seeing Erawan falls in Kanchanaburi ( and Victoria Falls in Zambia/Zimbabwe!) other waterfalls fail to meet expectations. So if you haven't been to many waterfalls, both these are pretty but if your expecting something mindblowing, you may be left a little disappointed.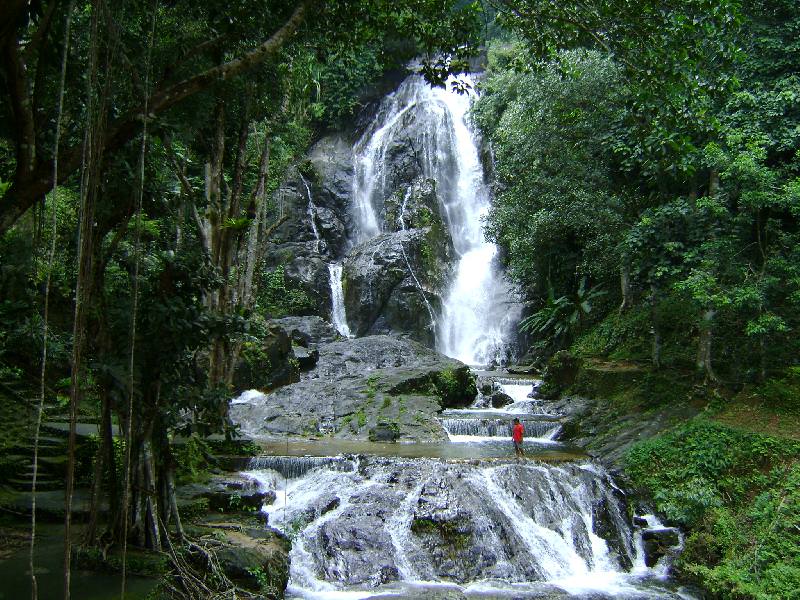 How to Get to Ranong:
AIR: Happy Air runs flights 5 times a week but they have a monopoly on the route so they charge $100 minimum per flight. Ouch.
TRAIN: There's no train station in Ranong, the nearest station is in Chumpon, about another 90 minutes or so in a bus. I wouldn't bother taking the train to be honest.
BUS: Far and away the best option. From the Southern Bus Terminal in Bangkok (Sai Tai Mai bus station outside the city), buses leaves around 8pm and take about 9 hours. Prices range between 400-700 baht ($14-$23).
I'd definitely recommend people stopping over in Ranong for a day or two on their way south to the islands, make it more than a sleeping venue, through holiday rentals perhaps,  and get out and explore. People often talk about the 'real' Thailand but it's more of a cliché, this is legit, no street hawkers, no foreigner-prices, just plain old simple Thai smiles and beautiful scenery. Happy travels!