River cruising has never been more popular, around the world there is a river for everyone; for every taste, style and budget. Judging by the number of river boats that have been ordered by cruising companies the industry is definitely going to increase in popularity around the world. River cruises in Europe are considerably different from elsewhere in the world. The average age of people on river cruises are people in their sixties, so tour operators are beginning to use new tactics to lure a younger crowd – they are doing this by offering more activities and also by making the cruises shorter because younger people generally have less time on their hands.
With the crosses becoming more popular and more appealing to wider demographic, many people might be taking a river cruise for the first time. Here are a couple of top tips for getting the most out of your cruise.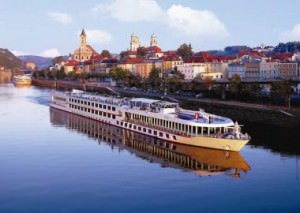 1) Pack smart
It's good to pack light, you should try to pack as effectively as possible. The good news is that there are no formal nights, so you don't need to oak your tuxceedo! Men only really need to bring along a collared shirt and a causal coat. Women don't need to worry about bringing their best long dresses or high heels – the best way to describe it is that it is similar to the dress code of a country club informal dinner. One of the best thing about most of the current river boats is that they have self service laundry facilities, you may be fortunate enough, if you are staying in a suite, to get complimentary service whilst on your cruise.
2) Know your limits
Sometimes the streets, stairs and walkways can be very tricky for people that are unsteady on their feet. In America people with disabilities are extremely well cared for on cruise ships, unfortunately Europe doesn't follow the same rules. You must know your limits, for example, if there is quite a long walk or a number of steps to walk up to see a castle and you're out of shape or have heart issues, you might want to think twice about undertaking such exercise. You're there to relax and enjoy yourself, therefore you must pace yourself accordingly. Some riverboats don't have an elevator that will take you to your room, if you feel that you need an elevator to climb stairs then you should be sure to choose a river cruise line that provides the service. River cruises will also offer some ligther activities for those that are less able.