It's been said that couples who endure daring adventures together share a tighter emotional bond. What better way to begin a brand new marriage than by experiencing an adventurous honeymoon together? If you need some assistance finding a trip that will pack thrill and adrenaline, sites like The Knot can help you come up with some exciting honeymoon destination ideas, but if you're looking for some answers right now, check out our three favorite locations for the adventurous couple:
1.Costa Rica
Sunny skies, stunning beaches and a colorful diversity of plant and animal life all make Costa Rica one of the most popular honeymoon destinations, but if you want to spice things up with some pulse racing adventure, Costa Rica has that covered too. As a country with more rivers per square mile than any other on the earth, Costa Rica presents numerous adventurous water activities such as whitewater rafting and rappelling over beautiful waterfalls.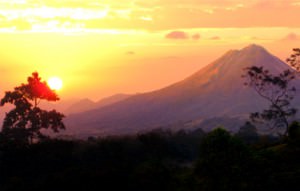 If sport fishing pumps your blood, Costa Rica dominates as one of the world's best sport fishing spots. More than 60 world records have been snagged here. You can expect to tangle fish like blue marlin, tuna, snapper, sailfish, tarpon, snook and many more. Other exciting water activities include snorkeling and surfing. Land activities include bungee jumping, rock climbing, mountain biking through the thick tropical rainforest, and ziplining over the jungle canopy.
2.Big Island, Hawaii
Hawaii has reigned among the top honeymoon destinations for decades because of its gorgeous beaches, breathtaking waterfalls and exotic flora and fauna. Many honeymooners come here for romantic leisure and recreation, but the Big Island of Hawaii is for the thrill seekers.
Home to the world's most active volcano, the Kilauea, Big Island offers you guided tours to the proximity of this marvelous natural wonder where you can explore lava tubes, steam vents and former lava flows. Better yet, you can opt for a night tour where you can watch the dazzling glow of red lava streaming down to the sea. For the ultimate adventure, take an open-sided helicopter tour near enough to the volcano to feel the powerful heat radiating from the flowing lava.
3.Switzerland
Many honeymooners are drawn to Switzerland's spectacular beauty, content to leisurely stroll the quaint villages and drink hot cocoa inside warm indoors, while gazing out at the amazing Swiss mountains. However, if you prefer a little more action and adventure, the Swiss Alps offer you plenty of exciting options. Snow skiing on the slopes of the Alps provides an awesome winter activity, but summer features many more opportunities such as glacier skiing, ice climbing, bungee jumping, sky diving and paragliding. Additionally, you can enjoy river rafting on the rivers of Simme, Saane and Luütschine, and canyoning in the gorges of Grimsel and Saxetet.