How on earth do you pick a top five?  Or even a top ten for that matter!  So much of it is down to personal choice but equally there is no point writing such an article if one is going to omit world famous treks.  So here are my Top Five – quite probably in order of preference…
1)     Everest Base Camp, Nepal
As a hiker, the Himalayas have to be top on my list of hiking destinations.  As a climber, Mount Everest holds an allure that no other mountain has.  So a trek to Everest Base Camp encompasses all those things I hold true to my heart.  Yes, it is a time-worn route and can be busy at times (especially in October which is peak trekking season being post-monsoon and pre-winter); yes, the classic route is very much one way in and one way out; and yes, it can be hard to escape the commercialisation of the region although thankfully altitude and infrastructure prevent day-trippers, or international airports and luxury hotels from being built here. BUT, this really is an unmissable classic.  From the moment you land after a hair-raising flight over the mountains and through the clouds onto the heavily angled airstrip at Lukla, gateway to the Khumbu region, to the moment you stand beneath the infamous Khumbu Icefall, gateway to the higher reaches of Mount Everest, you will experience such a series of highs – quite literally.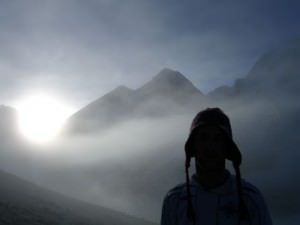 It goes without saying that the scenery is utterly breathtaking right from the start – just how many photos can one take of snow-capped mountains?!   But it is not just the mountains, it is the terraced fields, the lush forested valleys, the turquoise waters of glacial rivers tumbling through sheer gorges, the colourful prayer flags fluttering from every high point and the white stupas built to signify entrances of villages.  Your heart is often racing as you cross precarious-looking swing bridges far, far above raging rivers below – beware crossing these the same time as a yak train though….your heart will also be racing as it fights the lack of oxygen as you climb higher and higher – over 5, 000 metres in fact.  Oddly enough, the trail actually starts by descending, lulling you into a false sense of security.  But then it gradually ascends up the infamous Namche hill to the only major settlement en route, Namche Bazaar, where you can email home, order a birthday cake or pick up cut-price outdoor clothing that has come over the Himalayas from China.
As the trail winds higher, the landscape changes from green hillsides to bleak, windswept fields which locals still farm by hand, and higher to the lower reaches of the Khumbu Glacier, marked by an amphitheatre of rocky cairns, homage to fallen climbers whose bodies still lie on the mountain.  From the last settlement, Gorak Shep, it is a challenging hike up Kala Pattar, from where you can view the summit of Everest up close – well, as close you can get without involving ice-axe and crampons and a huge amount of money.  This is the high point of the trek at 5, 630m (depending on which map you are looking at).  However, it is worth continuing on to the glacier (careful, it is still moving) and up to Base Camp itself. Here you can meet some of the brave (foolhardy?) climbers who are attempting to 'knock the bastard off' (in the words of Hillary himself) and stand in awe at the monstrous blocks of ice that make up the Khumbu Icefall as they crack and lurch their way down the mountain.  One feels very small indeed here and can see why the Tibetan name for Everest is Chomolungma 'Mother Goddess of the Universe'.
2)      Kilimanjaro, Tanzania
Where else can you pop off for a week and return to claim you have climbed to the Roof of Africa, at nearly 6, 000 metres?! There are a variety of treks up the mountain so you can choose one to suit your skills (and budget as the longer you stay on the mountain the more expensive it is).  The Marangu Route is the most popular, although possibly people book this under the false impression that as it is the only route with hut accommodation and may be more comfortable. However, there is something to be said for avoiding the somewhat overcrowded hut areas with their dubious sanitary arrangements and opting for the peace and solitude of a camping route such as the Rongai, where each day finds you hiking through markedly different scenery passing few other trekkers, and each night sees you sleeping in peaceful campsites which you often have to yourselves.  The summit itself is truly spectacular as you stand in awe of the shining icefields and beyond to the Tanzanian plains below which are basking in the heat just as you are currently freezing in sub-zero temperatures.  But remember that pint of local Tusker beer in the sun is only a few day's trek downhill….
3)     The 'W' circuit, Chile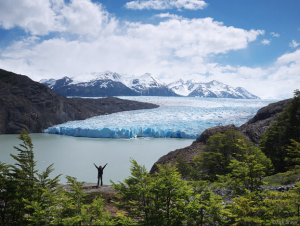 The 'What?' Circuit some might say.  But once you mention Torres del Paine, the legendary national park deep in the heart of the famous wilderness that is Patagonia then all becomes clear.  This is one of those places that can truly only be fully appreciated by getting out and exploring on two feet.  Leave the sightseers behind on the catamarans gliding the stunning glacial waters of Lake Grey (a misnomer if ever there was one) and trek to the viewpoint overlooking the Grey Glacier where it tips its glistening icy mass into the aquamarine lake.  Continue through the French Valley surrounded by soaring granite peaks and tumbling glaciers and on beneath the magnificent Cuernos (the 'horns' to the park's 'towers').  The final day is spent on a more challenging scramble over giant boulders up to the base of the towers themselves – the climax of any visit to the park. Standing beneath these truly dramatic spires you simply cannot believe that people actually climb their seemingly insurmountable walls.  The entire landscape is inspirational and utterly unique to Patagonia – you feel indeed as if you are at the 'ends of the earth'.
4)     Inca Trail, Peru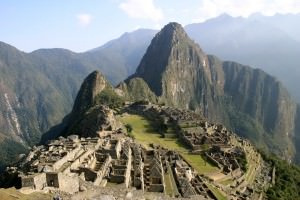 Well you can take the train with the rest of the day tourists from Cusco arriving en masse at this incredible Incan citadel OR you can take this timeless classic four day trek through the Andes where the lush scenery and soaring mountain peaks take your mind off the back-breaking struggle to ascend to such high points as 'Dead Woman's Pass', battling the altitude, challenging the knees on long, steep descents and awkward high-rising Inca stone steps. Doesn't sound appealing?  Then just think about that final morning, having risen at 4am in no doubt freezing temperatures, for a few hours final up and down slog to arrive at the legendary Sun Gate and watch as the mist slowly clears and there, beneath you, emerges piece by piece, the magical hidden city of Machu Picchu.  And you have it all to yourself.  Never again will you recreate that feeling the explorers of old must have felt on stumbling upon some long lost treasure.  And it is worth every aching muscle I assure you.
5)     Routeburn Track, New Zealand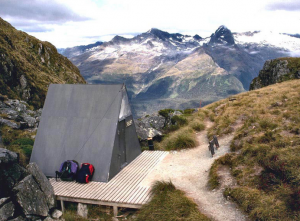 In New Zealand, trekking is known as 'tramping'.  They have a list of a dozen or so 'Great Tramps' and having done a handful myself it was hard to pick a favourite.  The Routeburn stands out as it is not as busy as the famous Milford Track and you can also combine it with other tracks to create different circuits and length.  To be honest I could have quite happily linked all the different treks up and spend my entire time in New Zealand 'tramping'.  This is a land where every corner brings gasps of astonishment.  Where the scenery is 'photoshop perfect', where the (pretty constant) rain actually adds to the drama of the landscape and where you will generally pass few other tourists – but a lot of sheep.  Again this is a place that cannot be appreciated fully from a coach.  Get that poncho on, forget about trying to keep your hiking boots dry and start wading the streams, sliding over wet roots, scrambling up muddy hillsides, grabbing a free shower in a waterfall, and swatting a few midges away and indulge in views that look out over fiordland, the South Island's wilderness area, where miles and miles of forest, valleys, glaciers, mountains and tundra lie before you.  Truly addictive stuff.
This guest post has been written by Helene Cooper who is a keen globetrotter and has spent much of her life trekking and exploring all seven continents including summitting Aconcagua in Argentina, climbing live volcanoes in Ecuador, getting engaged at Everest Base Camp and honeymooning amongst the stunning mountains of New Zealand. Helene currently writes for Dragoman.