It was the evening of our 2nd day on the cargo boat, day 1 had certainly been an experience and as day 2 wore on we realised China was nowhere to be seen. We did, however, seem to be coming rather close to land..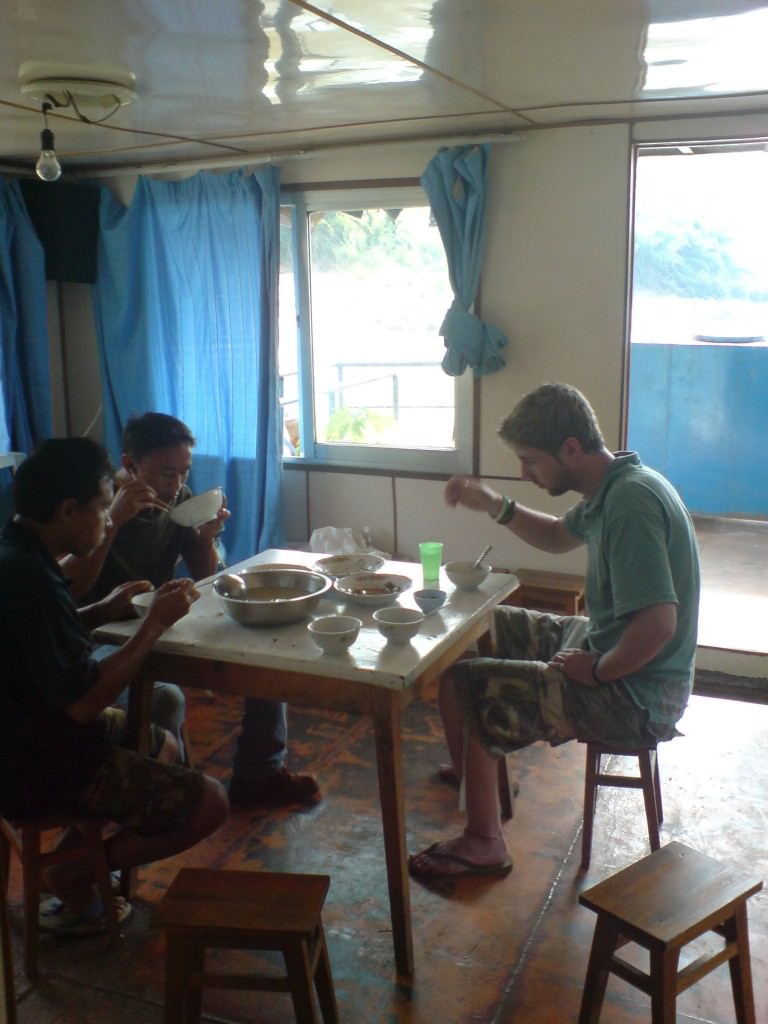 It should be said at this point that we did have our passports with us, complete with Thai work permits and Chinese tourist visas in expectation of our arrival, what we most certainly didn't have were any permission to enter Laos… at night… illegally… We figured it was late, dark and noone would see us. So the boat pulled up against the land, the sailors went to sleep and we nipped over to Laos for a cheeky beer on the beach. Feeling undeservedly proud of our illegal immigration status in Laos (all 90 minutes of it) we made a silent, triumphant return to our shelves and went to sleep. Little did we know that illegal immigrant status was about to get a lot more serious elsewhere!
We woke up, and as normal, had breakfast with the crew around 6 am on Day 3. Food on the whole was delicious, most of it was catfish, caught from the Mekong an hour before meal time, then served up in different ways and fed to us with rice (and lots of chilli).
Day 3 – at last we would be arriving in China and getting off this bloody boat! Or so we naively thought….
We were going up stream through the Mekong river and it was slow progress. The scenery was still jaw-dropping and the novelty of the entire ordeal still held is luster but, it the back of mind, i couldnt help but think when we're we going to reach China?! As we meandered on up the Mekong all morning as Max, Swede and I zoned out…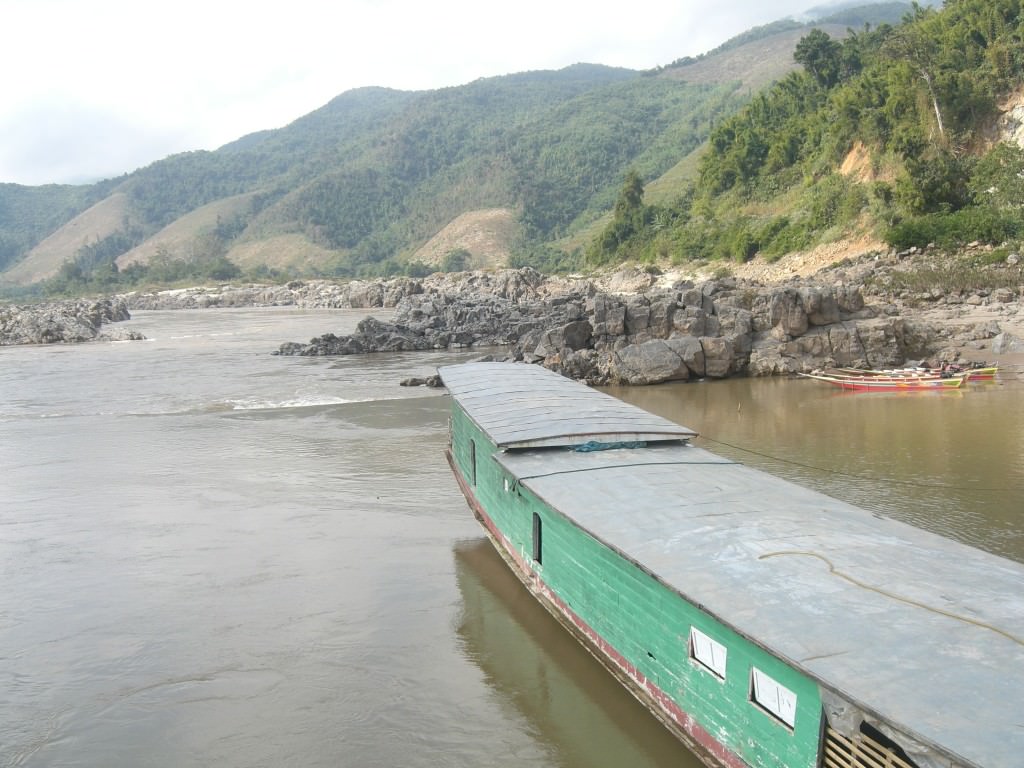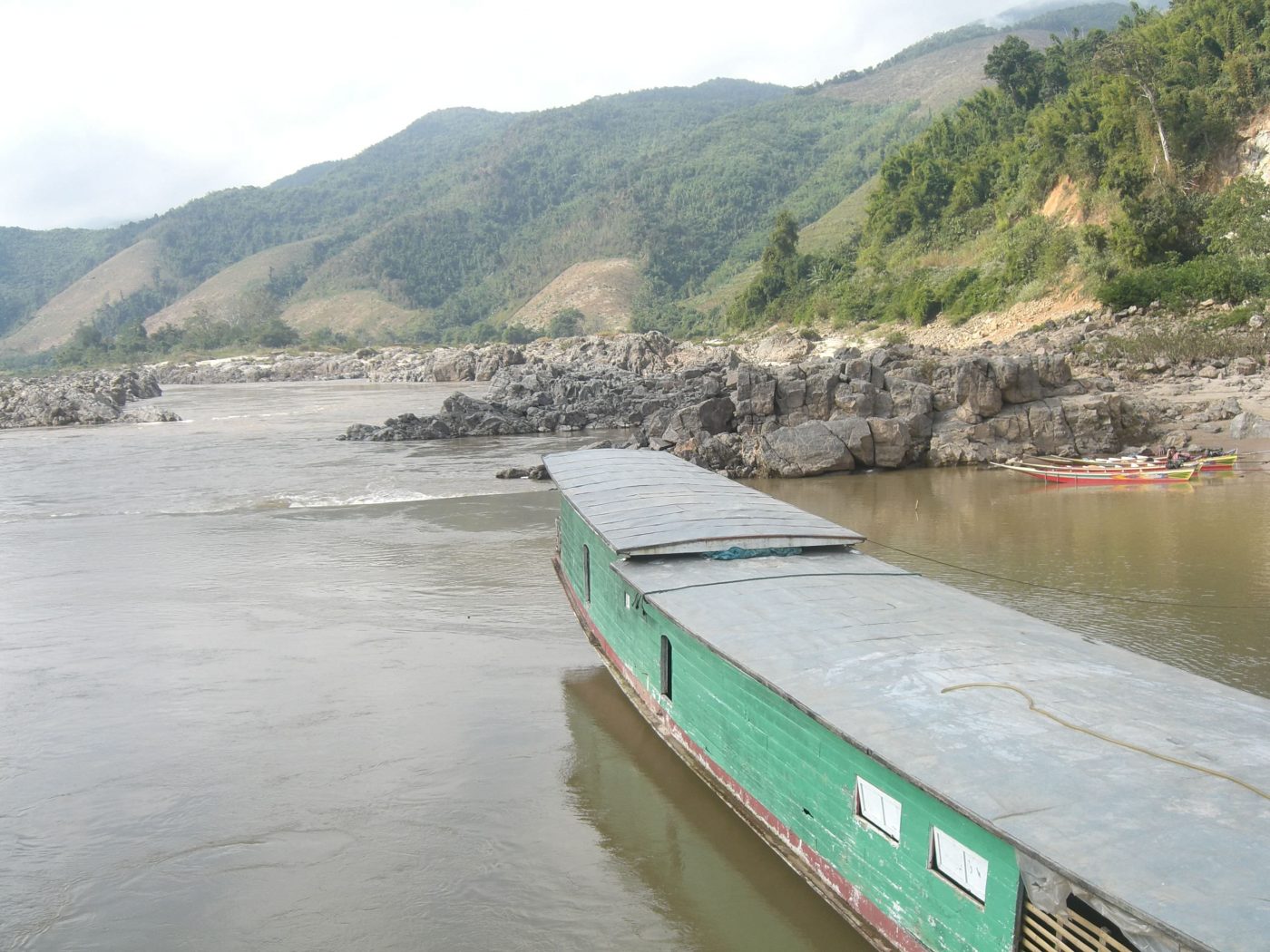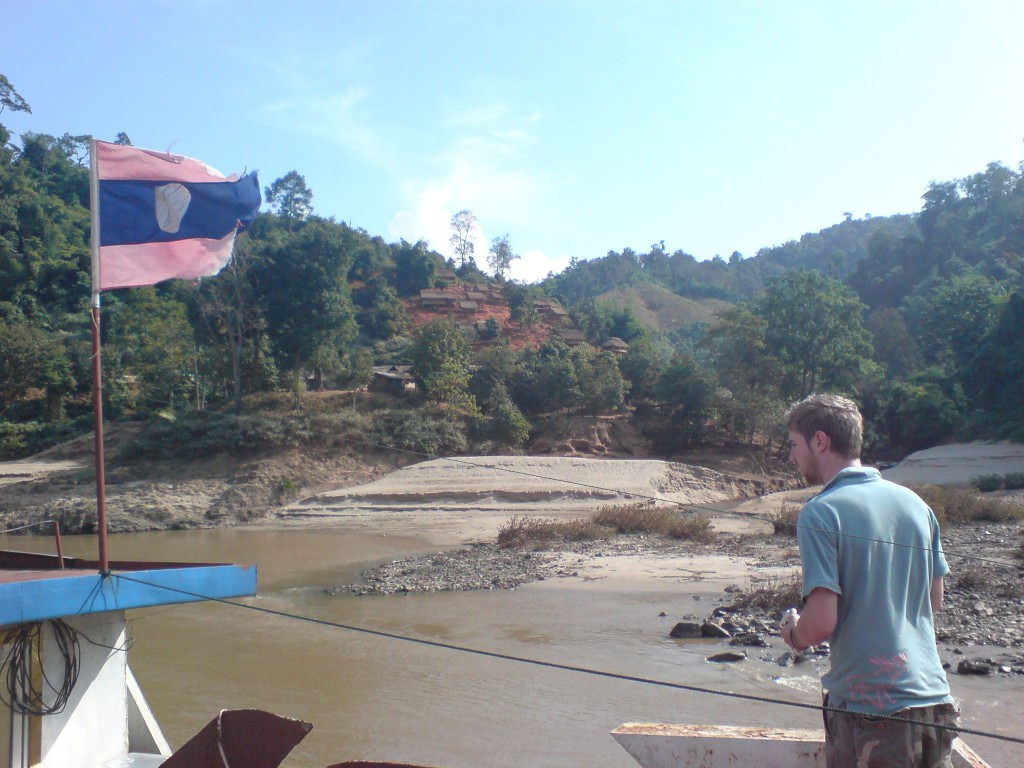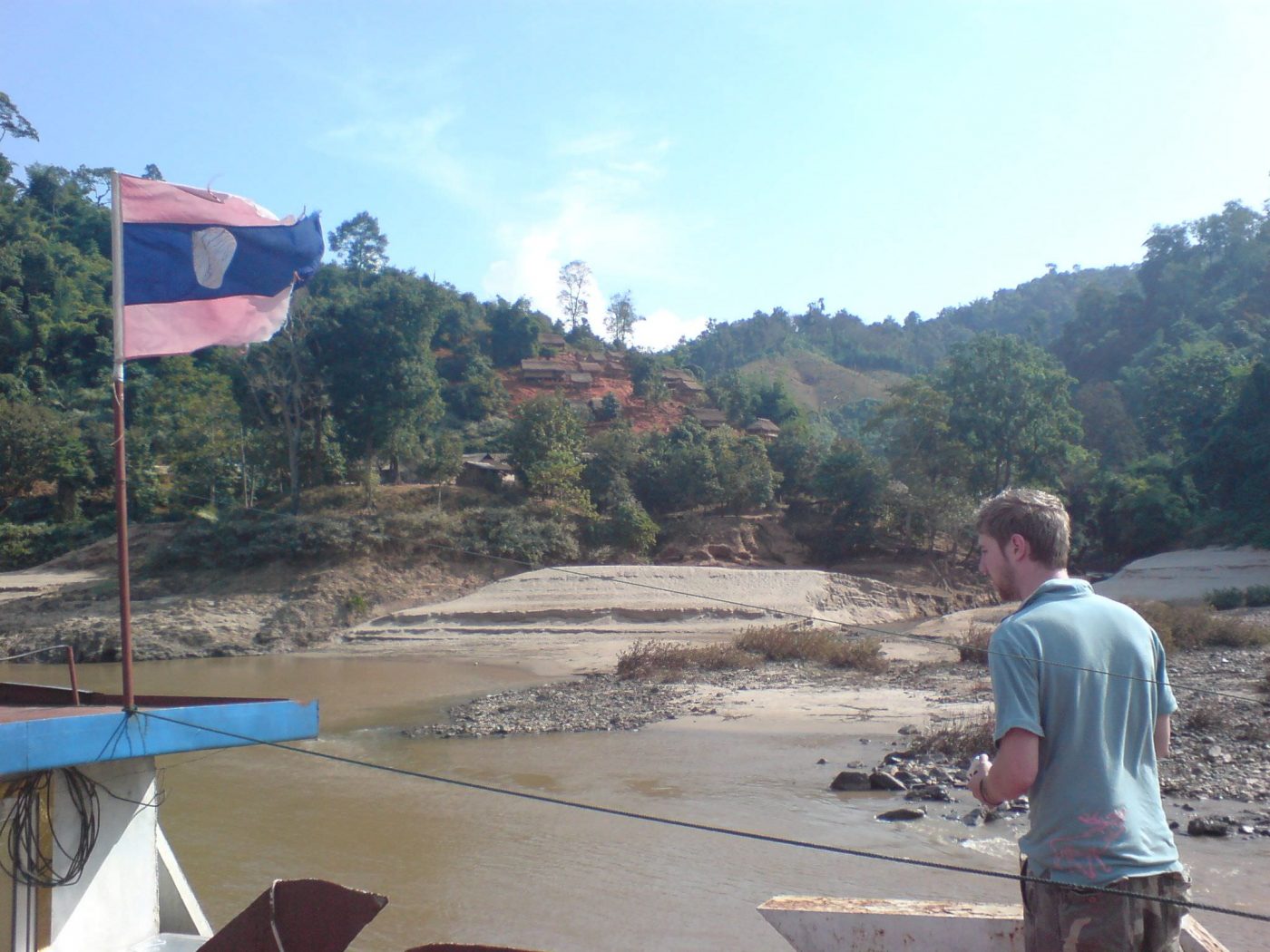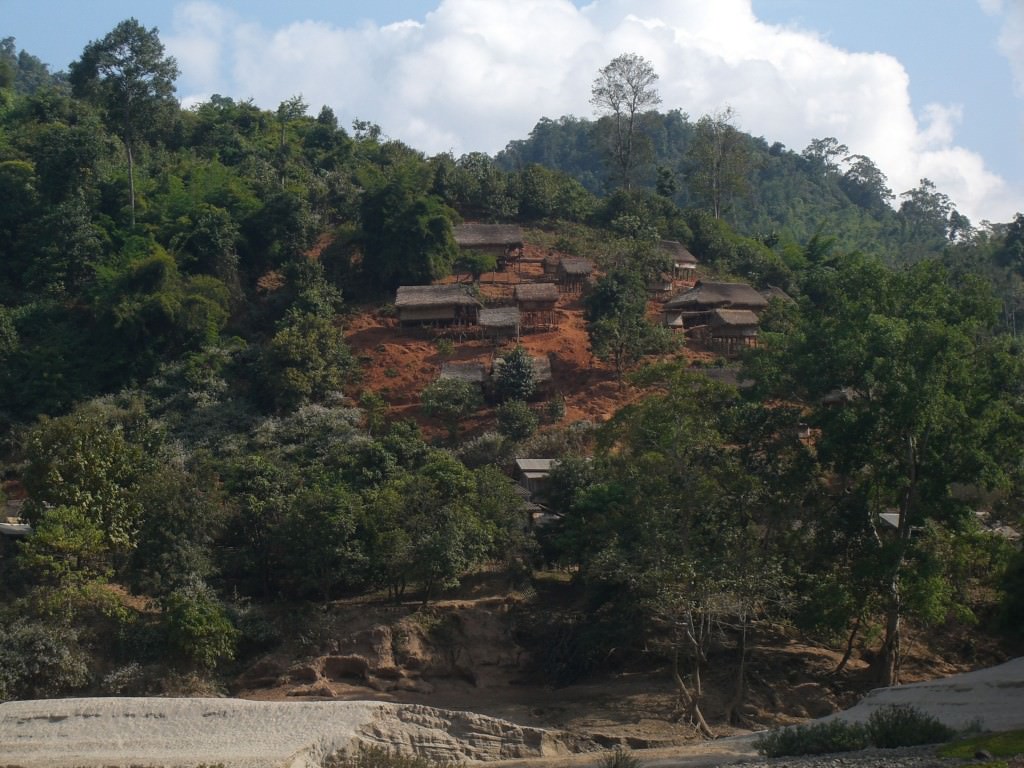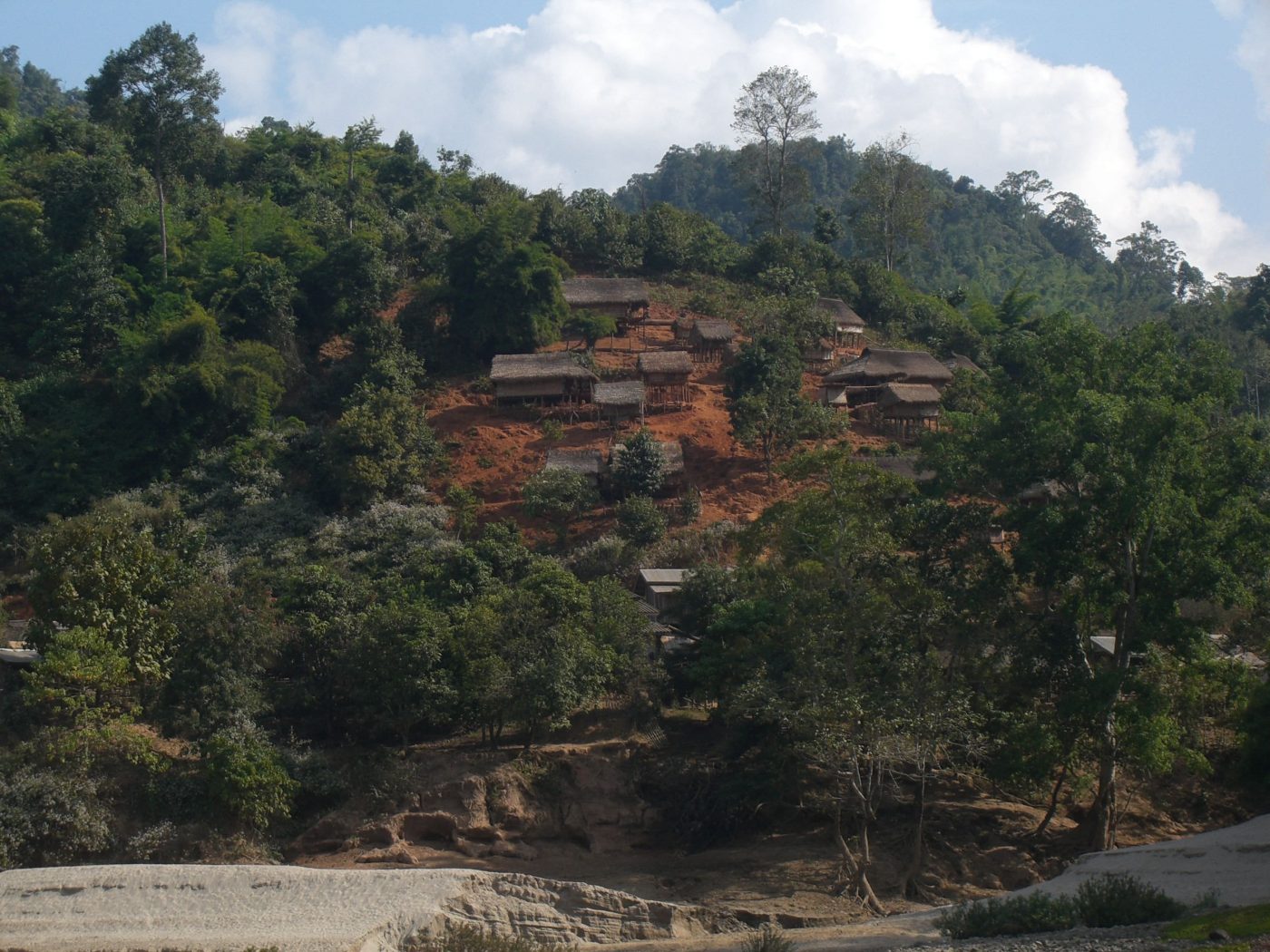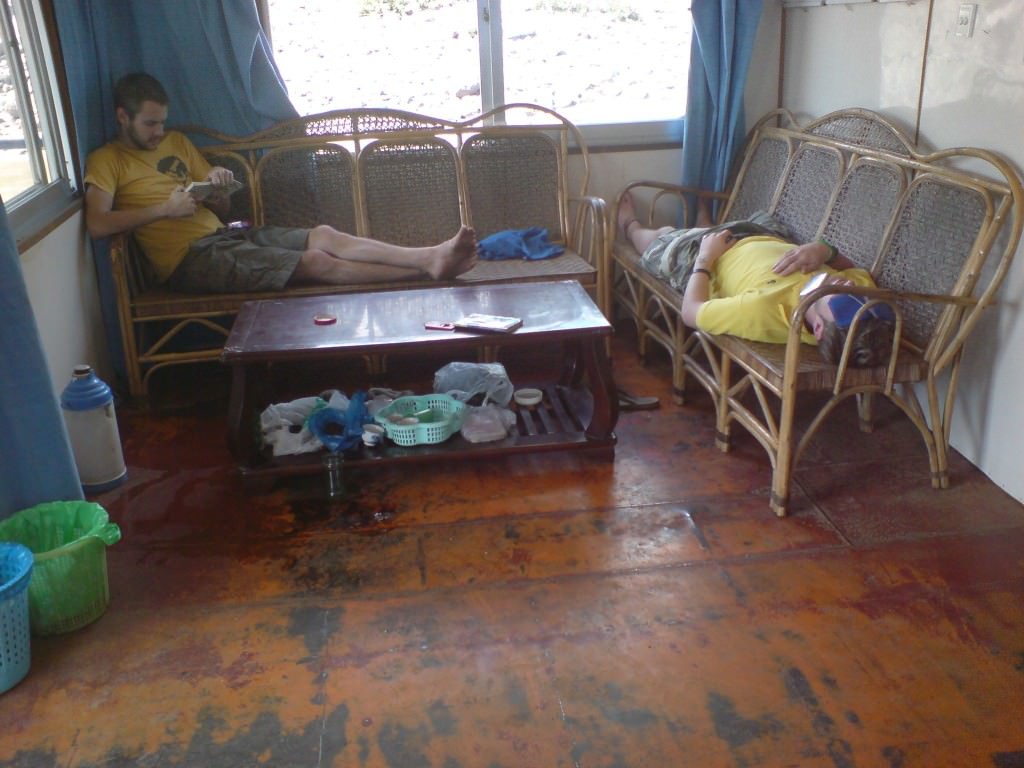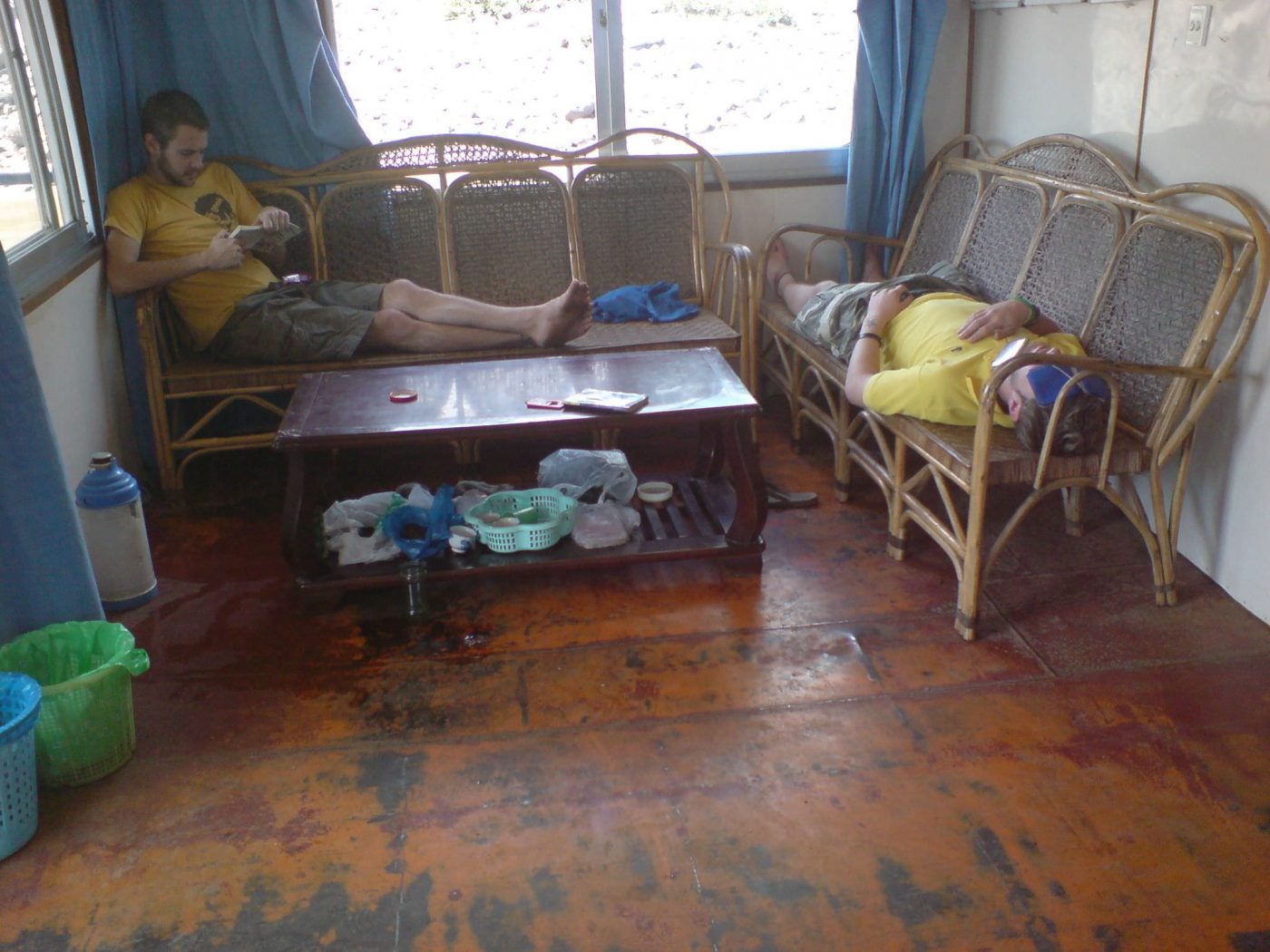 In the distance, i was straining my eyes, convincing myself I saw a port. Yep, definitely a port. We started to get pretty excited, but it looked tiny – if this was China, where the hell did we go next. We approached the tiny concrete docking area and we saw a flag pole proudly bearing the flag of…… Burma. It was now past 2pm on Day 3 and we were docking here – wtf?!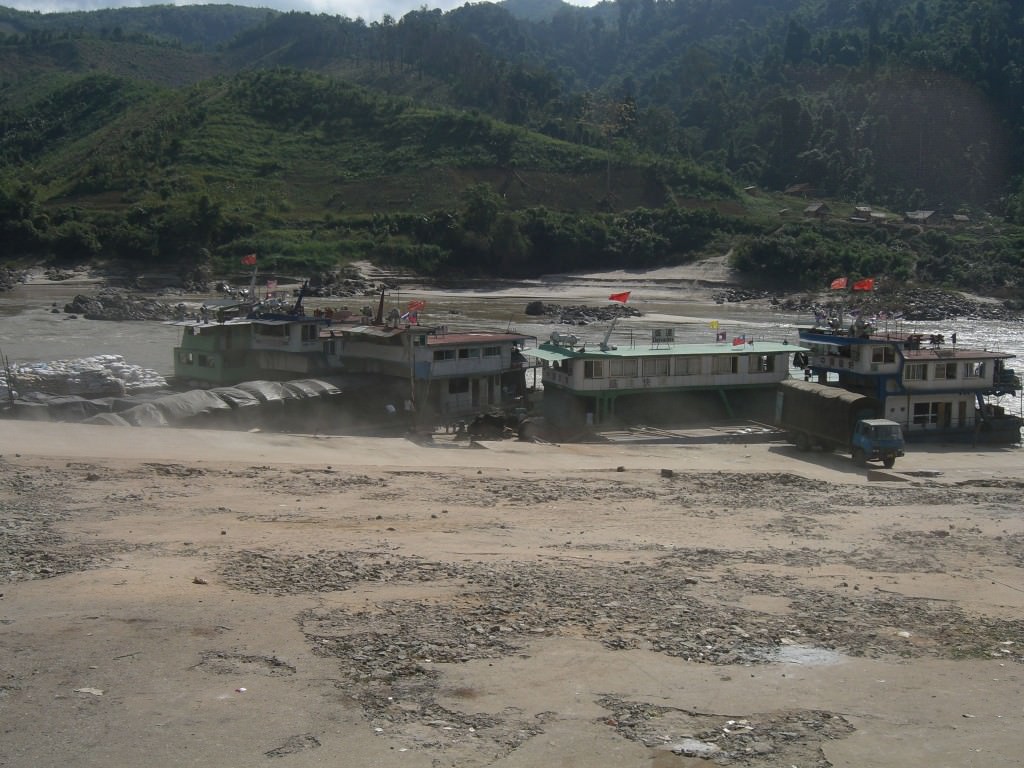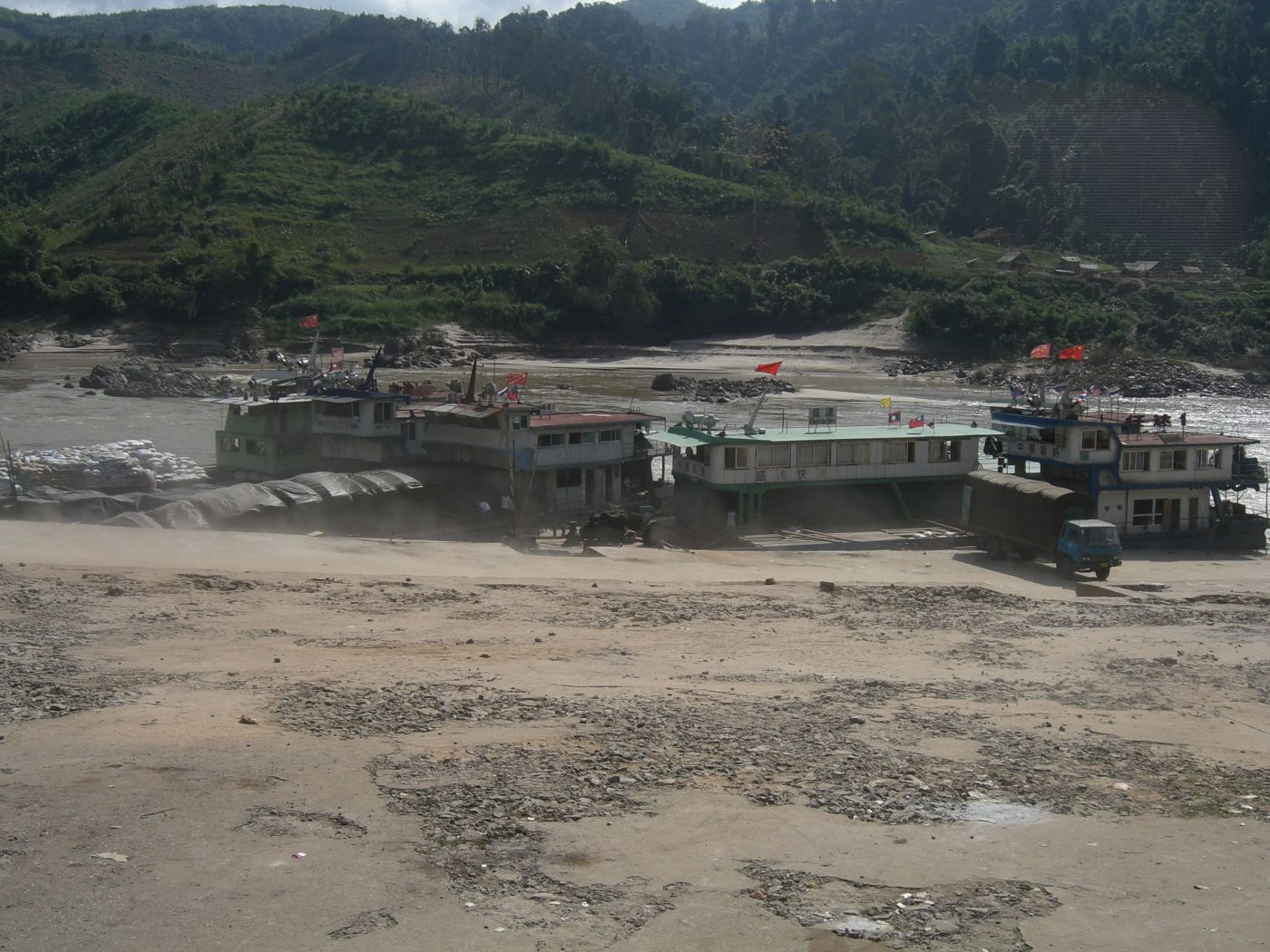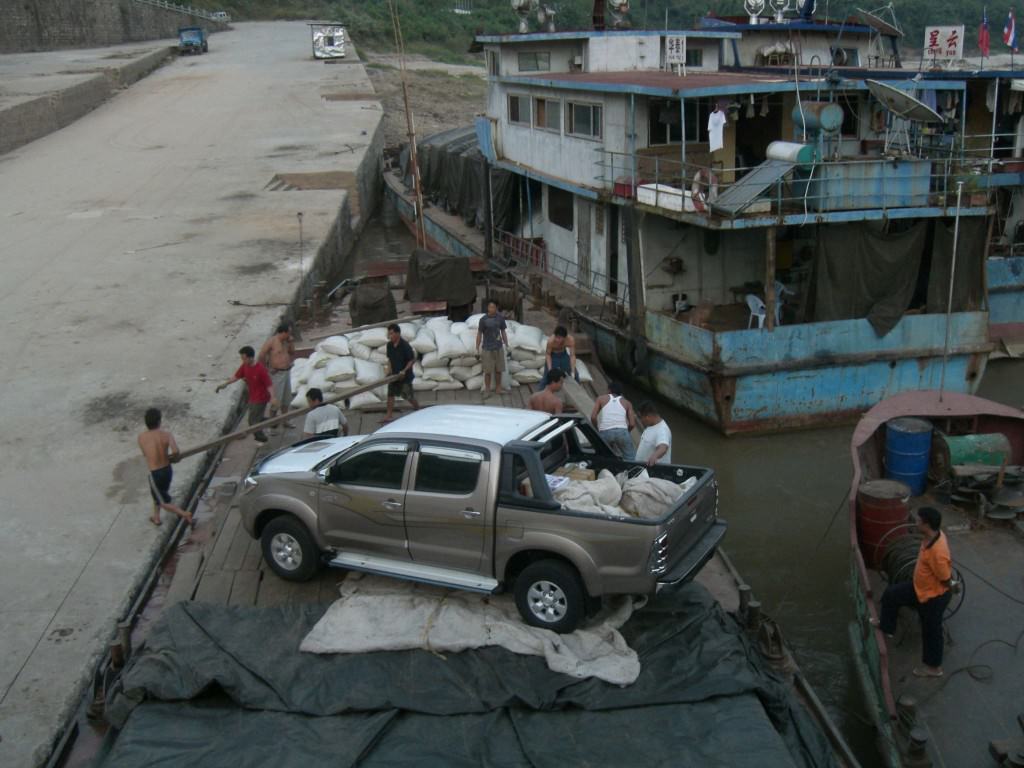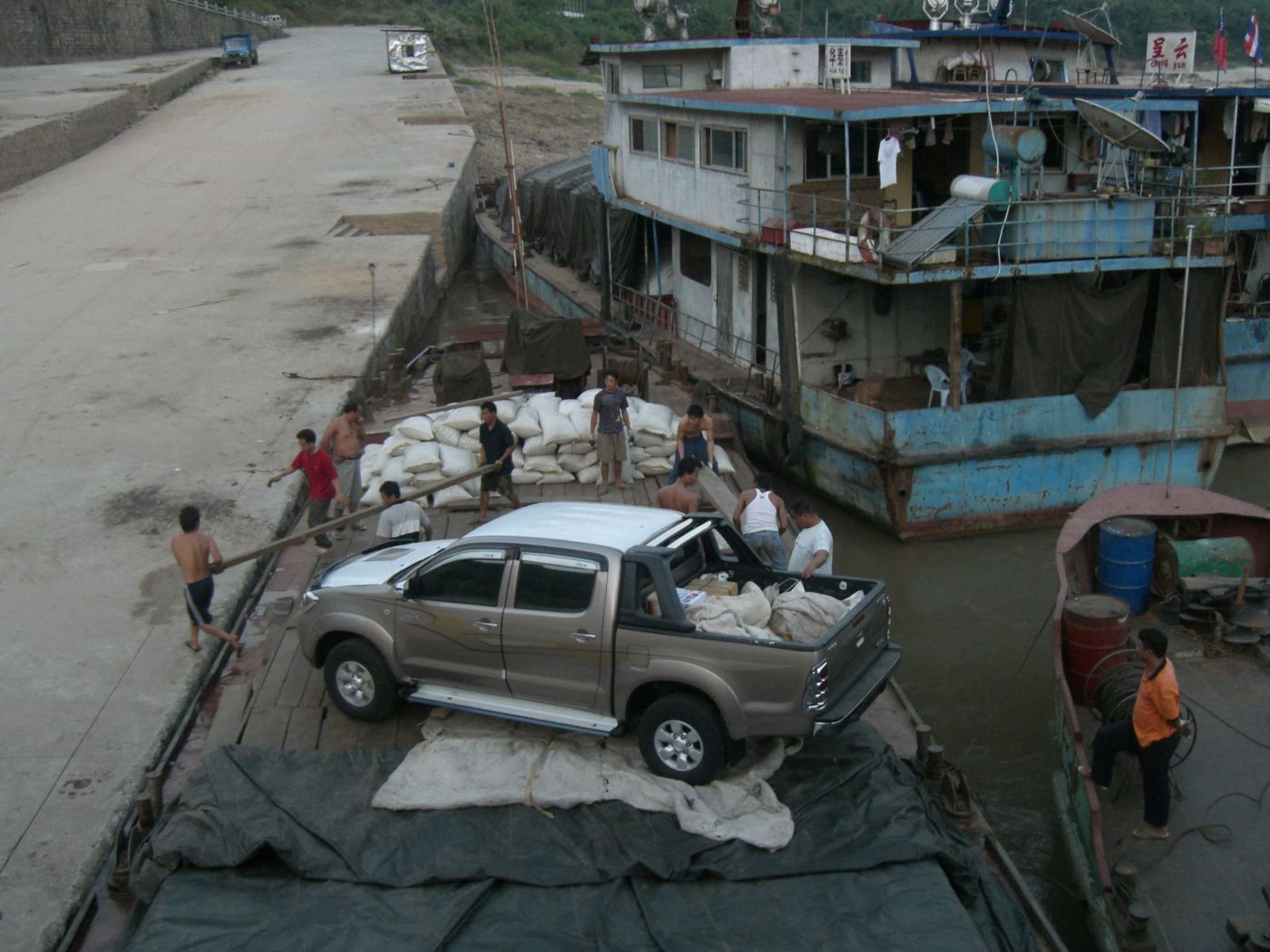 The loading and unloading was continuing at a not-so-frantic pace and we were pretty much stuck on the boat, confused as to what was going on. Although when we saw the captain of our boat downing some rice wine we pretty much knew we weren't going any where for the rest of the day or night! So, jackets on and hoods up we went for a covert mission into Burma to go to the supply station to stock up on some necessary goods for the rest of the journey…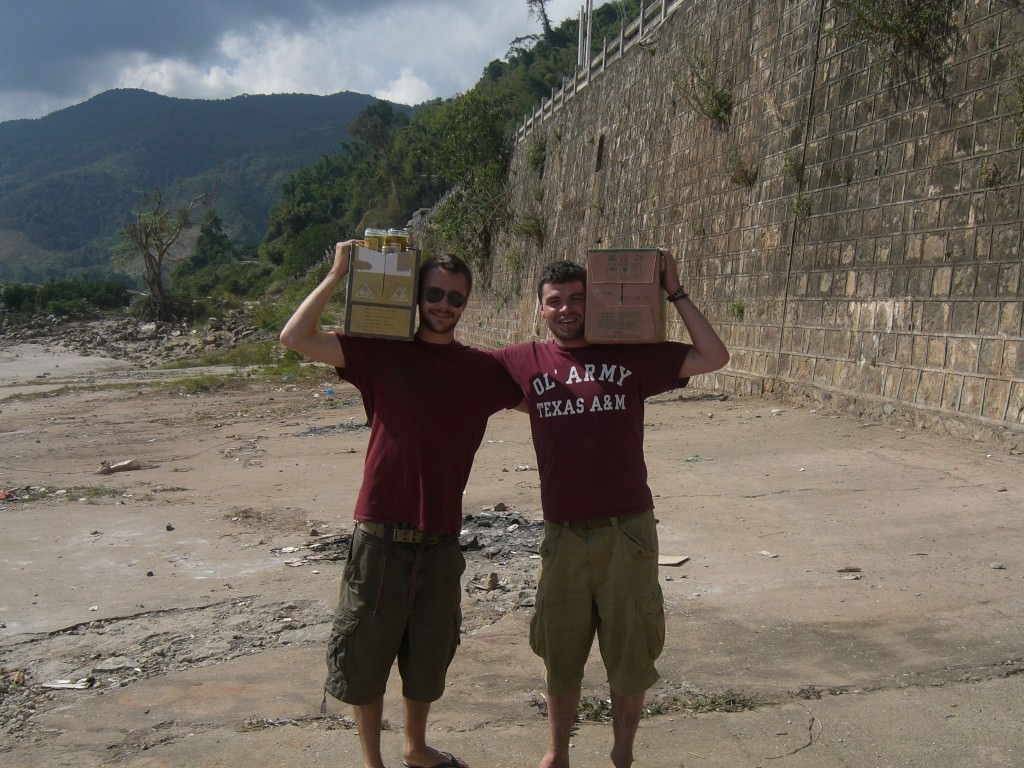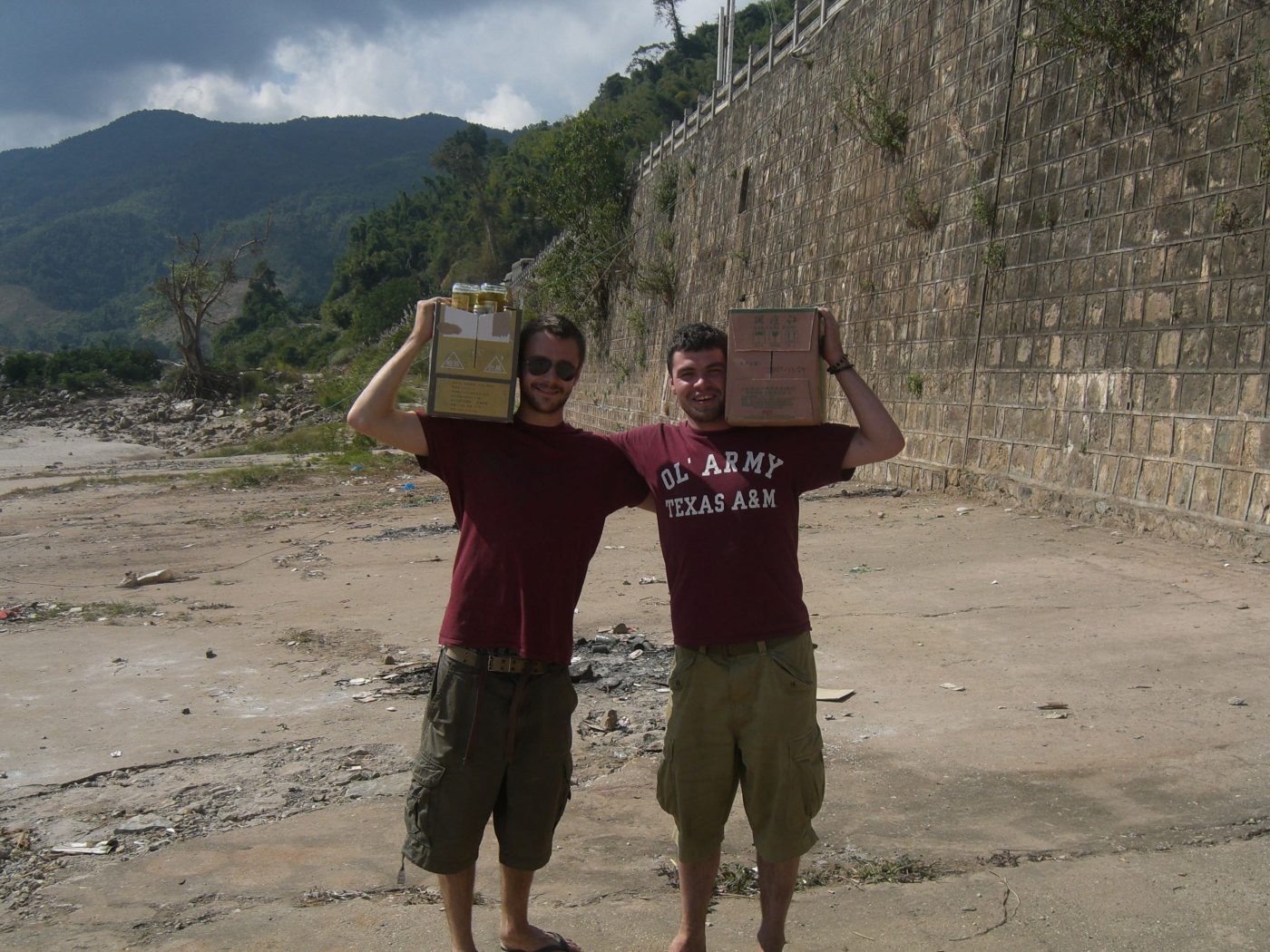 We bought some beers for about $2 and headed back to the cargo boat where the sailors had all congregated in the social area and the booze was flowing freely. We made a real break through here, playing drinkin games with the guys, having a chilli eating competition (which we lost comprehensively when one of the sailors just engulfed the entire tub of raw chillis in one go and laughed at us with our bloodshot eyes and sweat brows)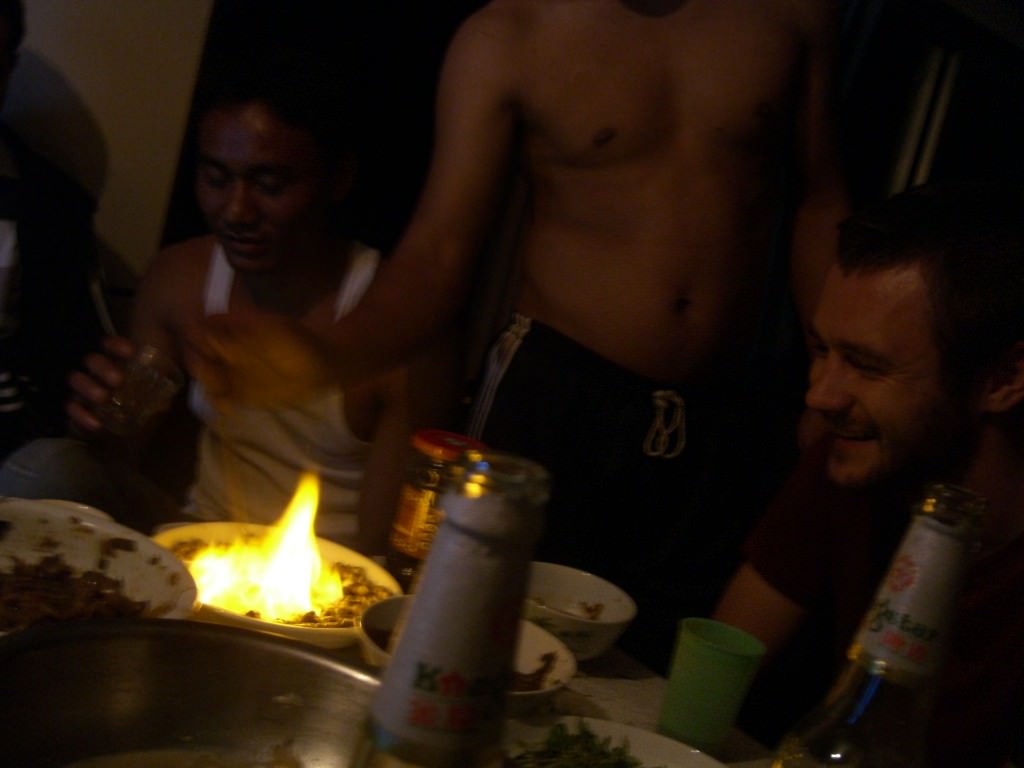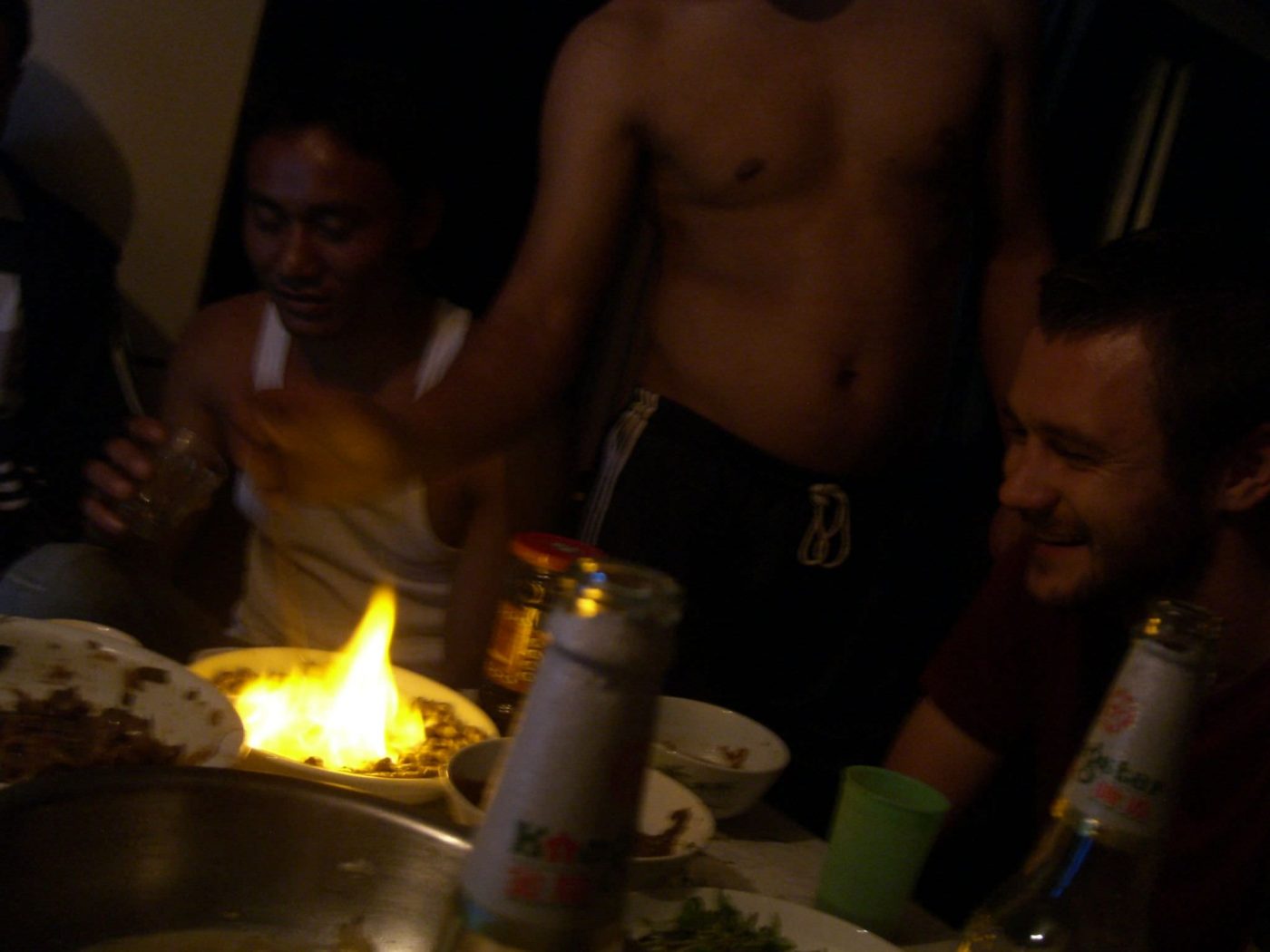 This is where the story gets a little crazy – we all got drunk over dinner and were having a great time when suddenly the captain summons the crew, apart from one guy who appeared to be told to stay with us, and off they went. Past the supply stall on the burmese border and on into the jungle. While Swede, Max and I were left on the boat with one of the sailors. We slowly discovered they had gone drinking in some Burmese town and we had been told we weren't allowed to go, fair enough really considering we had no visas, no permission to be there, no right to even by on their boat legally and no idea where to go. So we went.
The sailor was pretty scared and as we crossed the actual barrier we ordered us to cover ourselves up in the hope that the armed guard would assume we were chinese. Retrospectively this was a pretty stupid move, and dangerous too – anyway, we did it and we got away with it and after we turned the corner, we were walking to the Burmese town! We hitched a ride with some dude in a van who was very confused when he pulled over and saw us!!
10 minutes later and we were in the strangest town, to this day, that I have ever been in. No real technology whatsoever, all wooden huts, weird fairy lights everywhere and people milling around drunk! Must have been about 8pm, it wasn't long before we were summoned over by a policeman :S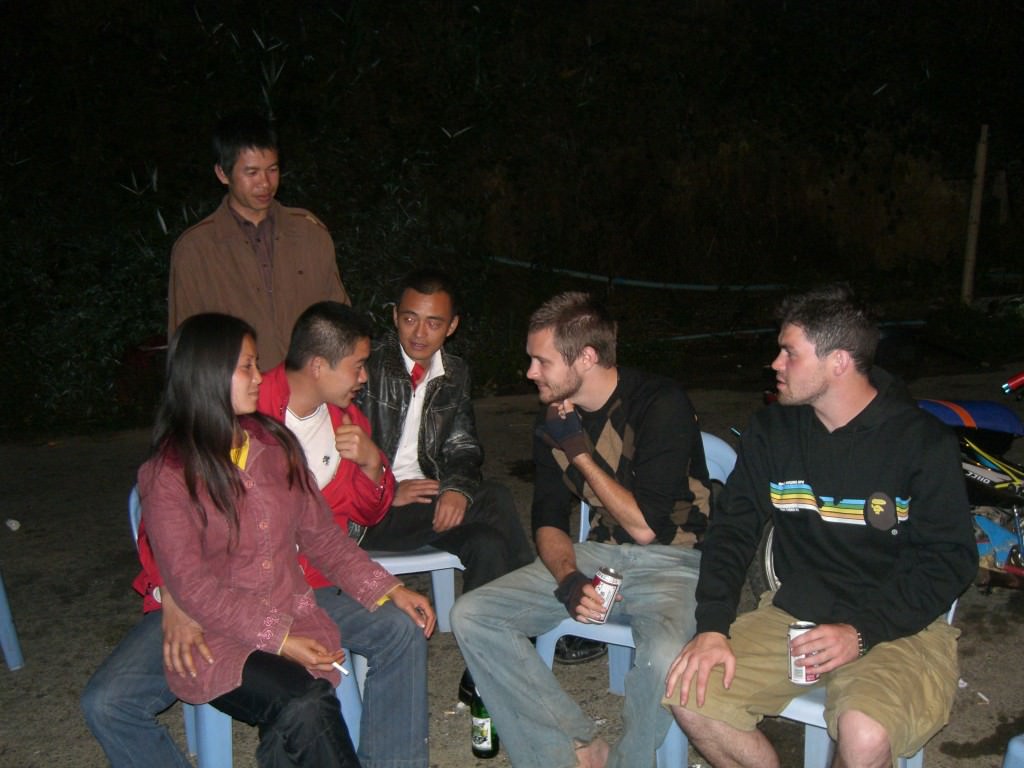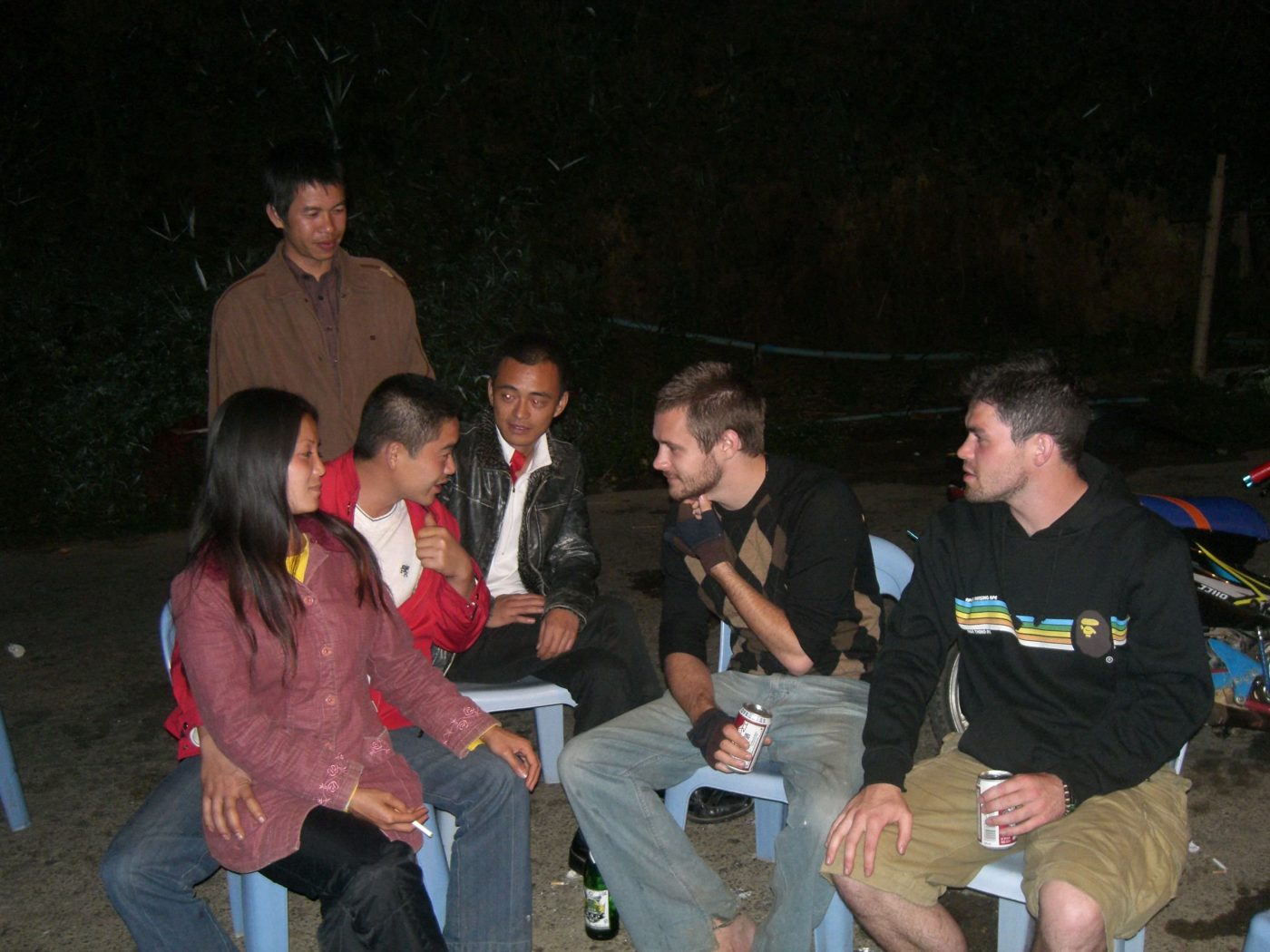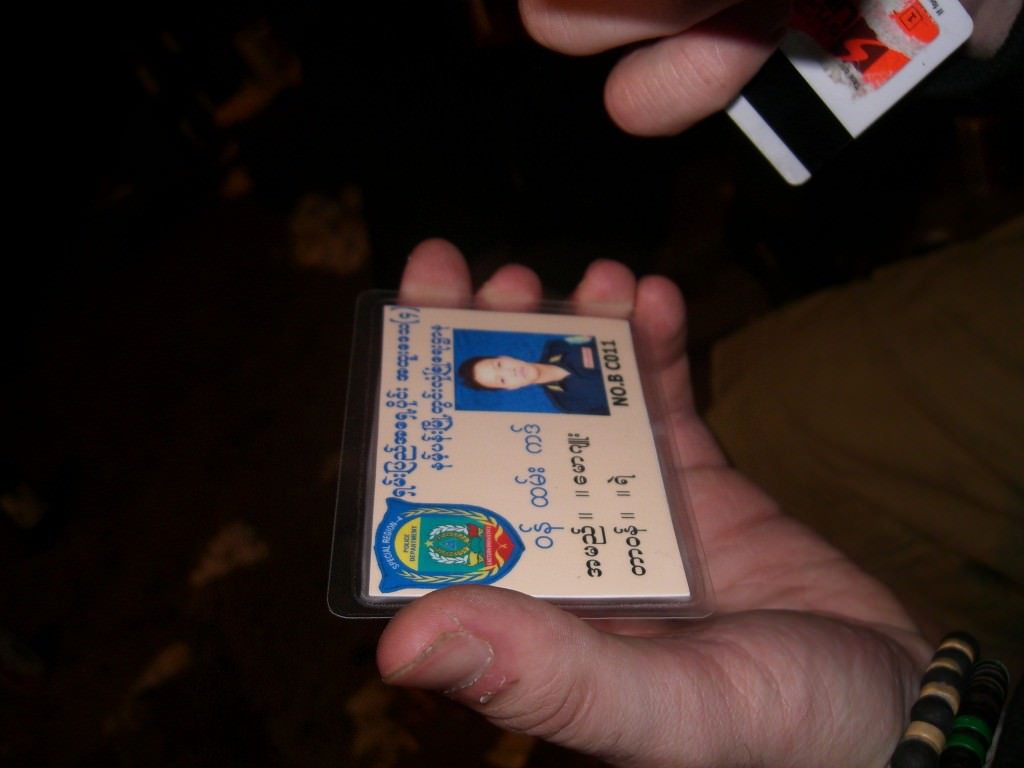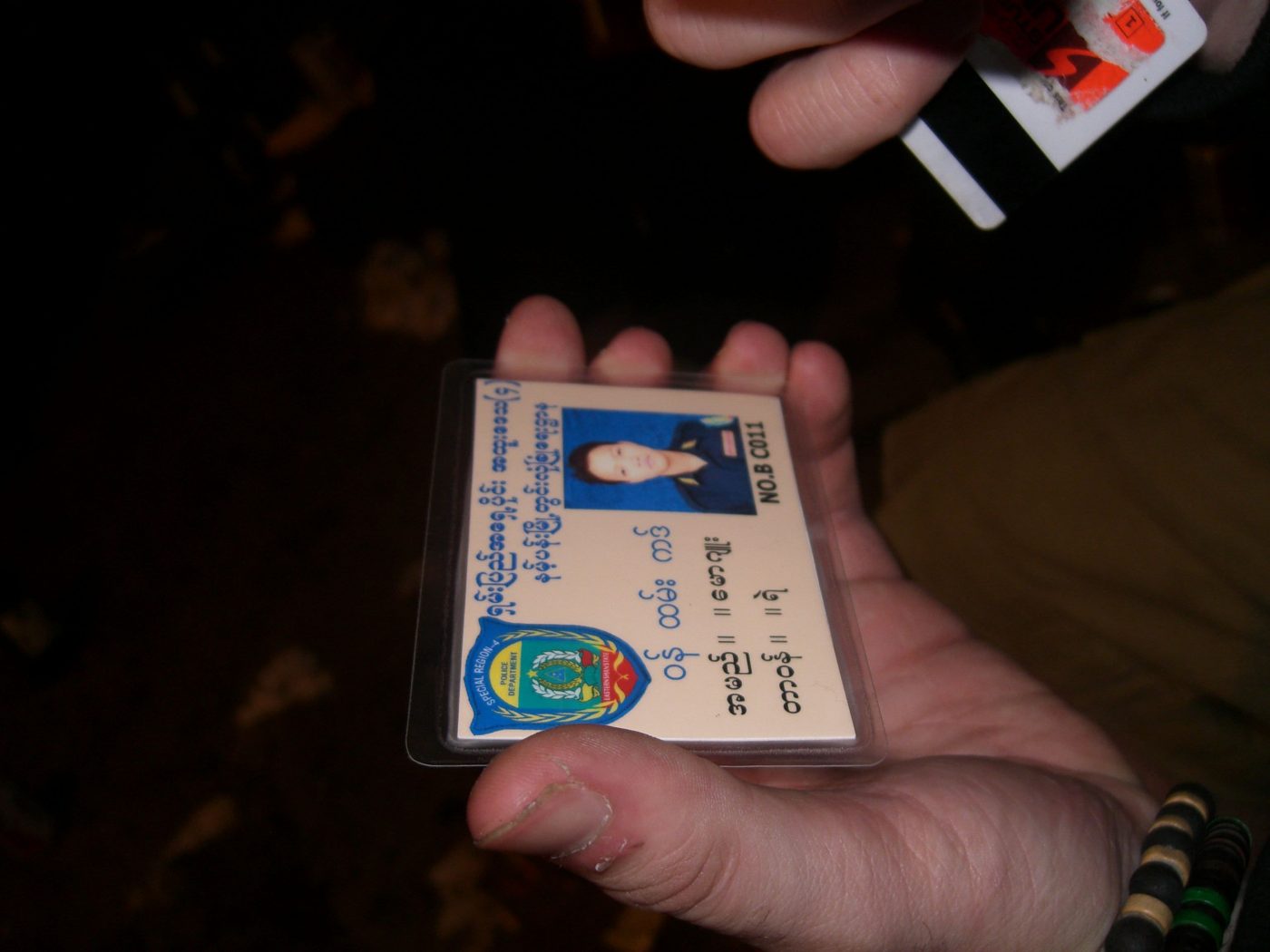 Crazily, the Burmese policeman loved us and ended up buying us drinks, we sat with them for nearly an hour despite the fact that we didn't speak each others language – don't you just love travel 🙂
These guys took us deeper into town where the party was really getting started, not once did the craziness of the situation dawn on us that night, we took it in our stride and had a blast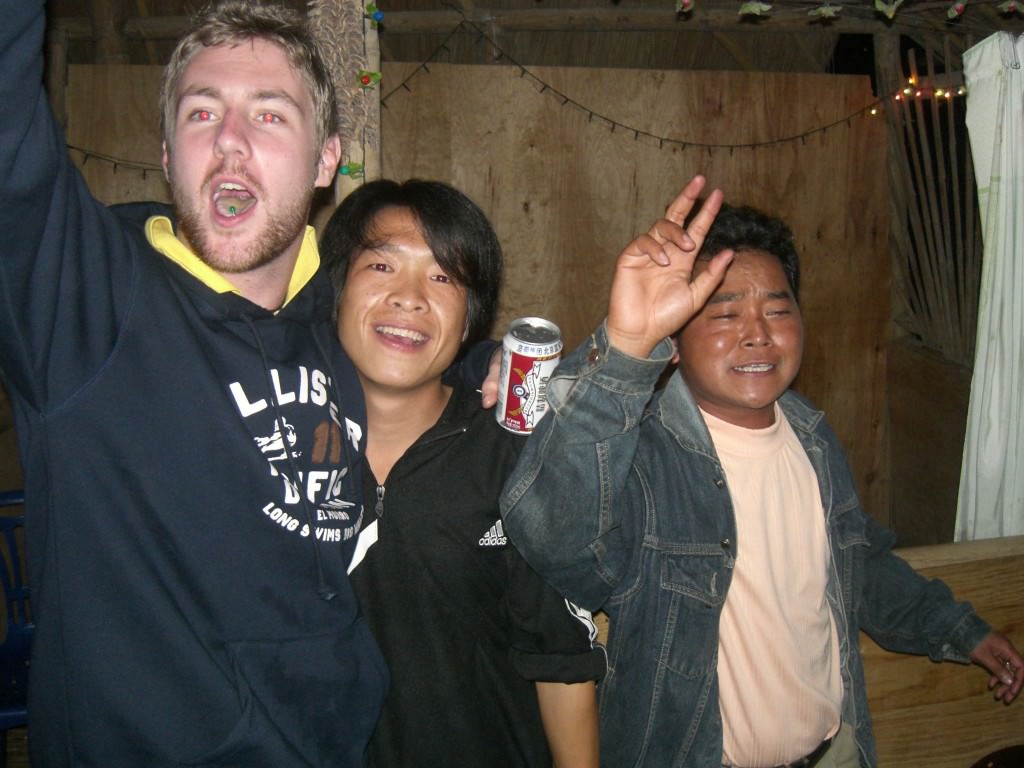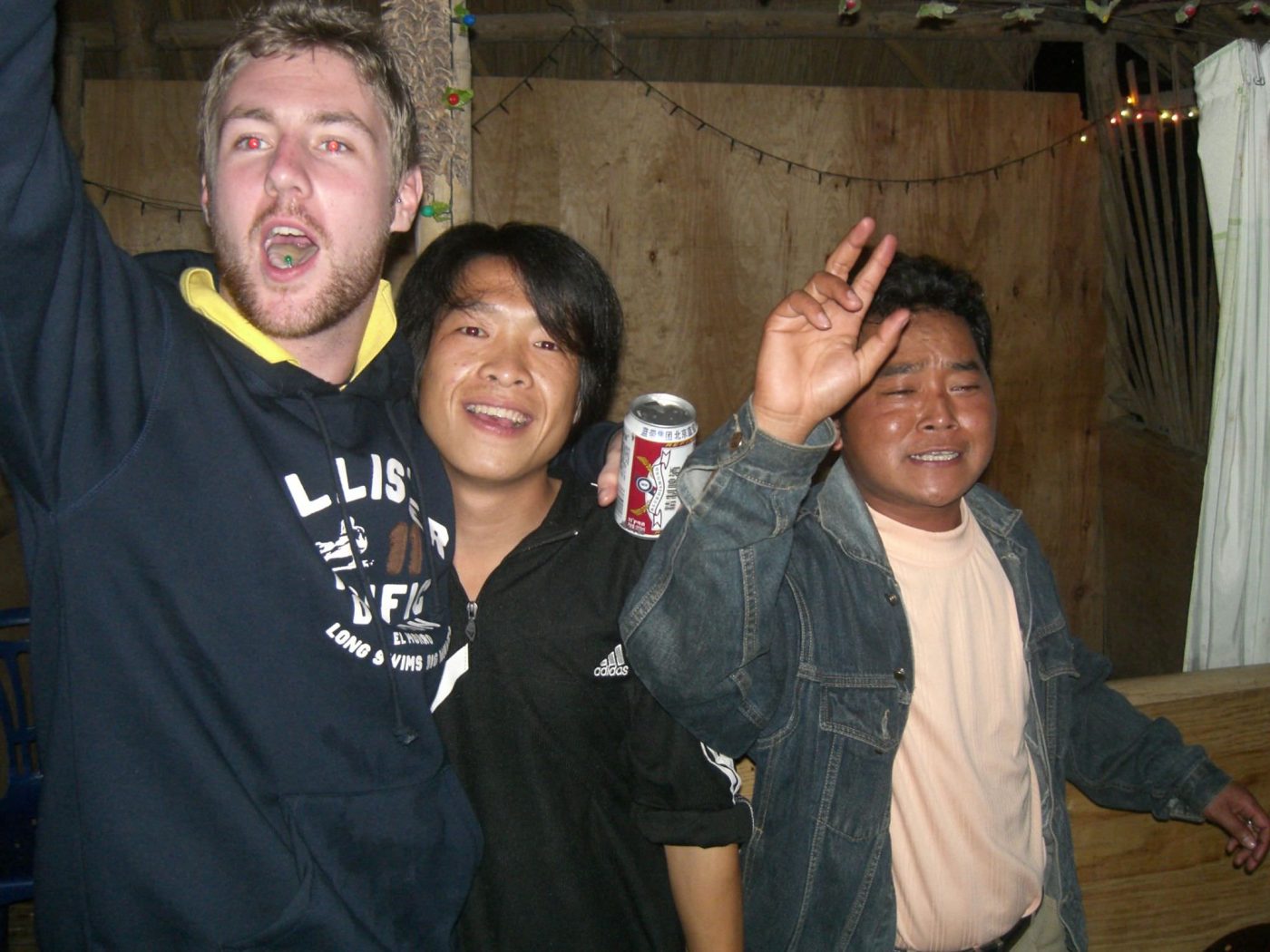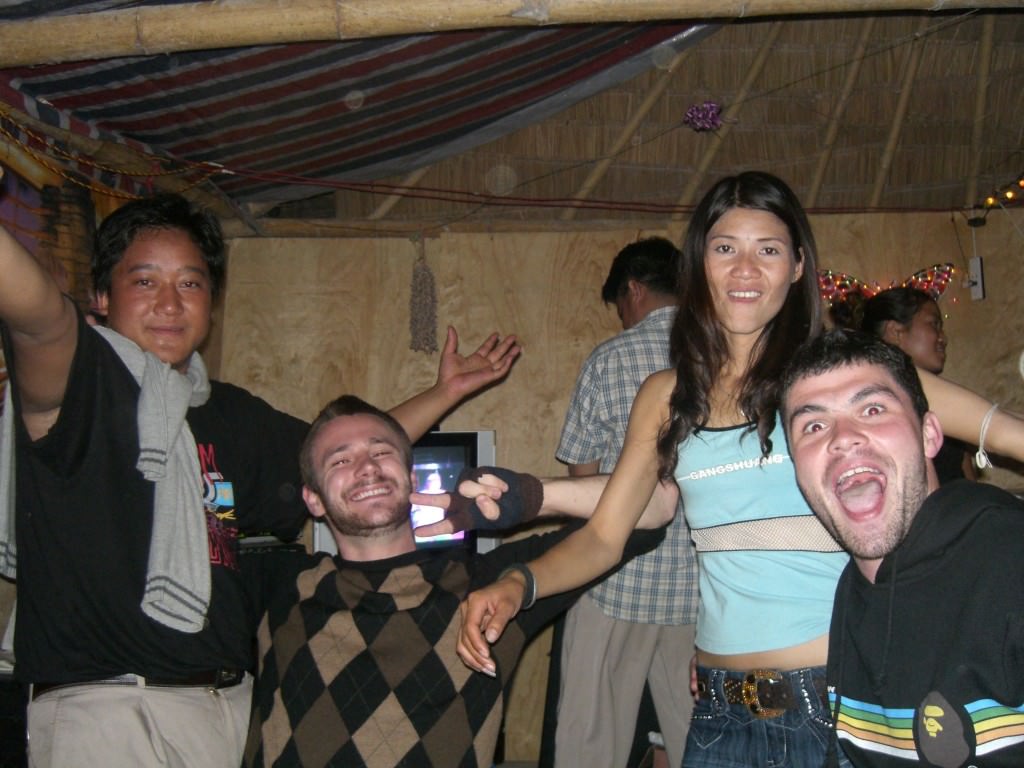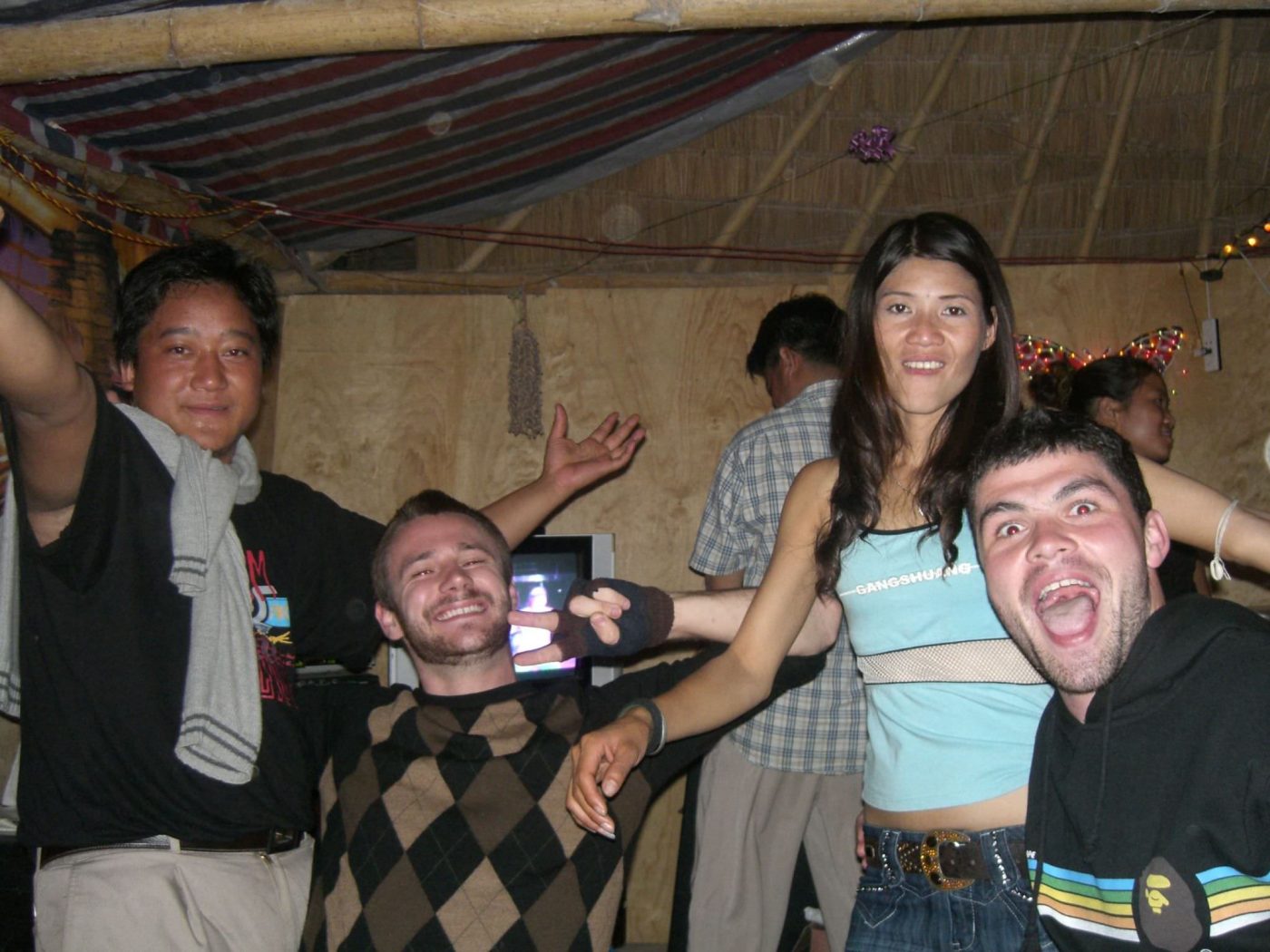 We ended up bumping into our crew mates, had some more drinks with them and stumbled back to the boat in the middle of the night. And what a night it was.
DAY 4: Wake up 6am again, I managed to gather my thoughts into a more lucid pattern and thought – ok day 4, the day we get to China, surely! Probably half drunk the 3 of us finally decided to bite the bullet and shower in our shared bathroom, on went the shower cap and out came the muddy water – straight from the Mekong lol. Oh well, washed away last night's stink at least. I went towards the captains quarters to see if he was getting ready to go, SHIT SHIT SHIT SHIT. He was bloody drinking again and it wasn't even 7am yet!!! The atmosphere was noticeably different and the crew loved us now, to be honest, we didn't even care about China anymore – this was one of the greatest experiences of my life!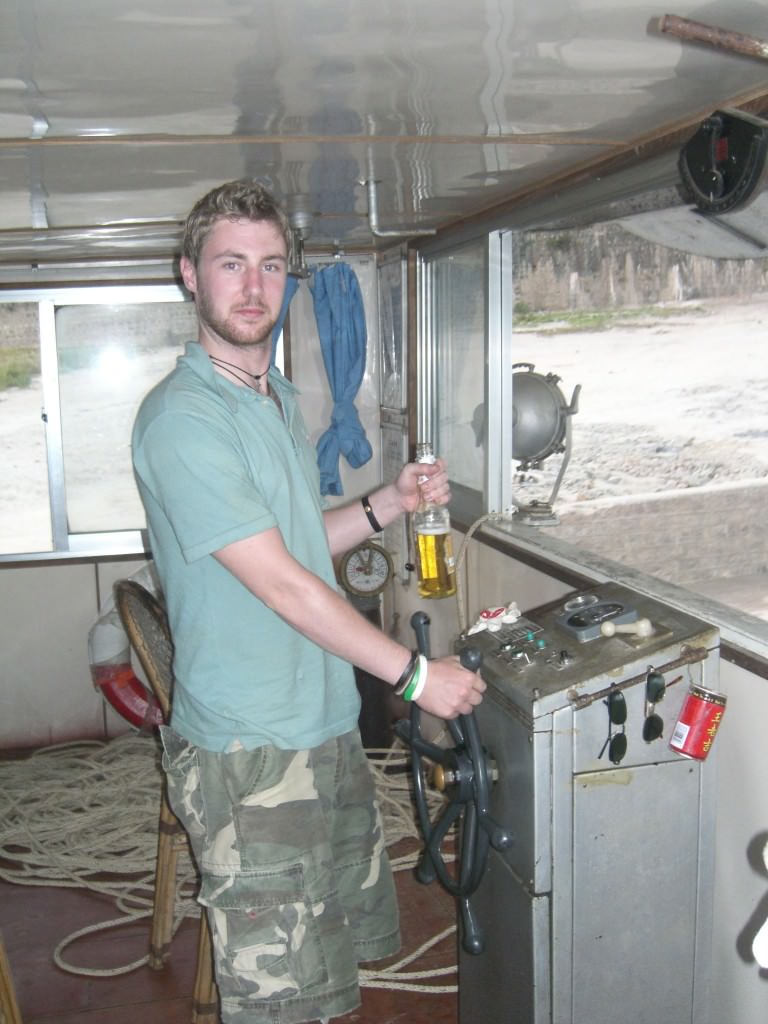 So what do u do when you're in Rome? And that's what we did, chewed the fat with the Chinese using sign language and drinking games, more chilli eating and another crazy evening spent in a Burmese town that, to this day, I have no where it was or what the name of it is. Day 4 came and went quickly and was probably the best day of my whole trip.
Day 5 – 6am, chug chug chug. Looks like we were on our way!! We moved up stream for another few hours until around midday we saw signs of life on the land and….. a Chinese flag!!! We had finally reached China, an hour later we were approaching another dock when we heard the sirens. Our crew were frantically running around the deck when they came charging into our cabin, pushed us on the floor and told us to be quiet!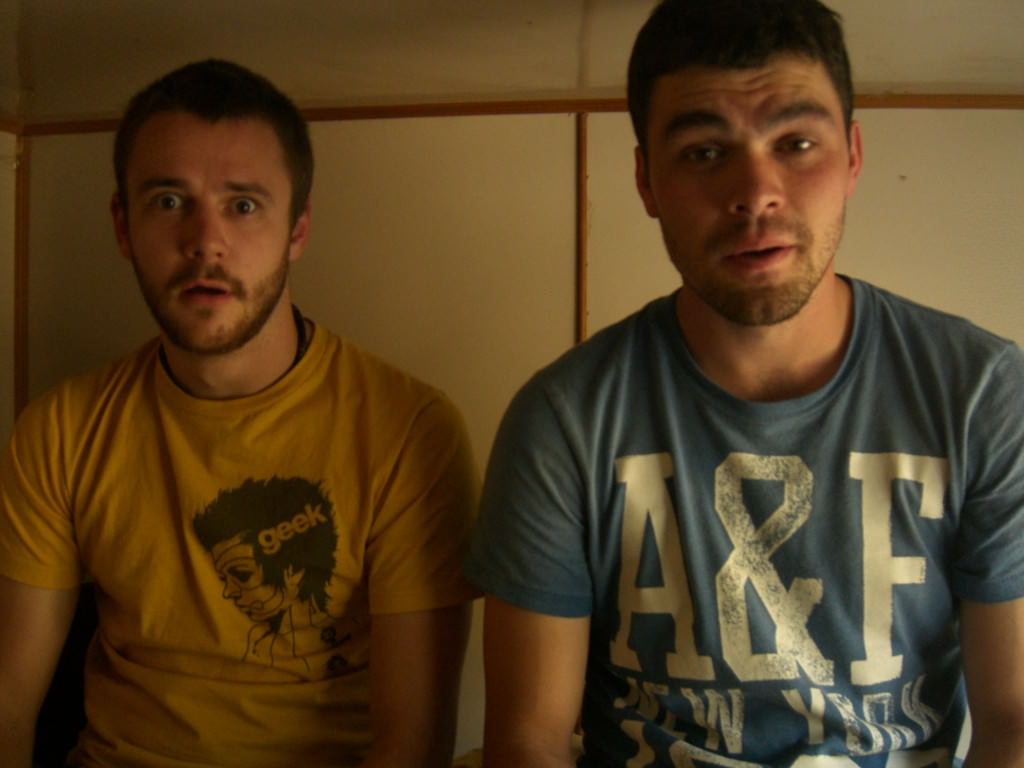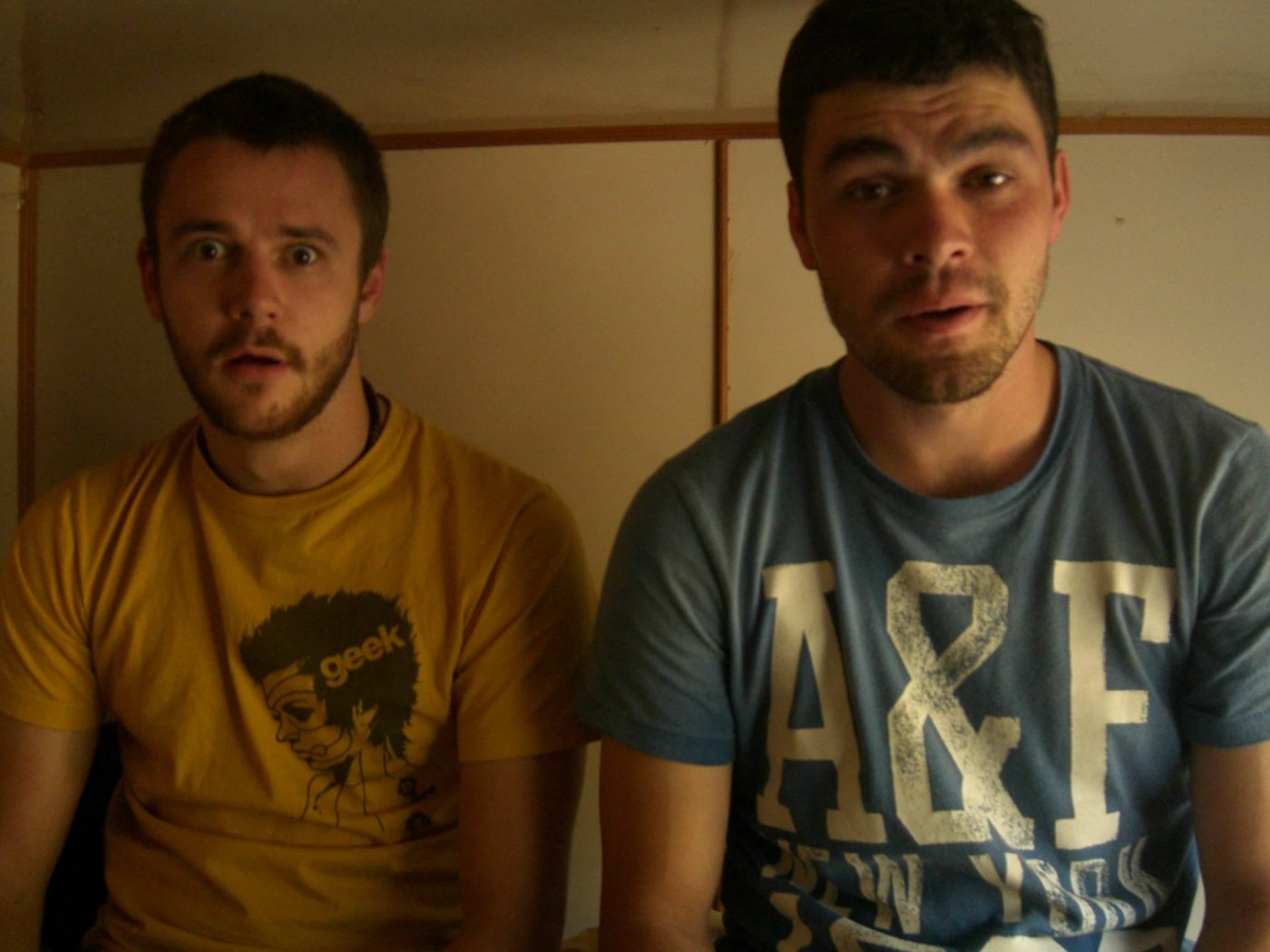 The police boarded, 2 of the crew stood directly outside our cabin so as to attempt to dissuade the Chinese police not to bother looking…. luckily enough it worked and 5 minutes laters they were back on their quaint little (armed) Policeboat and we were on our way. PHHHHHHEEEEEEEW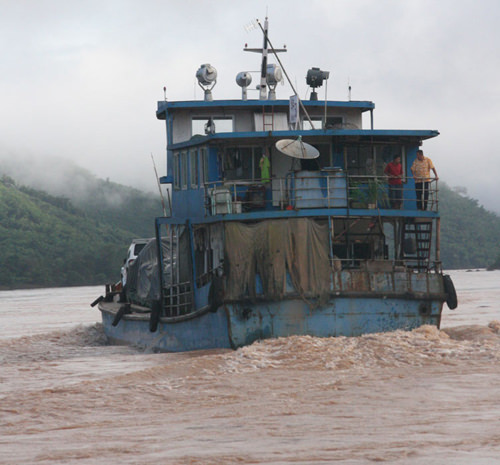 We soon were docked, dropped off and left to fend for ourselves – see you later boat, it's been fun.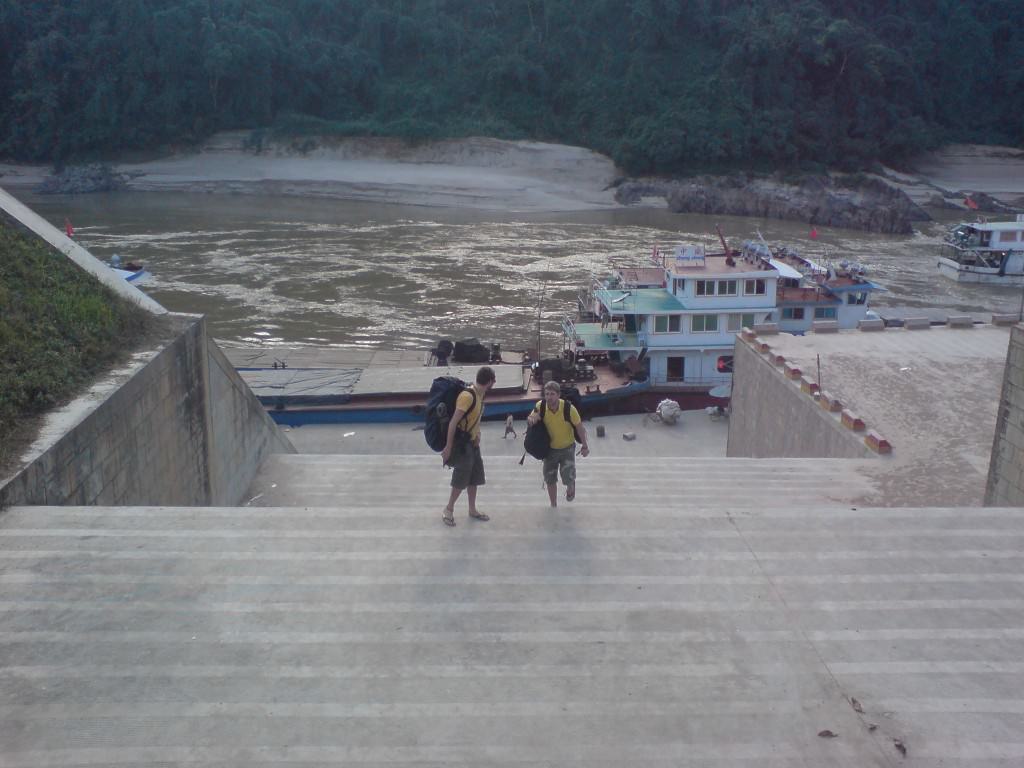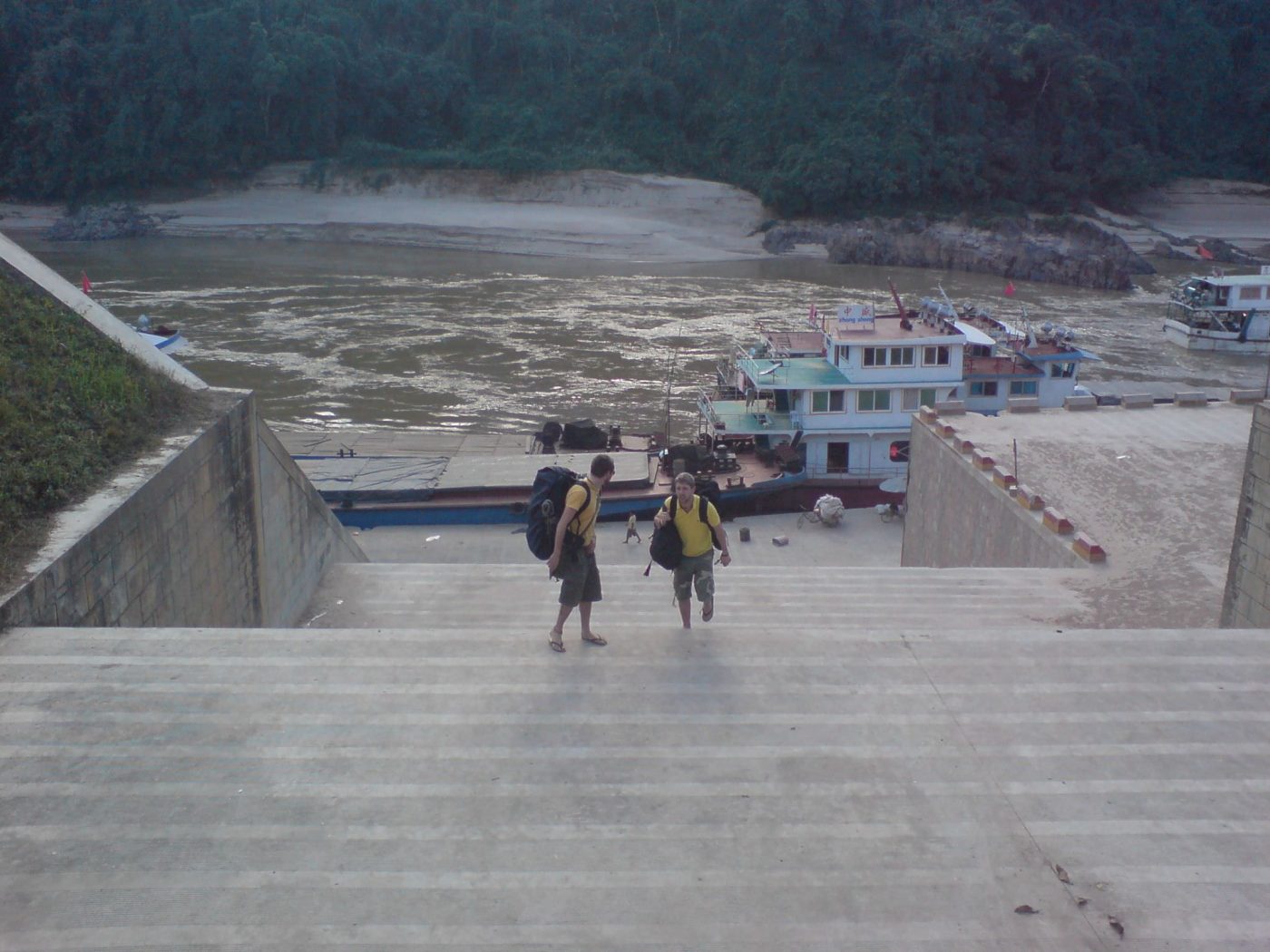 I treasure this last pic with all my heart! Our first steps in China after enduring over 5 days on the cargo boat, it mightn't have been so bad had we not thought initially it was going to be less than a day. An impromptu trip to Laos, 2 days in Burma, too much whiskey to even mention, learning how to count in Chinese and showering in murky Mekong water – as funny as it sounds, 5 of the best days of my traveling life.. now we were in a town called Guan Lee where I honestly think we may have been the first white people there for a long, long time (ever?)
Remember, never travel without travel insurance! And never overpay for travel insurance!
I use SafetyWing at $9 a week, and it's amazing. Also, it has great digital nomad insurance for people who are constantly travelling too! You can read my review here, and you can sign-up here
Also, if you want to start a blog...I CAN HELP YOU!
Also, if you want to start a blog, and start to change your life, I'd love to help you! Email me on johnny@onestep4ward.com. In the meantime, check out my super easy blog post on how to start a travel blog in under 30 minutes, here! And if you just want to get cracking, use BlueHost at a discount, through me.
Also, (if you're like me, and awful with tech-stuff) email me and my team can get a blog up and running for you, designed and everything, for $300 - email johnny@onestep4ward.com to get started.
How about $55 free AirBnB credit?
Oh, one last thing! If you've never used AirBnB before, here's a $50 voucher for you! Enjoy!