If you own a dog then you know it can be heart breaking to take them to the kennels when you go on holiday. From personal experiences, I found that it puts a real dampener on the beginning of any trip and the drive usually is very quiet after you drop them off. So if it's possible, why not bring them with you? You'll be happier and they will also have the time of their lives going on a big adventure, finding new places to explore and run around.
Just as travelling with kids takes a lot of planning so does travelling with your dog. So before you load up the car you need to think about certain things to make sure the whole trip goes smoothly.
After several holidays with different dogs I feel I've learnt some valuable lessons to share with all of you reading this.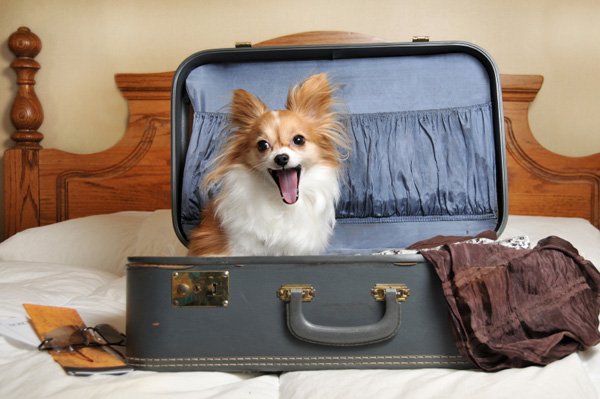 Choosing The Hotel
This if course the first and most important part of your planning. You need to check that the hotel is pet friendly. Once you've established that they'll let your dog stay in the room you need to ask if there's a charge, some hotels will ask for as much as $20 a day. If you're planning a long trip those charges will soon add up and start eating in to your budget. Click here for some more tips about how to chose a hotel and plan your trip away with your dog.
Stress-Free Checkin
If you're not travelling alone then the best idea is to let someone wait in the car with your dog and the other person go to check in, this keeps it as stress free as possible. If you're travelling alone and don't want to leave your dog alone, you have two options; firstly, you can carry your pet or keep them on the lead – but if they're the excitable type that's not wise because you don't want to get kicked out before you've seen the room. So the second option is to use a rolling travel crate, my dogs have always had no problem at all with this and have been super calm during checkin.
Don't Keep The Room Quiet
If you're going to leave your dog in the room alone you want to make sure they're comfortable, the last thing you want is to come back to the hotel with a furious manage waiting for you because your four legged friend has been barking the house down! I always leave a light on and also the tv, this will usually keep them calm and not triggered by any noise outside the door. Another simple but 'must do' thing is to leave the do not disturb card on your door, so neither your dog or the house keeping will get a surprise that's most unwanted.
Have you travelled before? I'd love to hear all about your tips, tales and experiences. I think it's great when we, as a travel community, can share our first hand experiences with others so that they can plan the best trip possible. All you have to do it pop your thoughts in the comment section below. Thanks for sharing guys!