After many years of mixing the world, I started to collect some of the best tips for traveling there is. On the internet where is many of it, but mine personally tested tips can actually be trusted. So, here are the best 5 tips for traveler-wanna-be which will reduce a headache before the departure day.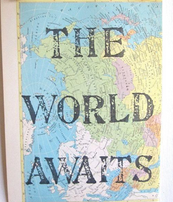 No matter where you go and when you go, you should always try to be in that kind of state of mind, where you just basically don't care too much! So what, that train is late for 10 minutes, it will eventually come and take you wherever you need! Give that Arabian guy in the market some chance to negotiate with you, because this is how traditionally such business goes. Just don't sweat over the stuff you can't really control, and soon you will see how easily all the traveling has become. Life is way too short to be worried about such small things. So just enjoy your trips and see the most you can.
In order to see all you can during your trip, make a little effort to wake up early and experience the beginning of the day together with locals. Mornings are mostly the busiest time in many countries, and you can clearly see what is like to live in that part of the world. Moreover, making tours in the morning has another benefit – where are very little of other tourists who decided to see the city so early. This is how you can avoid huge crowds and see the country.
It might seem a little bit weird, but actually by packing one good scarf you can improve your traveling experience. Only one simple fabric piece can do many jobs at the same trip. It's great for sun protection, a makeshift towel, carrying stuff around, an eye mask, and much more. Just be sure to get the highest-quality scarf from trustful stores. I prefer to shop at Kohl's, actually. There are wide assortment of colorful and functioning scarves, and to make things better, I was able to save some cash there too. Kohl's promo codes & coupons actually helped a lot to save my money while purchasing my scarf, and let me spend that saved cash on plane tickets.
Always Smile and Don't Forget To Say Hello
If it happens that you don't know how to speak the local language, your body language, and big smile will help you to communicate without any problem. People tend to look carefully at aliens who are grumpy and doesn't seem to enjoy the trip, so try to always smile and say hello to the locals. It will show your interest in them and make them feel unique. One of my best travel tips is to make eye contact and smile as you walk by. If they smile back, say hello in the local language and soon you will get a new friend. But take notice, that in some countries it is forbidden to look at some people's eyes. For instance, in some Arab countries men can't look or show any kind of interest in local women. Do some research before you visit the country and everything will be just fine.
This might be the most valuable tip ever. Avoid all the noises during your nap or sleep during the night with earplugs. Get some great night's sleep to recharge your batteries and be able to travel further. Mute the sounds of crying babies, drunken Australians, barking dogs in Vietnam, honking horns, natural gas salesmen, and more with these little fellows and forget about bad sleep. Earplugs should be a traveler's best friend, so definitely pack some of it in your backpack.
Use these great tips, which I find to be pretty amazing and make your traveling experience better with it. Although, there is no recipe of a perfect trip, we can all make it by ourselves. Just dare to feel something new and share your best moments with the world!