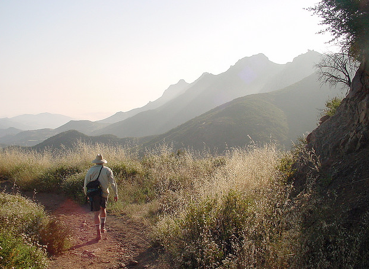 Image via Flickr by National Park Service
When you're headed on a wilderness adventure or planning a dangerous sport excursion, staying safe is a top priority, especially when there are few people around to tend to your needs if something goes wrong. Stay safe on your journey with these quick tips.
Do Your Homework
One of the best ways to stay safe when going on an adventure is to understand the area. Before you head out, research things like weather patterns, plants and animals, and landmarks.
Looking into these things before you leave will keep you from getting lost, and help you avoid potentially hazardous plants and dangerous animals in the area. Your research will also help you know what equipment you need for safety, like what kind of clothes to wear and what first aid products to pack. Make sure that you bring along some of your research material, like maps and plant reference pamphlets.
Train Before You Leave
Whether you're going hiking, mountain climbing, or on another recreational adventure, it's important that you train before you leave. Ensuring that your body is up for the challenge will help you avoid injury.
Start a few months before you leave with short excursions a few times per week that mimic the type of movement you'll be doing on your adventure to work up to your longer journey. Work strength and resistance training into your exercise regimen as  they have been shown to reduce the risk of injury.
Ensure You Have an Effective Means of Communication
So, you have a cell phone? So what? It's no good if you don't have any reception. When headed to a remote area, make sure you have a working communication device. Start by looking at mobile data plans on carriers like T-Mobile to ensure that you're getting quality service that will keep you covered in emergencies. If that's not an option, or if you're venturing too far into the wilderness, consider carrying a radio or other two-way communication device.
This is an especially useful tool for the lone traveler since you have more to worry about than people traveling in pairs if something goes wrong.
Pack a First-Aid Kit
Whether you're going on a short hike or you're planning to be away for months at a time, a first-aid kit is a must-have. But what exactly should you have in it? Make sure to pack the following items when appropriate:
Snake bite kit
Bandages
Antibiotic ointment
Gauze
Tweezers
Blister care materials
Compression wraps
Antihistamines
Pain medication
Even a small first-aid kit can mean the difference between a small scrape and a full-blown infection.
Have a Plan for Water in Place
If you're headed on a several-day excursion, you must have a plan for acquiring safe drinking water. Without one, you risk dehydration or illness.
As the Colorado Hiker points out, it's not enough to have a source of water. You also need a means of purifying it, such as bringing along an adequate water filter or a container for boiling the water. Both of these methods should rid the water of potentially harmful parasites so that you don't get sick.
Make sure you're also carrying water bottles large enough to get you from one source of water to the next.
Pay Attention
Above all else, the most important thing that will keep you safe is paying attention to your surroundings and making smart decisions about them. Watch your footing and move around or over obstacles instead of on top of them. You don't need to roll an ankle out in the wilderness.
Check your gear daily. Is it in good, safe working condition or could something about it potentially cause harm? Paying attention to where you are, the sounds you hear, and the weather can help you avoid sticky situations like getting lost, running into a dangerous animal, or getting caught in a storm without shelter.
Whenever traveling somewhere new and unfamiliar, staying safe is a priority. When headed on a wilderness adventure, the stakes are even higher. Be sure to follow these safety tips as you head on your journey. Now that you're equipped with these ideas, check out these further tips for staying safe while you're traveling.